Jill Duggar's Instagram Followers Think She Just Gave Way Too Much Information About Romance With Derick Dillard
While we can still catch up with many members of the Duggar family via TLC's Counting On, a few controversial fan favorites, like Jill Duggar and Derick Dillard, can only be followed on social media. We know Derick was the one to get him and Jill removed from the show thanks to his hateful Twitter activity. But while they're no longer featured on the small screen, the couple still gives plenty of insight into their marriage on Instagram and their Dillard Family blog.
Jill and Derick's followers give them plenty of flack regarding their date night and parenting choices, and it looks like Jill's recent post about her anniversary is more fodder for critique. Here's why fans said Jill is giving way too much personal information about her love life.
Jill Duggar and Derick Dillard just celebrated 5 years of marriage
It's hard to believe Jill and Derick Dillard have been married for five years, but the happy couple is still going strong since they first met. And it all started with Jill's famous father, Jim Bob. Derick contacted Jim Bob via email while he was doing humanitarian work in Nepal back in 2012, and Jim Bob thought the young man would get along incredibly well with Jill. As Jim Bob told People, "I felt like from the beginning, they had similar personalities and goals. I thought they would hit it off."
Jill and Derick had a long-distance relationship at first until they could close the gap — and they only had to meet in person once to know they were meant for each other. They followed all the typical Duggar dating rules, too, like no touching, hand-holding, or kissing prior to marriage. And Jill recently posted her full wedding ceremony on the Dillard Family blog to commemorate their fifth wedding anniversary — and so fans can get a glimpse of what the couple's first kiss was really like.
Her Instagram followers are questioning why she included this detail in her photos
Jill has multiple recent posts celebrating five years of marriage with Derick, and the two seemed to have an amazing getaway together with just the two of them. In addition to a surprise dinner from Derick and a trip to the movies to see Toy Story 4, Jill also added, "We had a wonderful 5yr. anniversary weekend in Branson, MO! We stayed at a bed and breakfast, then hung out at Silver Dollar City part of the time and saw our friends [sic]."
In her anniversary photo set, fans also noticed that she included a photo of a book all about Kama Sutra, the ancient Indian text on sexuality and eroticism. "No offense to y'all but I don't want to know what goes on in between the sheets! Please keep it PG remember you were raised a Christian," one of her fans commented after seeing the photo. And another added, "Bible open in the background, Kama Sutra and massage oil in the foreground…just weird. Why oh why do you feel the need to post this?"
She's gotten candid about romance with Derick before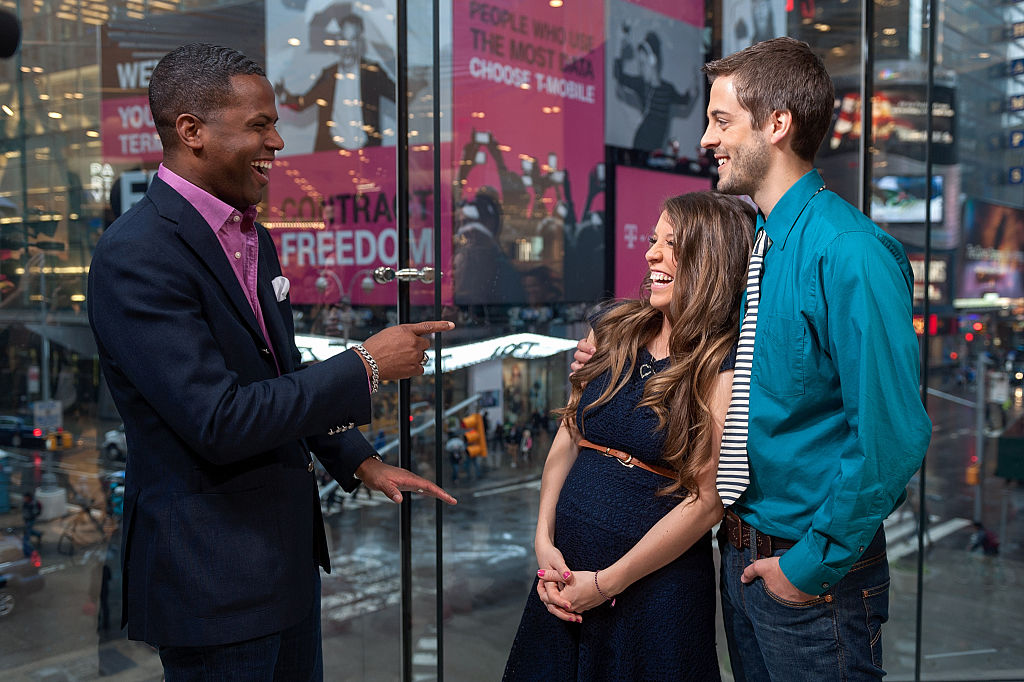 This may be the first time we've seen Jill with a Kama Sutra book open, but it's certainly not the time she's discussed love and sex. On the Dillard Family blog, she wrote advice on the best ways wives can love their husbands — and she included specifics on sex. Jill noted that couples should be having sex three to four times per week. "And when you may not be able to actually have intercourse for a period of time or for health issues, find other ways to have fun and be intimate. Let your spouse know that you're always available," she added.
Jill's followers took to her Instagram to critique the message she's sending here, too. "It seems very unhealthy to me that some women are taught that sex is about a mans needs," a fan commented. Another wrote, "Someone who has been married for 5 years doesn't have marriage figured out. I'm sorry but you not anybody else has a right to tell any woman how often she should be having sex."
It looks like many of Jill's married followers won't be following her marital advice after all — but they still definitely love commenting on what Jill posts, good or bad.
Check out Showbiz Cheat Sheet on Facebook!