Jim Carrey and Jeff Daniels Are Dumber Than Ever in New Trailer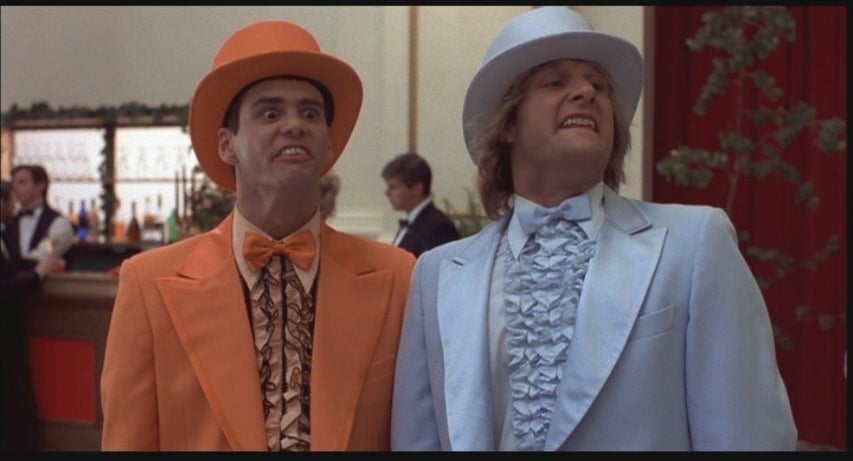 Jim Carrey having a catheter yanked out of him? A cat's butt flaunted in front of the camera? An old woman tricking two stupid men into giving her sexual pleasure? Yup, there's a new Farrelly Brothers movie coming to town. Dumb and Dumber To, which has been gestating for a long time, was hinted at last year, when Jeff Daniels gave a slight smirk and thumbs-up to Jimmy Fallon, saying the movie would start filming that year. He wasn't lying: Jim Carrey and Jeff Daniels both return to the roles they made them famous, and they look dumber, and creepier, than ever.
The first film, a surprise hit, came out in 1994, when Carrey and Daniels were relatively unknown. (That year would be Carrey's break-out year, as he appeared in Dumb and Dumber, Ace Ventura, and The Mask, which is an astounding year for slapstick comedy). Made for $17 million, the gross-out comedy earned almost $250 million, which probably says a lot about Americans. Steve Martin turned down the role of Lloyd, and Carrey was brought in. Because Ace Ventura was such a huge success, Carrey's salary was upped to $7 million. (He'd set a record for most money for an actor when he took a $20 million fee to star in Ben Stiller's brackish comedy The Cable Guy.)
Carrey has famously refused to participate in sequels, after his unpleasant experience with Ace Ventura: When Nature Calls (he rewrote the original film to suit his over-the-top vision). Dumb and Dumberer, Evan Almighty, and Son of the Mask all had to make due without Carrey, and all suffered for it. That Carrey, Daniels, and the Farrellys are all returning for Dumb and Dumber To, twenty years later, is a promising sign. Daniels has said the film will be even grosser than the first, and the trailer backs up that statement.
Lloyd (Carrey) has been faking a catatonic state for twenty years (because why not?), and Harry thinks it's awesome. Turns out Harry has a daughter, according to a post card that got lost in the mail for twenty years, and wild antics are sure to ensue. The duo wear almost identical outfits from the original, and their chemistry through shared idiocy hasn't lost a step. Daniels and Carrey work so well together, and they completely commit to the poop jokes, selling them like their lives depend on it.
The movie also looks unabashedly creepy. The sitcom-style soft lighting does nothing to hide the wrinkles in Carrey's face; being 30 and so stupid you give a blind boy a headless parakeet is funny in a you-can't-baby-sit-my-kids kind of way. Being 50 and getting tricked into sticking your whole arm inside of a grandma is really, very uncomfortable. But still sort of funny.
What makes the duo likable enough to tolerate for ninety minutes of disgusting humor is their good-heartedness. They aren't bad people, just stupid people. Carrey was once called the next Jerry Lewis for his singular style of slapstick. But Lewis's popularity faded after ten years or so (what little popularity he had), and the closest to a come back he ever had was a self-satirizing turn as a mean, selfish comedian in Martin Scorsese's masterful The King of Comedy. Carrey, after a string of acclaimed dramatic turns (Truman Show, Eternal Sunshine), seems to be reverting to the kind of humor that made him famous in the first place. We'll see how it works for him.
More from Wall St. Cheat Sheet: