Jim Carrey Explains How He Once Pranked Hugh Hefner at the Playboy Mansion
A week after the death of Hugh Hefner, Jim Carrey is sharing the story of how he once pranked the Playboy founder at a party.
Carrey was the guest on Tuesday's episode of Norm MacDonald Live, which weirdly seems to have been recorded prior to Hugh Hefner's death. Coincidentally, Carrey told Norm MacDonald the story about how he once pulled a practical joke on Hefner back in 1999 when he was making his film Man on the Moon. At the time, Carrey was pretty firmly committed to his character of Andy Kaufman, but he was invited to come to a party at the Playboy Mansion.
"I wasn't on the planet at the time," Carrey said. "I was being Andy Kaufman and Tony Clifton. So they said, 'Well, Jim isn't here right now. Can Tony come up? Can he come up as Tony and play?' And Hef was like 'Great.'"
Tony Clifton, of course, is a fictional character that was portrayed by comedian Andy Kaufman; after Kaufman's death in 1984, his friend Bob Zmuda took over as Clifton. But Carrey playing Tony Clifton was going to be a big part of Man on the Moon, and so the idea was that he would come to the Playboy Mansion party as that character, not as himself. Carrey told Norm MacDonald that he didn't want anyone to know that he was coming to the party, but word got out that he would be there. So he decided to pull a prank by having Bob Zmuda show up to the mansion pretending to be Jim Carrey in character as Tony Clifton. This completely fooled Hugh Hefner.
"Hef came out and did like 15 minutes with him," Carrey said.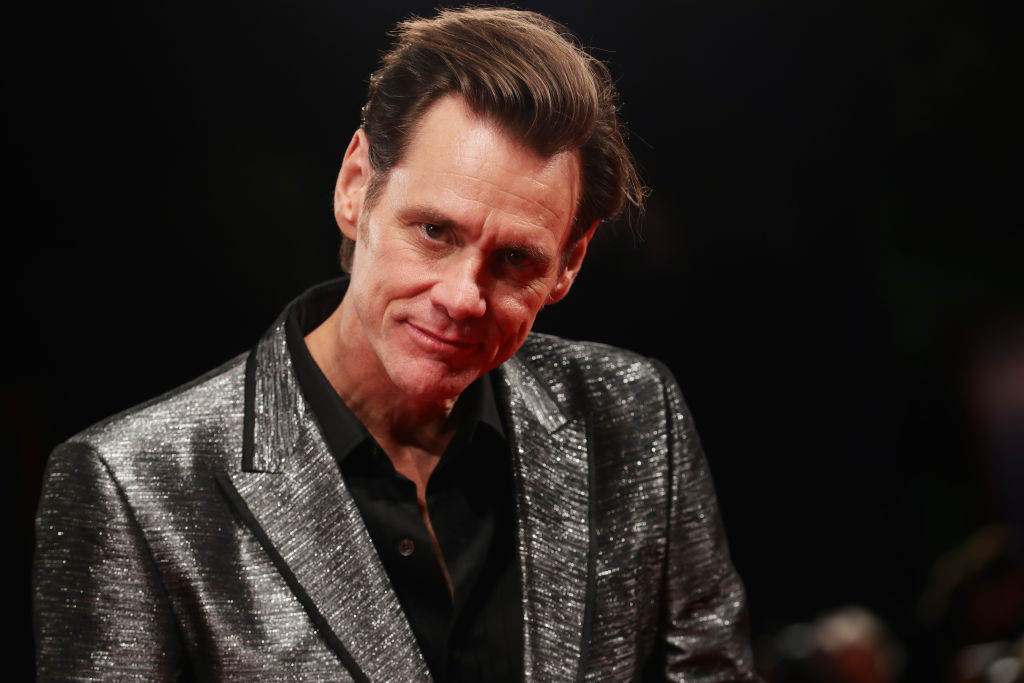 Apparently, Hugh Hefner brought Bob Zmuda around the party and told everyone that he was actually Jim Carrey, something Zmuda did not refute. Carrey added that Andy Dick was the one who observed that this fake Jim Carrey was about a foot shorter than the real one, saying, "Nobody can act like that!"
Carrey says that while this was going on, he got a burger at In-N-Out and kept in contact with Bob Zmuda, finally showing up to the party two hours later in his pajamas. This was the first time everyone realized that they hadn't been hanging out with Jim Carrey all night.
"Hef was standing there with Jim Carrey/Tony Clifton, he thought, and turned and looked at me, and his face just went ashen," Carrey said. "He completely freaked out and there was instant chaos."
For the rest of the night, Carrey says that Hefner couldn't believe that he got fooled. At another point in the show, Norm MacDonald suggested that Carrey wanted to make a documentary about this prank but that the Playboy Mansion wouldn't cooperate. It sounds like Norm is referring to the documentary Jim & Andy, which tells the story of Jim Carrey's transformation into Andy Kaufman for Man on the Moon. But according to Variety, this documentary actually does feature the Playboy Mansion story and even shows some footage of that night. On Norm MacDonald Live, Carrey suggested that Hefner was talked into allowing this into the movie, saying, "He was cool, though, once I told him the story."
The part of the story that Carrey did not relate on Norm MacDonald Live is that Bob Zmuda says in his book that he had sex with a Playmate that night who thought he was Jim Carrey.
Jim & Andy premiered at the Toronto International Film Festival this past year and was acquired by Netflix, so it will be available for streaming at some point in the near future. You can watch Carrey tell the Playboy Mansion story at the 10 minute mark in the video below:
https://www.youtube.com/watch?v=VHG7mHKwQqA&t=10m