Jimin Still Can't Sit in Chairs in the New Episode of 'Run BTS!'
Can your favorite K-pop boy sit in a chair without falling? ARMY's can't. In the newest episode of Run BTS!, the members of BTS played a game of charades. While this sounds simple enough, it's BTS, meaning the entire episode was filled with laughter and falling down.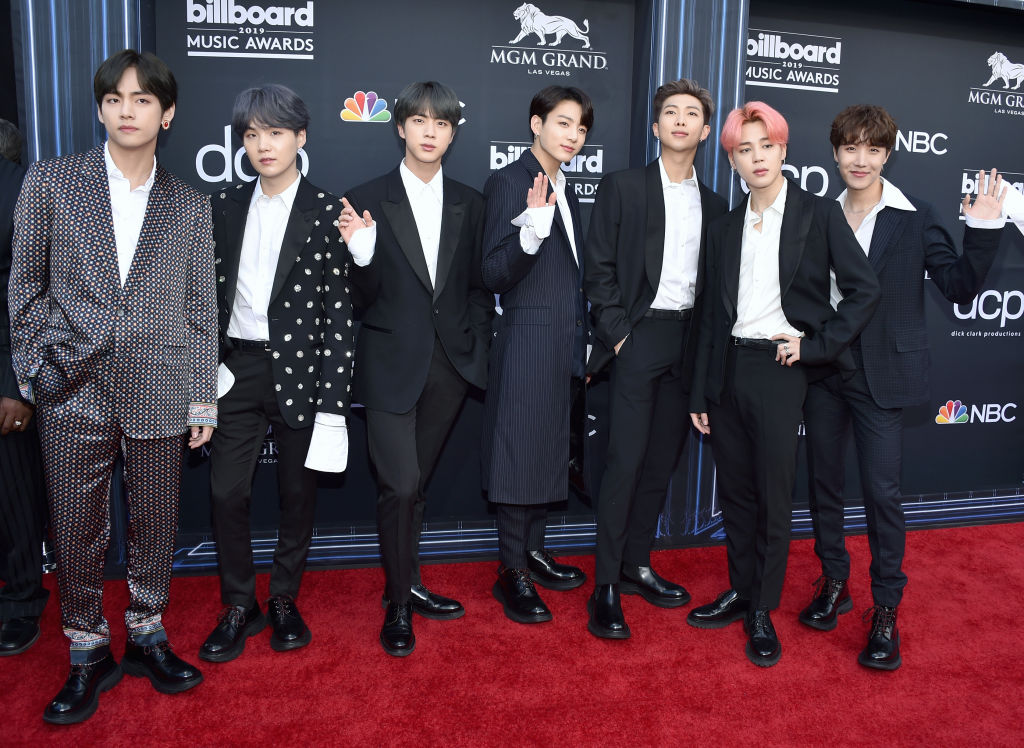 Both Jimin and Jungkook fell in the new episode of 'Run BTS!'
Any fan of BTS knows that Jimin is one of the best dancers in the industry. Onstage, his dance movements are captivating to audiences. Offstage, Jimin can be a bit clumsy. Several compilation videos exist on Twitter and YouTube showing the BTS singer falling out of chairs and tripping.
During the episode of Run BTS!, the group played a game of charades where BTS had to guess the name of their songs. After Jungkook guessed a song correctly, Jimin started hysterically laughing. He laughed so hard he fell out of his chair, as per usual. Jungkook ran over to help him up and ended up falling down as well.
V almost spoiled the name of BTS's next song
For months, BTS fans have speculated when BTS will release their next album. There have been clues, but no comeback date has been set. In the Run BTS! episode, V seemed to almost spoil the title of BTS's next lead single. V asked Jin if his drawing was related to the group's next "title track." This question did not get past ARMY.
"'is it the next title track' FRIENDLY REMINDER THIS IS PRE RECORDED SO THE ALBUM ALREADY EXISTS," a fan tweeted.
"they all had to guess jin's drawing and Tae literally said if it's next title track, boi was about to spoil," one fan wrote on Twitter.
Suga inadvertently caused havoc during the episode of 'Run BTS!'
As the members of BTS continued their game, Suga was tasked with drawing something to represent BTS's song "Hold Me Tight." He proceeded to draw a stick figure being choked. While not on purpose, this ended up being a humorous moment in the show.
"yoongi drawing someone getting choked when the answer was their song hold me tight ….. i will not comment," a fan tweeted.
"Yoongi had to draw hold me tight.. he drew stick figure holding another's neck I CANT BREATSHDH," another fan tweeted.
One fan tweeted, "I CANT STOP LAUGHING PLS YOONGI REALLY DREW A PERSON CHOKING ANOTHER PERSON FOR THE SONG HOLD ME TIGHT HAHSHHAHAS PLS MY LUNGS."
The situation became even more chaotic when some of the BTS members interpreted Suga's drawing as giving the finger. Known for clowning the BTS members, the editors of Run BTS! then put the caption "Don't misunderstand. BTS is harmless."
BTS also played Uno in the episode of 'Run BTS!'
The card game Uno is known to destroy families and friendships because of how competitive it gets. In the episode two weeks prior, all of the members betrayed each other for a scooter. On social media, fans joked that playing a special BTS version of Uno for Run BTS! would not go well.
"how dare run bts producers make bts play uno right after vmin's break up over a scooter last episode," a fan tweeted.
"In the new bts run they will play 'UNO BTS' this became intense," one fan tweeted.