Jin Hosts a Special VLIVE for BTS Fans on His Birthday
The CEO of Jin Hit Entertainment, Kim Seok-jin, is officially a year older. On Dec. 4, Jin of BTS turned 28 years old in Korea and 27 years old internationally. To celebrate his birthday, Jin hosted a VLIVE livestream with the other members of BTS.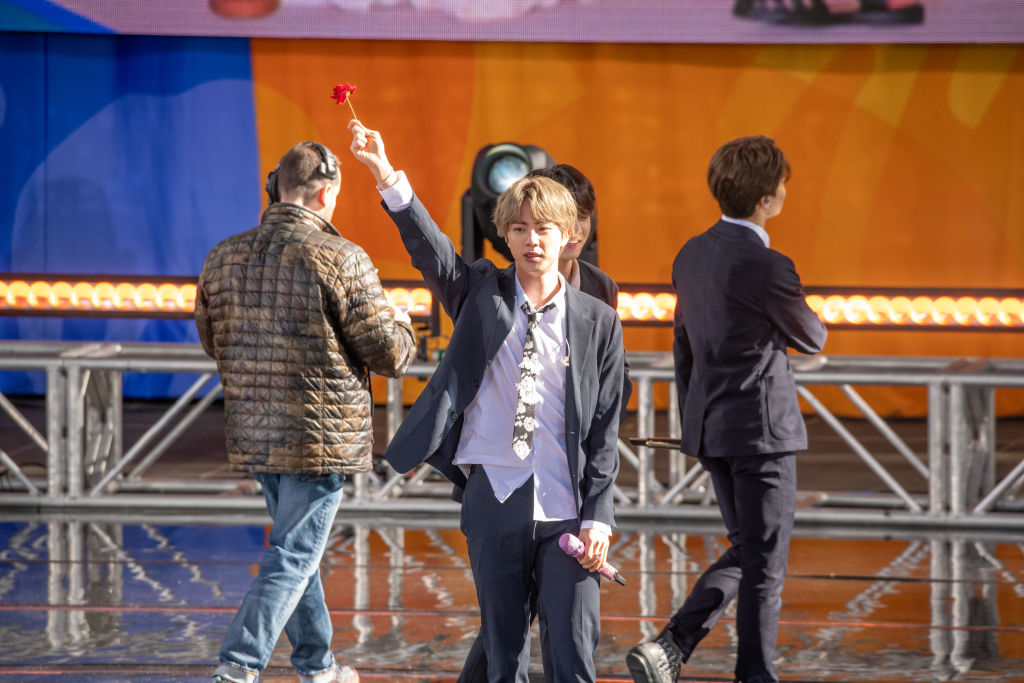 Jin hosted a VLIVE livestream on his birthday
BTS is currently in Japan for the 2019 Mnet Asian Music Awards. To celebrate his birthday, Jin hosted a VLIVE livestream from his hotel room while he played computer games.
Jin also replied to fans' questions and comments during the VLIVE. He acknowledged that he was grateful some of the BTS members visited during the livestream and that he missed the way he celebrated his birthday with his family. He also admitted that he forgot about his birthday this year.
"Just thinking about how Jin's been on a flight, probably tired, has to attend and perform at an awards show, and still came on vlive on HIS bday to talk with us. We don't deserve him! He's the most selfless beautiful person! #JINDAY#HappyBirthdayJin," one fan tweeted.
"Seokjin is so loving and caring, he always goes on VLIVE every birthday, he wrote us a letter last year and even wrote in english apologizing and saying he loves us, always goes on VLIVE with his eat Jin and talks to us as if we are his friends, he deserves everything," another fan tweeted.
The BTS members celebrated Jin's birthday
In the VLIVE, some of the members of BTS joined Jin after their MAMA rehearsal. In typical BTS fashion, the members joked around with Jin as they talked about his birthday and talked to fans. At one point, V got under the covers of Jin's bed. When Jin asked him not to, V replied that it was Jin's birthday.
"Are you the birthday gift?" Jin asked.
Jin's birthday VLIVE was typical BTS chaos. J-Hope joked that Jin turned 30 years old. When V kept ringing the doorbell to Jin's room, Jin left the room to chase him. J-Hope, Jungkook, and Jimin proceeded to celebrate in Jin's room without Jin.
On Twitter, the members of BTS started posting birthday wishes for Jin. Suga posted photos of he and Jin rehearsing and referenced their fishing trips. He also joked that Jin's birthday always falls on MAMA. J-Hope posted a video of Jin on his phone.
ARMY celebrated Jin's birthday
BTS fans also celebrated Jin's birthday on Twitter. ARMY trended #JINDAY along with #HappyBirthdayJin and #HappyJinDay. With the hashtags, fans posted their birthday wishes for the singer.
"All I want is to see his beautiful smile, to see him having fun together with the boys. To stay happy and healthy, Jin deserves everything good in the world #HappyJinDay#JINDAY," a fan tweeted.
"you ever just wanna cry bc of how gifted kim seokjin is?????? #JINDAY," wrote a Twitter user.
"HAPPY BIRTHDAY OUR ONE AND ONLY WORLD WIDE HANDSOME !! WE LOVE YOU SO MUCH. YOUR EXISTENCE BRINGS US HAPPINESS #JINDAY #HappyBirthdayJin," one fan tweeted.
"Jin is so talented , even to this DAY, his song, his voice, his TALENT, makes me shed a tear," a fan tweeted.