Jinger Duggar Just Showed Her Mom, Michelle Duggar, Visiting Her in Los Angeles
Whether you've been keeping up with the Duggar family since the early days of 19 Kids and Counting or you're just getting acquainted with them via TLC's Counting On, there are plenty of Duggars to get to know. And one fan favorite of Jim Bob and Michelle's kids is Jinger. Jinger has long been known as one of the more rebellious Duggar kids, as she broke a few courtship rules back when she was dating Jeremy Vuolo and wished to branch out from Arkansas as a youth. And now that she's well into adulthood, fans have long wondered where she stood with her family members.
We know Jinger and Jeremy are choosing to raise their young daughter, Felicity, in Los Angeles. And it looks like some of the other Duggar family members finally made it out west to visit. Here's what Jinger just posted.
Many thought Michelle Duggar wouldn't approve of Jinger moving across the country
It shocked everyone when Jinger Duggar and her husband announced they'd be moving to Los Angeles, California. Prior to their move, they were living in Laredo, Texas, but Jeremy wanted to pursue further ministry studies in La La Land. For that reason, they packed their bags and are officially the first of the Duggars to move all the way out west.
Jinger and Jeremy moving is certainly great content for TLC, as it gives them a whole new storyline to focus on for Counting On. But many assumed Michelle and Jim Bob Duggar wouldn't approve of the move. We can't forget that in Jinger's youth, she said she wanted to move to a big city — and Michelle shut her down immediately. Not only that, but others questioned whether any of Jinger's family members were supportive of her move, as only Josh Duggar's wife, Anna, seemed to comment on Jinger's Instagram announcement at the time.
Jinger just posted about her mom and younger siblings visiting Los Angeles
After Jinger moved, many wondered why Jim Bob and Michelle seemingly never visited their daughter. But Jinger just posted photographic evidence that her family did venture out to L.A. for a visit. "So happy to have some of my family in town for a visit!" Jinger captioned a photo of her, Michelle, and her youngest sister, Josie, on her Instagram Story.
The Duggar family Instagram had their own content from visiting Jinger as well. "SO thrilled to be in California spending time with @jingervuolo!!" Michelle seemed to post to the family 'gram using the same photo as was featured in Jinger's Instagram Story. Not only did Michelle go out west, but a number of the other young Duggar children in addition to Jim Bob also made the trek. The Duggar Family Instagram Story shows the younger kids walking on the Hollywood Walk of Fame with Jim Bob by their side.
Jinger claims she keeps up with her family more than many would think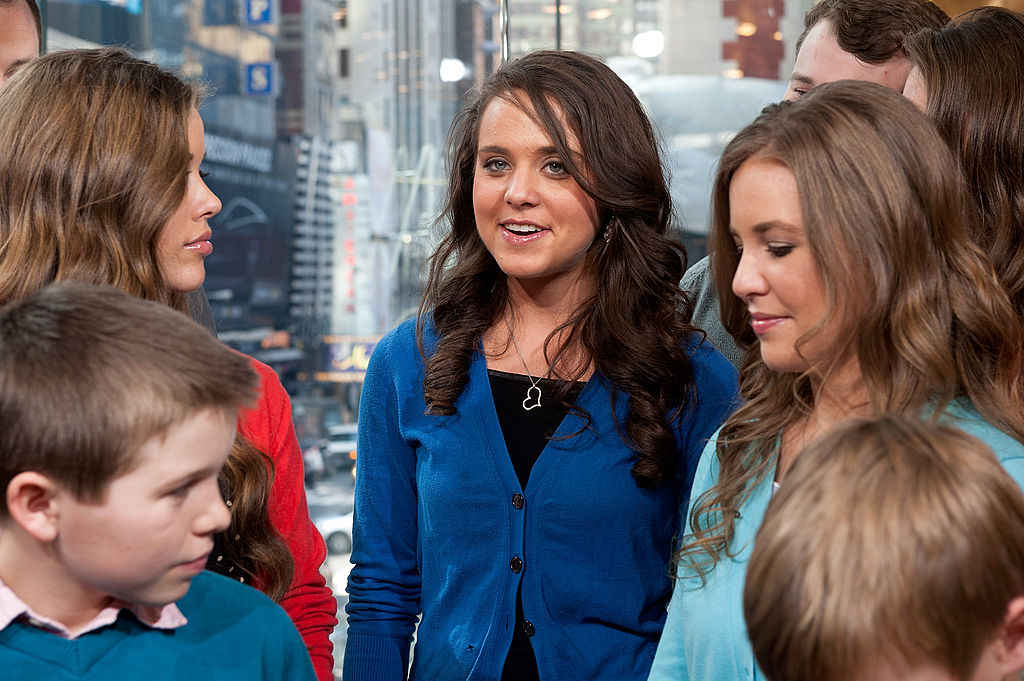 The other Duggars don't seem to visit Jinger often, but we can't forget that Jana was in Los Angeles with Jinger a few months back. And while Jim Bob and Michelle don't often head across the U.S., Jinger says she still keeps up with her family regularly. During a Q & A session with Jeremy that Jinger posted to Instagram, she said, "I try to stay in touch with my family all the time. We have a family group message and so all the kids are on there and the married spouses, and we just get on there and send everyday stuff."
There's a good chance we'll get to see this visit on the new season of Counting On, too — and maybe it's TLC who flew Jim Bob, Michelle, and the younger Duggar kids out to Los Angeles in the first place. Either way, it's nice to see them visiting Jinger and supporting her in her new home state.
Check out Showbiz Cheat Sheet on Facebook!