Satisfy Your Sweet Tooth with Joanna Gaines' Chocolate-Dipped Shortbread Cookie Recipe
Do you have a sweet tooth that just won't go away? Former Fixer Upper star Joanna Gaines has a delicious recipe that's sure to satisfy your cravings. Here's Gaines's chocolate-dipped shortbread cookie recipe.
Chocolate-Dipped Shortbread Cookies
Makes about 2 dozen cookies
Ingredients
For the cookies:
3 cups all-purpose flour
1 cup sugar
¼ teaspoon kosher salt
¾ pound (3 sticks) room temperature salted butter, cut into pieces
4 teaspoons pure vanilla extract
For the chocolate glaze:
12 ounces semisweet or dark chocolate chips
2 teaspoons vegetable shortening
Toppings (optional):
Crushed peppermint
Crushed toffee + toasted pecan blend
Toasted pistachios, chopped
Flaked sea salt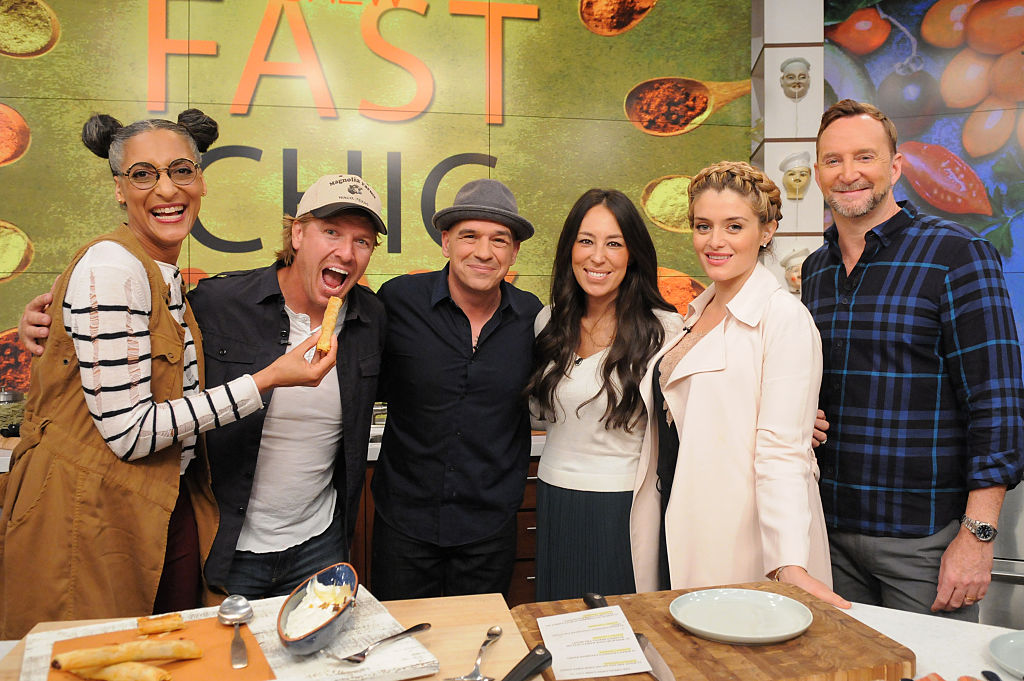 Instructions
1. Line two baking sheets with parchment paper.
2. To make the cookies: In a food processor, pulse the flour, sugar, and salt to blend. Scatter the butter over the flour mixture. Add the vanilla. Pulse to form small clumps of dough.
3. Pour onto a work surface. Gently gather into a clump of cohesive dough. Divide in half. Form each piece into a log that is about 10 inches long and 2 ½ inches in diameter. Use a sharp knife to cut each log crosswise at ¾-inch intervals to form about 12 cookies each. Rotate the logs a quarter-turn between cuts to keep the logs round.
4. Transfer the cookies to the prepared baking sheets, spacing them at least 2 inches apart.
5. Position racks in the top third and middle of the oven and preheat the oven to 325° F.
6. Cover cookies on prepared sheets lightly with plastic wrap and refrigerate until firm, about 30 minutes.
7. Remove plastic and bake until the cookies are firm and pale golden on the edges, 18 to 20 minutes, switching racks and rotating the pans halfway through so they bake evenly. Cool on the sheet on a wire rack for 5 minutes, then transfer from baking sheet directly onto wire racks to cool to room temperature.
8. To make the glaze: In a medium microwave-safe bowl, combine the chocolate chips and shortening. Melt in the microwave in 20-second increments on 50% power, stir after each increment, until the chips begin to lose their shape. Stir until melted and smooth.
9. Dip one half of each cookie into the melted chocolate, let excess drip off, and place on a wire rack or baking sheet lined with parchment paper.
10. Immediately sprinkle with desired toppings. Let stand until the chocolate is set, about 1 hour. You can also pop them in the fridge to harden faster.
11. Store in an airtight container at room temperature for up to 4 days.
Source: Joanna Gaines
Read more: Try Joanna Gaines' Easy Banana Bread Recipe for Breakfast
Check out Showbiz Cheat Sheet on Facebook!