Joanna Gaines Shares Her Design Tips For a Welcoming Entryway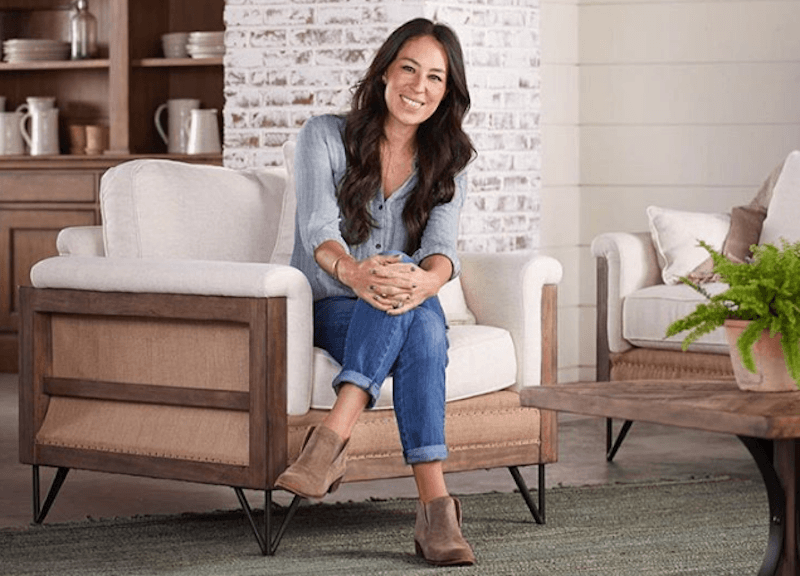 Joanna Gaines has tricks up her sleeve for every single area of a home. That includes designing the perfect entryway — even in a smaller space. While it may not seem like a huge deal to have a thoughtfully arranged entryway, Gaines claims it makes all the difference. She shared in an HGTV video, "Staging your entryway is super important because it's the first thing your guests see when they walk in."
Here's everything Gaines recommends for creating a perfectly welcoming entryway.
Go big in smaller spaces
If you have a smaller space to work with for your entryway, don't think that means your furniture and decor need to be on the small side, too. Gaines advises, "In tighter spaces, people think you have to go smaller, but I always like to go the opposite."
She recommends larger pieces, such as a long console table and an oversized mirror. Gaines revealed that an oversized mirror "makes it feel bigger." She added, "It gives the illusion that the space is bigger than it really is."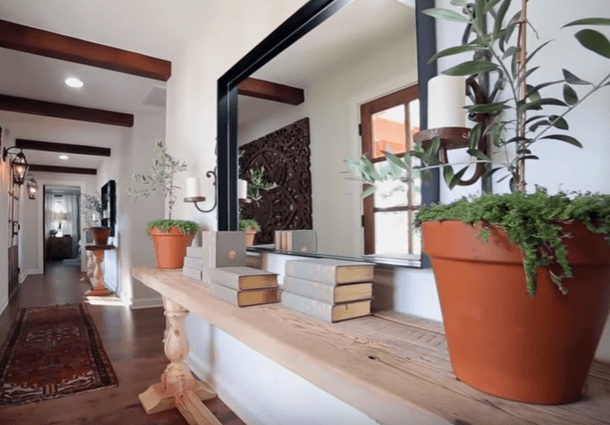 It's all in the details
While the oversized pieces will make the space feel bigger, it's important to incorporate details that add the welcoming factor. She'd mix in pieces like antique sconces, old books to add texture, and live plants to soften up the space.
As far as her lighting choices go, "The addition of sconces makes it feel more welcoming because it's an antique piece; it has more of a story to it." The more worn-in details along with a modern mirror choice will combine to create the farmhouse chic look Gaines is known for.
Keep it simple
Feel free to add additional details that mean something to you, but Gaines recommends keeping it simple. "Simple books, simple picture frames, your favorite quote, whatever it is — keep your entryway simple; tell a story right when people walk in. The biggest thing is making your guests feel welcome when they come into your home."
She always prefers white walls
When Gaines is designing any space, she prefers to go for white walls — and we're sure that applies to her entryways, too. She shared that painting your walls white "can actually provide a neutral and clean foundation to design around that other colors can't, giving you more freedom to get creative with decor."
Mix metal and wood
Another way to get those classic Fixer Upper vibes in your entryway? Mix metal and wood. It's the perfect way to instantly make your home feel rustic. The easiest piece to start with would be a metal and wood console table. Then, you can simply add pieces from the Hearth & Hand with Magnolia line at Target for a guaranteed Gaines-approved entryway.
Get organized
Oftentimes, entryways serve as a catch-all place for jackets, boots, gloves, purses, keys — you name it. As you can imagine, it can get very messy, very quickly. Don't underestimate the power of storage to get organized, which can keep the space light and airy while remaining functional. For a Gaines-style entryway, The Inspired Home recommends hanging storage baskets, rustic wall hooks, and galvanized storage bins.