João Franco from 'Below Deck Med' Makes a Splash as a Merman
João Franco from Below Deck Mediterranean showed fans his silly side when he posted a playful photo to Instagram wearing a mermaid tail.
Franco was hanging in the pool and took a swimmable mermaid tail for a spin. The tails are usually a fun novelty for kids and even The Real Housewives of New York City. Last season several cast members thought it would be fun to rock color-coordinated mermaid tails while taking a dip in the Hamptons.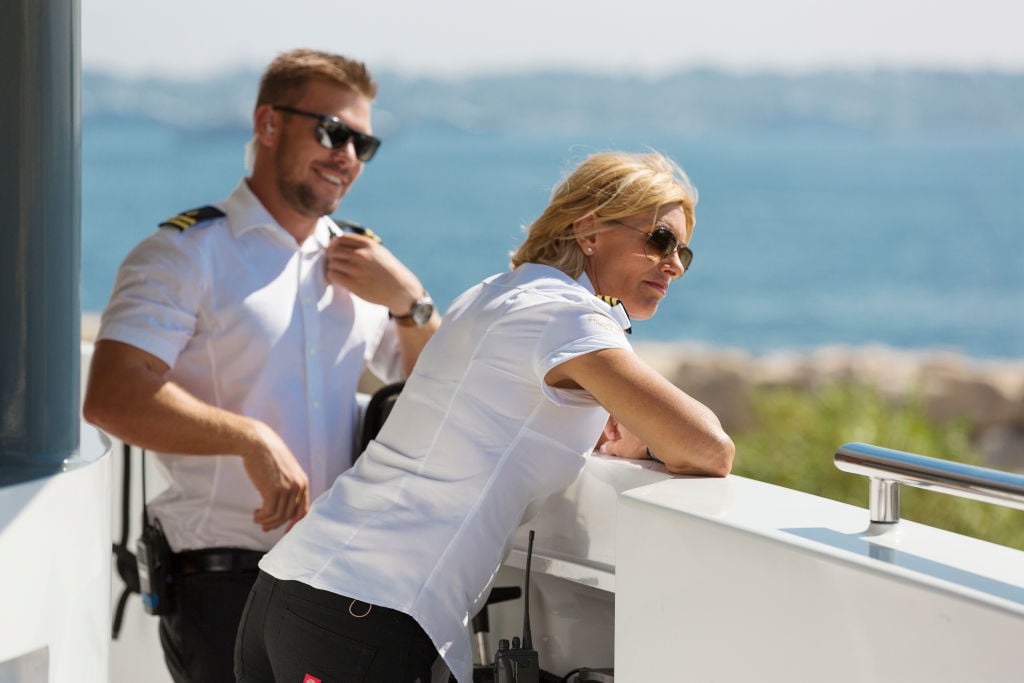 Of course, the tails were furnished by the queen of making it nice, Dorinda Medley. In fact, one of the RHONY cast members wore the same tail Franco had on display.
Saturday fun-day in the pool
Franco saw the silliness in the endeavor because he looks like he can't stop laughing in the photo. "Merman vibes 🧜‍♂️," he wrote. Instagram followers couldn't help but chime and ride the playful vibe. "Daryl Hannah is shook," one person wrote.
Another person wanted to see how swimming worked out for him too. "I want to see your attempt to swim in that. Lol," the follower wrote. Franco responded, "It didn't go down so well😂."
Others were all about this new look too. "Hey I must admit that's way hotter than my vision of a merman," a fan wrote. Meanwhile, another person was still evaluating the transformation. "Not sure how I feel about this!! LMFAO 🧜‍♂️."
Could this be his new modeling look?
Franco has been posting some pretty steamy modeling shots to his Instagram. Recently he launched a photo wearing only a trench coat with half of it pulled off to the side. His followers couldn't help themselves but comment. Third stew Anastasia Surmava dropped this spicy remark, "You know people usually get arrested when they are naked under a trench coat." Captain Sandy Yawn just wrote, "Seriously."
So when close friend and deckhand Colin Macy-O'Toole saw the new photo, he couldn't help himself. "These new modeling pics are really making a splash…," he wrote. A number of followers were all about Macy-O'Toole's comment as he struck a serious funny bone. " My favorite bromance!" one person added.
Franco was in a fun mood because he latched onto Macy-O'Toole's remark and went for it. "@colin_macyotoole like I was mermade for it, right?🤣🤣🤣 💀," he responded. Macy-O'Toole, who is the king of the quip came back with, "@joaograntfranco This pic is sure to get you some tail…," he commented. Franco continued the thread with, "@colin_macyotoole who knows, any fin is possible."
How can fans get Franco's look?
Franco lives in South Florida, which means swim weather is year-round. But anyone can still lock down Franco's merman look thanks to a teal mermaid tail from Fin Fun.
The sparkly blue tail comes with a 90-day tail tip warranty, plus it is machine washable. Perfect for kids or bosuns with a serious love of the sea. All sizes are available from kids to adults.
While Franco didn't seem to get that true swimming mermaid experience, some users reported that the tail actually made them swim faster. Close to 90% of users recommend the product and most rated it with five out of five stars. Shoppers who purchase the tail directly from Fin Fun get free shipping and the tail costs $34.95.