Joe Jonas and Sophie Turner Will Wait a While Before Starting a Family
Joe Jonas and Sophie Turner quickly became an "it" couple between Jonas' major comeback with his band and Turner's major role in Game of Thrones. Though the two have been together since 2016, it seems people have become more in love with them than ever this year. The couple recently tied the knot (in two weddings), and fans have been curious as to when they might start a family.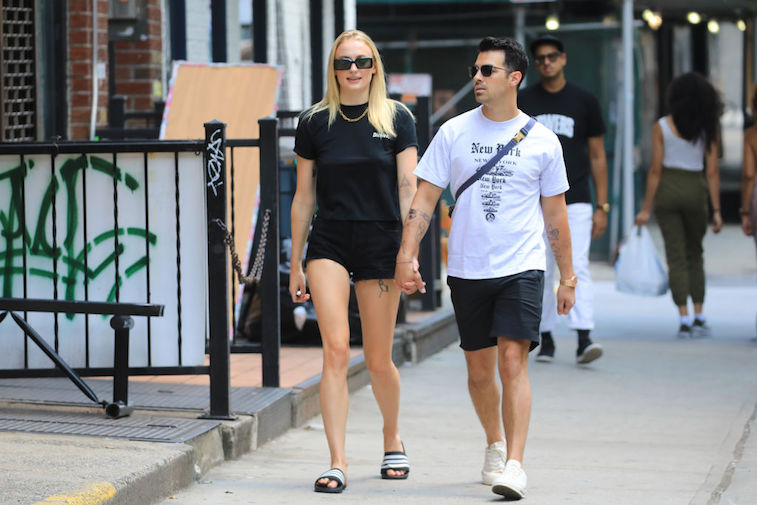 Jonas and Turner celebrated their love with two weddings
The couple shocked everyone when they had a shotgun wedding after the Billboard Music Awards in Las Vegas in early May 2019. The two invited plenty of their celebrity friends, and Dan and Shay performed as Turner walked down the aisle. However, it turned out the two actually needed to get married in the United States in order for the marriage to be legal, which explains why they had the first wedding. Jonas and Turner then held a much more extravagant, sophisticated ceremony in France in late June. Their close friends and family were invited, and they even had custom beer bottles made.
Turner is about six years younger than Jonas
Though the age gap isn't a large one, Turner is several years younger than Jonas. She's only 23, and if she had lived a more ordinary life, she would have only graduated college within the past year. Jonas turned 30 on August 15, so he's nearly seven years older than his wife. While Hollywood age gaps don't mean much, and nobody seems to be pressuring them to have kids, Turner is still very young, and it's possible she doesn't want kids yet for several reasons — one of them being her age.
The couple reportedly won't start a family for a while
The two have done their best to keep their relationship to themselves. They post plenty of Instagram photos together but don't alert everyone to all of their exact plans. However, sources close to the couple have said that a family is not on either of their minds right now. Jonas just recently reunited with his brotherly band, The Jonas Brothers, and he seems to be on top of the world right now. And Turner just finished up her show, Game of Thrones, and is looking to start her next big acting adventure. According to Hollywood Life, Turner wants to focus on acting a bit more before she starts having kids.
Turner has accompanied Jonas on his Happiness Begins tour
Turner and Jonas have remained thick as thieves since they tied the knot. Jonas and his brothers are on a major comeback tour, and Turner, alongside Priyanka Chopra and Danielle Jonas, has accompanied her new husband on as much of his tour as possible. The newlyweds look like they're enjoying marriage together without having to worry about much more than just spending time with each other right now. Though we're certain kids are in their future, it doesn't look like they have started the family planning just yet.