Everyone Is Losing It Over This Photo Of Joe Jonas And Sophie Turner At the 'Game of Thrones' Premiere
Joe Jonas and Sophie Turner are legitimately a super couple, so everywhere they go, people want to know what they're up to. Fortunately, both are very active on social media, so in addition to paparazzi photos, we often get a sneak peek at their life from behind-the-scenes. In recent news, everyone on Instagram is freaking out about a photo Jonas shared of him and his fiance at a major event. Here's what you need to know.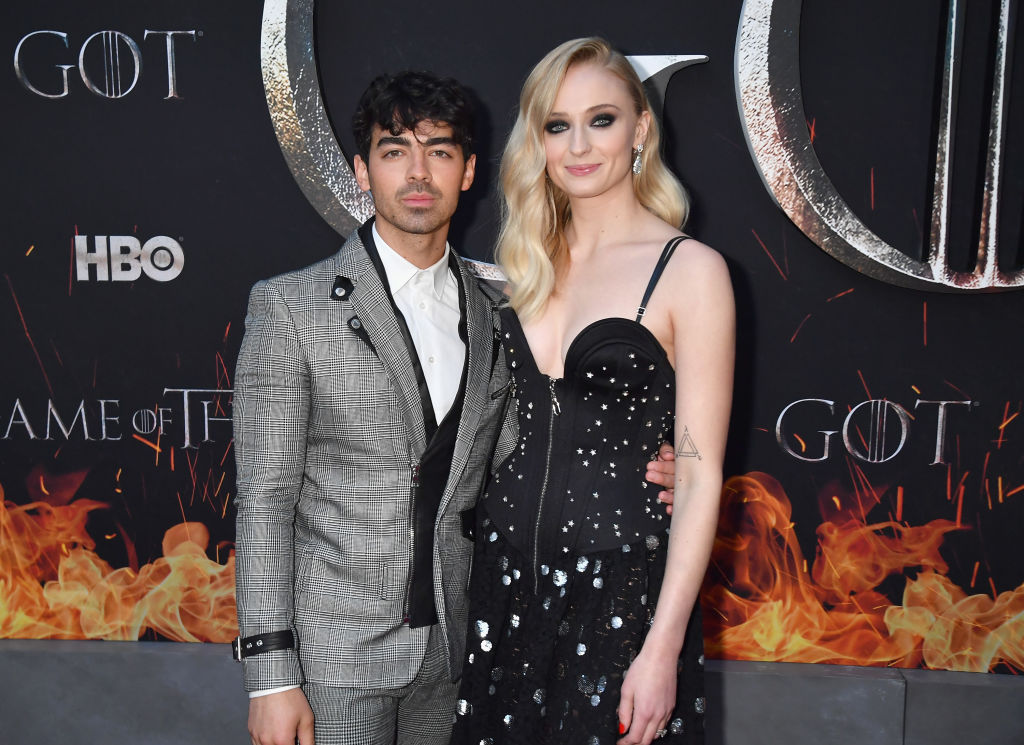 Jonas and Turner are engaged

If you're not familiar with the couple, settle in: Jonas and Turner were first seen hanging out in 2016, and rumors quickly began to circulate that they were a couple. The stories heated up when she shared a photo of them on her Instagram in Jan. 2017, and by May, they were official. They announced their engagement in Oct. 2017.
Since then, the two have been spotted together often, though are obviously very busy. In addition to filming Game of Thrones, Turner stars in the upcoming X-Men film Dark Phoenix. Jonas, on the other hand, has reignited the fire that started it all, getting back together with his real-life siblings to make new music as The Jonas Brothers.
This is how it all went down

The photo in question was taken on April 3, 2019, at the Game of Thrones Season 8 premiere in New York City. Though the rest of us are in the dark until the HBO premiere on April 14, it looks like Jonas, Turner, and all of the other attendees were able to screen the first episode of the final season of the acclaimed series.
After the screening, there were parties, and it was rumored that everyone was having a blast. It was during this time that this photo of Jonas, Turner, and Jack Gleeson, who portrayed King Joffrey on Game of Thrones, was taken. While Turner and Gleeson hammed it up for the camera, Jonas looked taken aback as his fiance had her arms around her co-star. He captioned the photo jokingly, referring to Gleeson's character's death from many seasons ago.
What's going to happen in Season 8?

The details behind the end of Game of Thrones are so secretive that Jonas allegedly had to sign an nondisclosure agreement after spending so much time on set with Turner. So chances of anything slipping out before the series finale are slim.

But here's what little we do know: The final season consists of six episodes, each of varying lengths (some are even the duration of a feature film). They begin airing on Sunday, April 14, 2019, on HBO, and conclude on May 19. There is likely to be plenty of closure, which, on this show, typically means death.

This is what we know about Turner and Jonas' upcoming nuptials

With her big starring film role and the end of her huge TV series on the way, Turner has finally had time to plan her wedding. It was reported in March 2019 that the Jonas-Turner wedding will take place sometime this summer. Chances are, they'll keep the details under wraps as long as possible. Whether or not Joffrey will be in attendance to steal the bride away is also unknown.