Joe Rogan Suspects Kanye West Is Starting a Cult
Joe Rogan has never shied away from the controversial, especially when it comes to guests or topics on The Joe Rogan Experience. His plan to have Kanye West appear on the show was no exception to this. However, after several confusing turns of events, Rogan appeared to cancel any plans to have Kanye West on his show.
Now, Rogan seems to be suspicious of Kanye's Sunday services. In fact, Rogan has floated the idea that Kanye West is starting what essentially amounts to a cult.
Kanye West's invitation to appear on the show
Last December, Kanye West announced that he'd been off of his mental health medication for six months. At the time, he was frustrated with the feeling that media outlets didn't want to discuss mental health with him.
He tweeted, "I've been trying to do a serious interview speaking on mental health but it seems as though all members of press are afraid to speak to someone who has been diagnosed but is still everyone's favorite superhero."
Joe Rogan replied to the tweet with, "I would be happy to talk to you about it for as long as you'd like."
It seemed like a match made in heaven at first — neither Joe Rogan nor Kanye West is known for reeling in their beliefs or personalities, so it promised to be an interesting episode of Rogan's podcast. However, things eventually took a turn.
Joe Rogan's canceled his invitation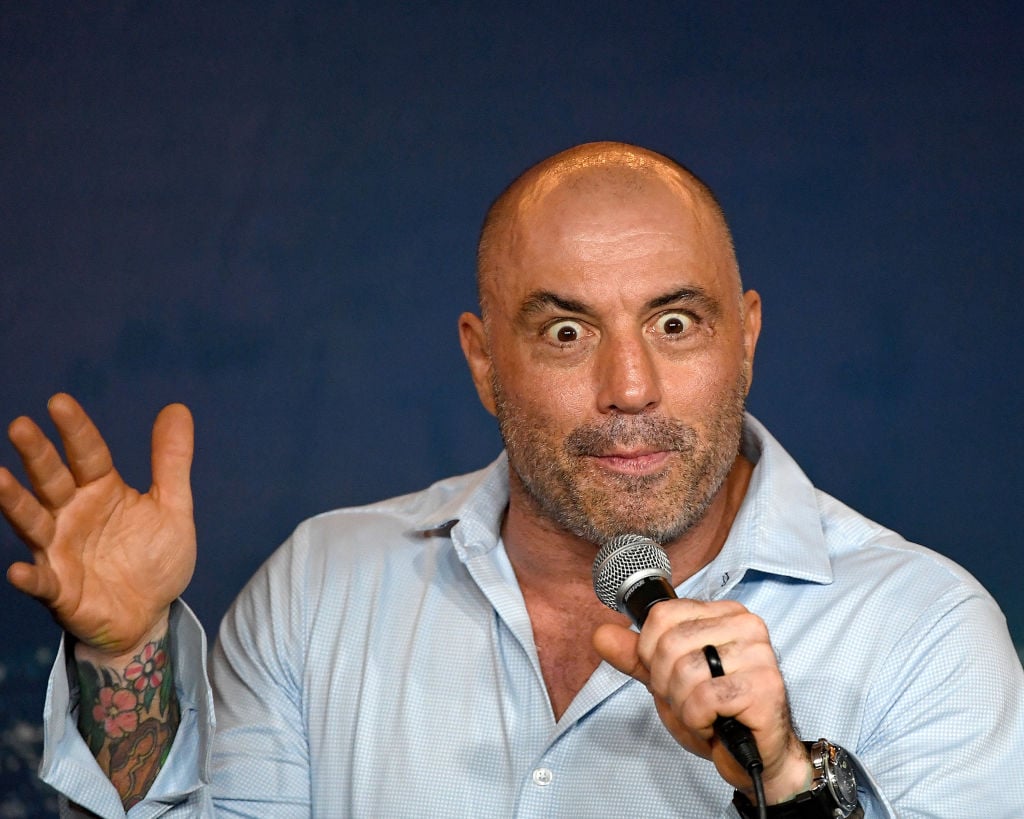 The interview appeared to be confirmed by both sides, and was mentioned by Rogan several times. However, months went by with no updates regarding the interview.
Fans became concerned, and one Reddit user claims Joe Rogan spilled the tea about Kanye West after a show in Austin. Allegedly, Rogan stayed late after the show to answer a few questions, and that's when he revealed that West's appearance on the show had been canceled.
A Reddit user wrote, "I will paraphrase what he said next. He said he does not think Kanye coming on the podcast is a good idea for him (Kanye). He said after speaking with him (which he reiterates he really enjoyed) he said he doesn't think its best and he doesn't need the platform. Specifically said he realized this after speaking to Kanye and Kanye telling him about his plans to create a dictionary using only 'positive' words. Joe made a weird/confused face which got a laugh from the crowd and he moved on to the next question."
The user went on to suggest that Rogan figured Kanye West would wind up using the platform for promotion, rather than for a real and frank discussion of mental health. Naturally, this is all hearsay.
Joe Rogan says it seems like a cult
Now, it seems as if Joe Rogan's feelings about Kanye West have taken yet another turn. Rogan seems to suspect that Kanye West is effectively starting a cult. During an episode of The Joe Rogan Experience with Andrew Santino, the two discussed Kanye West and his Sunday services.
The two began to discuss how Kanye West takes issue with pornography and curse words these days, which segued into the greater discussion. "He's starting a new cult, it's clear, he's on his way. It's probably gonna be huge," opined Joe Rogan.
Santino asked if Rogan suspects it will be like Scientology, and Rogan said, "It seems like he's doing it for free, though. He's got a sh*tton of money, and so does his gal. I think it probably opens up the door for his other businesses."
He added, "So he does the show, and then people are like, 'What do I have to do to be in the cult?' 'Just get yourself 11 pairs of Yeezys!'"