John Mulaney Points out That Urban Scooters Are Dangerous
Although John Mulaney is the king of comical observations, he recently dove into the unfunny world of urban area scooters and the dangers they pose.
As he strolled through the streets of Washington D.C., he commented about the ridiculousness of dangerous scooters. "These are a terrible unsafe and deeply lame addition to our American cities. Knock this s*** off," he posted to his Instagram story. "Also, DC businessman you look like a fool on 'em."
Mulaney posted a photo along with arrows pointing at the offending scooter. His next frame included a photo of another scooter. "At no point in the past decade did anyone say that scooters you can just leave anywhere was what was missing from life," he wrote. "Awful."
Mulaney has a really good reason to be angry about the scooters
Pedestrians have complained about nearly being hit by a scooter. Mulaney's dog Petunia was one such near-casualty. "And yes, I am mad because some baby boomer DC sonofabitch almost hit my dog riding a scooter," he shared. "But also, in general, get this s*** outta here." Along with the post, Mulaney shared a picture of Petunia looking pretty annoyed.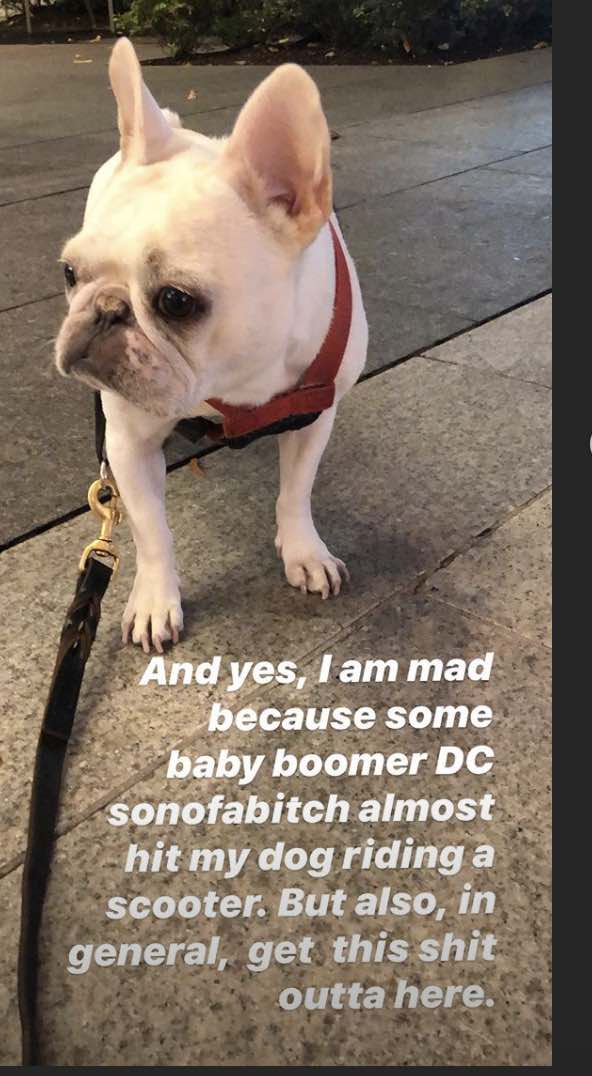 He later spies another scooter and writes, "Still awful," on his Instagram story. Mulaney then lightens his mood (or injects additional sarcasm) when he comes across what could be considered to be a slower scooter. The scooter has larger wheels, a kickstand, and a basket. "Oh cool," he wrote.
Mulaney then shares an article enthusiastically proclaiming that people can now rent a moped in DC. starting this weekend. "No, no, no," he declares.
Mulaney is totally right
Sure, urban scooters can get you to your lunch date faster than hoofing it. But you could arrive with a nice concussion (or give a pedestrian a nice concussion). Electric scooters are the worst offenders too. According to a new study by Austin Public Health, almost half of electric scooter riders in the study sustained a head injury with 15% experiencing what is considered to be a "traumatic head injury." The study showed that most of the injuries were avoidable if the rider wore a helmet.
One problem is there aren't specific laws that govern scooter usage so it's scooter "wild west" on city streets. "There is no uniform set of rules right now that govern the use of scooters [across] local jurisdictions," Scott Cummings, a professor at UCLA School of Law told CNN.
Pedestrians are also being injured by scooters. The Washington Post reports that an elderly man was hospitalized (and later died) after tripping over a scooter left laying on the payment. The man's daughter made a similar observation as Mulaney.  "This accident was completely avoidable," she said. "What other mode of transportation can you just leave in the middle of the sidewalk with no repercussions?"
Wally Ghurabi, medical director of the Nethercutt Emergency Center at the UCLA Medical Center in Santa Monica told the Post, "I've seen pedestrians injured by scooters with broken hips, multiple bone fractures, broken ribs and joint injuries and soft tissue injuries like lacerations and deep abrasions."