Johnny Depp's 'Into the Woods' Look Sparks Mixed Reaction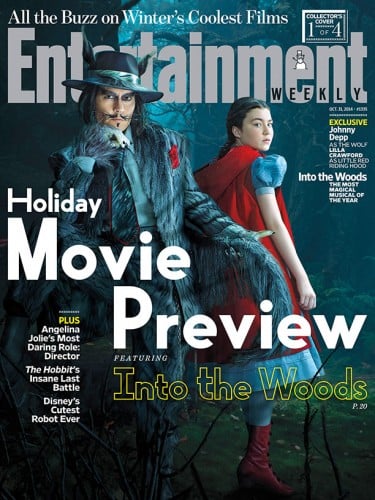 The first official image of Johnny Depp as the Big Bad Wolf in the upcoming Disney adaptation of Into the Woods has officially been released. Fans have been eagerly waiting to see the actor's take on the famed character for weeks and the newly unveiled look, which comes courtesy of Entertainment Weekly, is already generating a strong public reaction.
Depp dons the full, furry getup for one of four Into the Woods-themed covers from EW. While we've already seen what some of the other major characters will look like in the film — including Meryl Streep's the Witch, Anna Kendrick's Cinderella, and Chris Pine's Prince — previously released promotional posters and teasers were careful to keep an air of mystery around Depp's take. A brief clip from the film, released this summer, stops short of showing the actor in the elaborate costume, instead giving only a short glimpse at the character's huge paw and hat peeking out from behind a tree.
The Big Bad Wolf character is known for having a particular graphic costume in Steven Sondheim's original show, which skews toward a more adult audience. Audiences were wondering how Disney would adapt the getup for the big screen, and more important, how they'd make it stand out on Depp, who has donned more than his fair share of extreme, campy costumes as Captain Jack Sparrow, Edward Scissorhands, the Mad Hatter, and Willy Wonka (to name a few). Now, they've finally gotten their answer, but it seems not everyone is entirely thrilled with the end result.
As can be seen in the cover shot, Depp's costume consists of a Tex Avery-style fuzzy suit accessorized with a tie, a hat, wooly boots, and a more than slightly absurd mustache. The overall effect is decently sinister, but not entirely convincing — something that fans have had no problem pointing out on social media. Several have pointed out that he looks more like "a lost Musketeer" than a wolf and that the getup seems almost too over-the-top in comparison to the other actors' costumes, all of which make for significantly more believable takes on the characters.
Regardless of whether you're for or against Depp's version of the Big Bad Wolf, the photo has made one thing clear: audiences are eager to see more from the upcoming movie and all of its characters. In fact, Depp's costume isn't the only one to draw attention. Another of the EW covers also shows a glimpse at Streep's Witch post-transformation. Though viewers had previously seen the elder version of her character, they hadn't yet seen her in full glamour mode and the first look is pretty stunning, with lots of deep blue and flowing material, slightly reminiscent of the looks in Frozen. Another notable factor? Streep shares her cover with Mackenzie Mauzy's Rapunzel. Her inclusion seems to confirm rumors that role has been significantly altered and added to for the Disney adaptation.
How true the film will stay to the original has been a point of contention over the last several months, but director Rob Marshall has made a point of debunking any rumors of wide deviations between the play and the film. Either way, the movie will have high expectations to meet, as demonstrated by the outspokean reactions these new character glimpses have sparked.
Into The Woods hits theaters on Christmas Day.
More from Entertainment Cheat Sheet:
Want more great content like this? Sign up here to receive the best of Cheat Sheet delivered daily. No spam; just tailored content straight to your inbox.