JoJo Fletcher Reveals Jordan Rodgers Almost Didn't Propose On 'The Bachelorette'
Jordan Rodgers was JoJo Fletcher's final rose winner on her season of The Bachelorette. But according to Fletcher, Rodgers almost didn't pop the question during filming.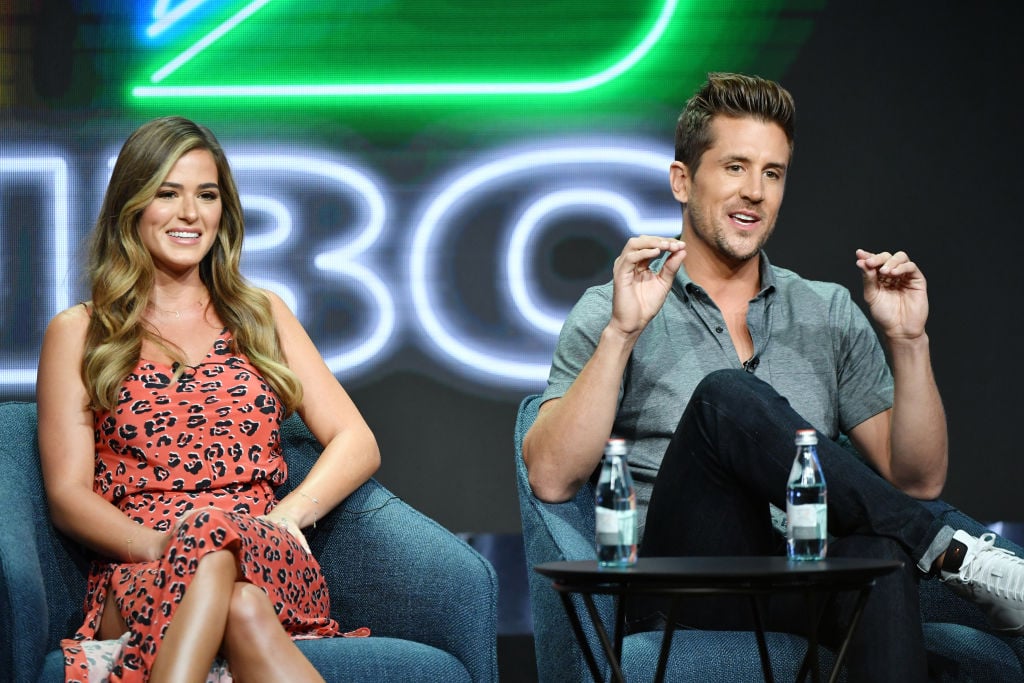 Why Jordan Rodgers almost didn't propose to JoJo Fletcher on 'The Bachelorette'
In the most recent episode of Betches Brides podcast, Fletcher revealed that Rodgers didn't want to propose just "for the sake of the TV show."
"Jordan had said, 'Unless this is 100% where we are both at, I don't want to do it for the sake of the TV show and I won't.' There was this whole thing with producers not really letting him talk to my parents again after they had met," she explained.
She went on to explain that Rodgers has traditional values and wanted to have a conversation with her parents before officially proposing to their daughter.
Apparently, Rodgers "finally got into the place where he was ready. Obviously, in his mind, he thought that I was also in the right place to do the proposal, but my parents had already left. And so, he felt like producers were…strong-arming him and so he basically told them, 'Listen, I will leave and I'll tell JoJo that we can, you know, do this after, but I'm not going to just do it for the sake of the TV show.'"
As Bachelorette fans know, Rodgers did end up proposing on the show, despite the unwarrented pressure from producers.
Fletcher also said on the podcast that she's glad she and Rodgers had a long engagement. She feels if they would have rushed into a marriage without really getting to know each other and working out their issues, they probably would have gotten divorced.
"If Jordan and I were to have gotten off the show engaged and started planning a wedding right after, we probably would not have made it. It probably would have ended up in divorce," she said. "And I hate saying that because I never would ever want that for my life, but I truly do think if we would have taken that route and rode out that high and jumped right into it, it wouldn't have been good for us."
Jordan Rodgers re-proposes to JoJo Fletcher with a new ring
Just recently, three years after their first engagement, Rodgers re-proposed to Fletcher with a new ring to really seal the deal.
"I can't put into words how much it meant to me @jrodgers11 … but I think you know by now from me balling hysterically and totally blacking out," she joked. "The show brought us together and set us up for a truly amazing proposal the first time around, but this time was all YOU. And that means everything and more to me. I can't wait to marry you! Thank you for loving me so purely and protecting my heart in a way I always used to pray for," Fletcher wrote of the proposal on Instagram.
Read more: Former Bachelorette Kaitlyn Bristowe Shuts Down Rumors That She's Engaged To Jason Tartick