'Jojo Rabbit' Review: Taika Waititi's 'Anti-hate Satire' Inspires Hope Amid Political Strife
Most moviegoers probably only know Taika Waititi as the man behind Marvel Studios' Thor: Ragnarok and its upcoming sequel. But Waititi has more to say than the confines of his fan-favorite Marvel character Korg would allow. So casual audiences expecting his latest film, Jojo Rabbit, to be a straightforward laugh riot will leave disappointed.
What the film — Waititi's sixth directorial effort — does is much more complex than that. In a time marked by political division and the problematic-at-best box office reign of Joker, Jojo Rabbit serves as the perfect antidote. In fact, it is one of the year's very best films.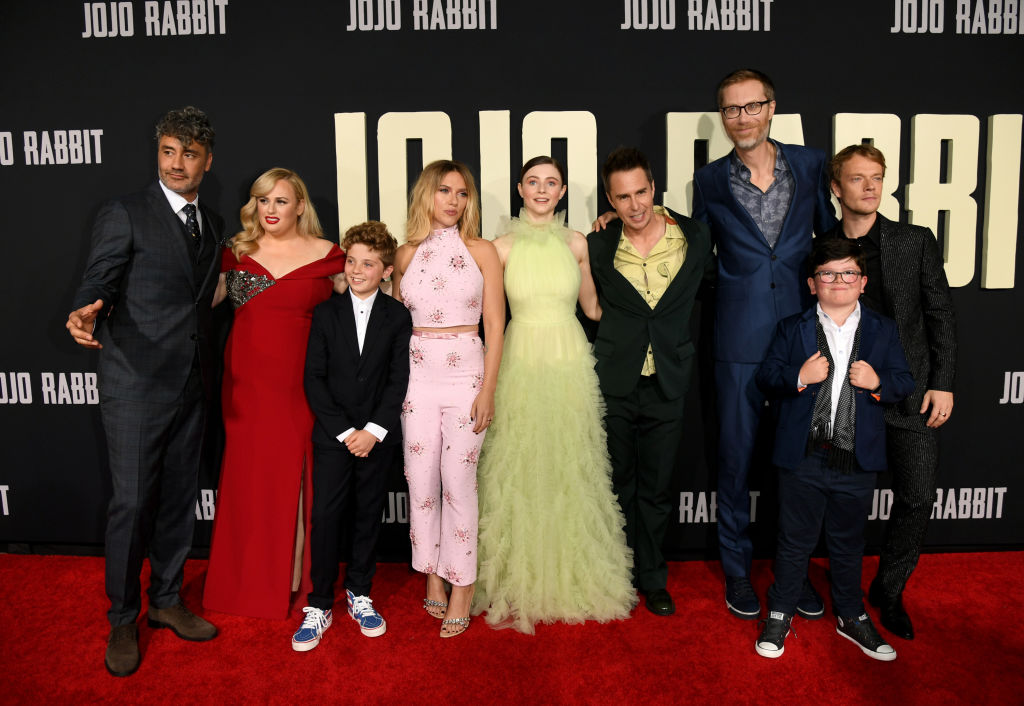 A setting we've seen in a way we haven't
Set in Nazi Germany toward the end of World War II, Jojo Rabbit presents a familiar setting like few films ever have. The story centers on young Jojo (Roman Griffin Davis), a Hitler fanatic who dreams of joining the Führer's personal guard. In fact, Jojo is so devoted that he conjures up an imaginary version of Hitler (Waititi) as his best friend.
This device allows Jojo Rabbit to deflate the tension of its wartime environment with Waititi's buffoonish portrayal of Hitler. In fact, the film achieves a delicate balance between satire and drama throughout. The Nazis as a whole are the butt of the joke, as Waititi makes eminently plain.
Yet, Jojo Rabbit doesn't undercut the stakes of its story with too many laughs. One of the biggest criticisms some fans have with Thor: Ragnarok is its unwillingness to let emotions play out honestly. As a result, character deaths and major twists in that film lack the necessary weight. Jojo Rabbit avoids this fate, giving its tragic scenes enough time to make an impact.
An ensemble cast that understands the gravity of this story
Much like Life Is Beautiful, Jojo Rabbit touches on the light within the darkness that is World War II. Of course, no filmmaker wants to be accused of making light of the Nazi Party's actions. Instead, Waititi brings a sensitive, albeit still bold, approach to Jojo Rabbit, one well supported by his cast.
In his first film role, Davis stuns with a layered, textured performance that makes Jojo's journey feel inevitable yet still unpredictable. Waititi's Hitler gives Jojo the perfect sounding board to let viewers into his head. Meanwhile, the director himself delivers a delightfully goofy take on one of history's most monstrous leaders.
Thomasin McKenzie follows last year's Leave No Trace with another award-worthy turn here. Likewise, Oscar winner Sam Rockwell shines as a Nazi captain who befriends Jojo. However, Scarlett Johansson's performance as Jojo's mother is the immaculate standout of the bunch, deserving of her first Academy Award nomination.
This year's Best Picture winner?
After Thor: Ragnarok, it would have been easy for Waititi to leave his more idiosyncratic work behind. Boy, What We Do in the Shadows, and Hunt for the Wilderpeople aren't exactly the stuff of mainstream entertainment, it seems. But with Jojo Rabbit, he challenges himself to go much bigger thematically.
The result is a tender tale that marries Waititi's quirky sensibility with a powerful statement on the necessity of compassion in a world driven by hate. No wonder it resonated so strongly with audiences at the Toronto International Film Festival. With this momentum, Jojo Rabbit is poised to be a major player in the upcoming awards season.
To say that Waititi's film may renew your faith in humanity sounds trite. But it's also not far from the truth. Jojo Rabbit weaves a meaningful tapestry of themes and messages bound to leave moviegoers' hearts feeling full. Even though it pinpoints Nazis, Waititi's true target is hate of all kinds. And Jojo Rabbit is the love letter coming to melt it away.
Jojo Rabbit stars Roman Griffin Davis, Thomasin McKenzie, Taika Waititi, Rebel Wilson, Stephen Merchant, Alfie Allen, Sam Rockwell, and Scarlett Johansson. It is written and directed by Waititi and is theaters now.