'Joker': How Jared Leto Reacted to the Joaquin Phoenix Standalone Film
After playing the Joker in 'Suicide Squad,' Jared Leto was less than pleased when he heard about Joaquin Phoenix's new film. Here's what he did.
It seems like the Joker is everywhere these days. When it comes to comic book supervillains, few can compare to the popularity of the Joker. His natural theatricality is a big reason why fans love him. Audiences too can't get enough of exciting big-screen performances like those from Heath Ledger and Joaquin Phoenix.
However, in between those two, we got another version of the Clown Prince of Crime. Everyone — including the folks at DC Films — has decided to collectively forget Jared Leto's controversial take on the character. But the Oscar winner himself isn't giving up the role that easy.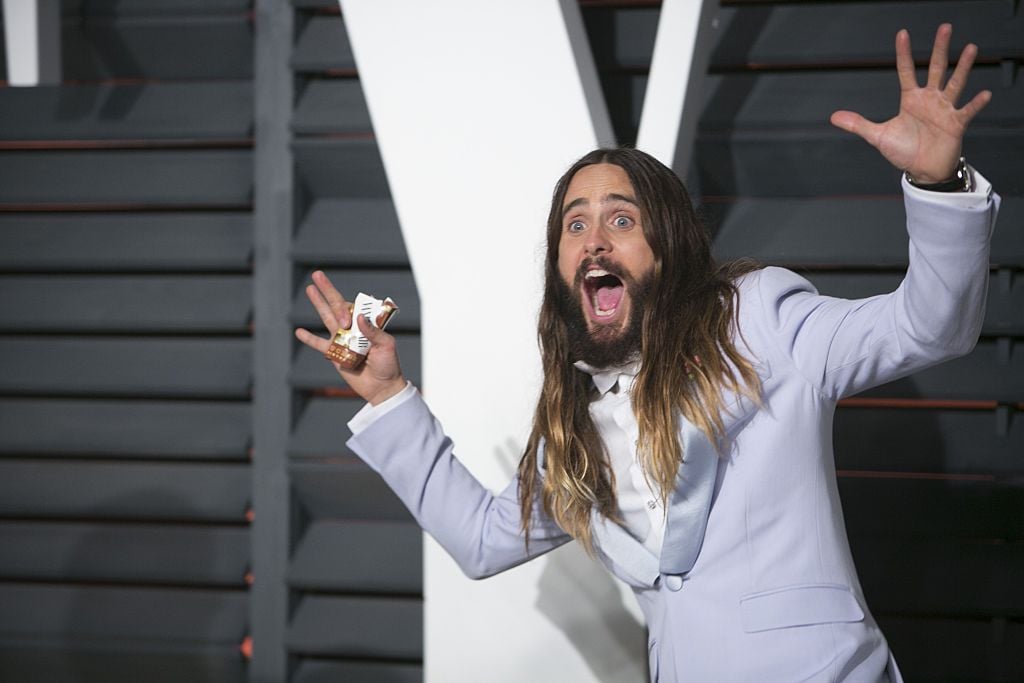 Jared Leto's attempt to cancel 'Joker'
We knew Leto was less than pleased when he learned Warner Bros. was developing a Joker standalone film without him. Now The Hollywood Reporter has uncovered Leto's ill-fated efforts to get Todd Phillips' Joker scrapped. Since he and Phillips share representation at CAA, Leto began by complaining to his agents.
According to reports, Leto requested that his music manager — Leto is, of course, the frontman for 30 Seconds to Mars — reach out to Warners' unspecified parent company to put a stop to Joker. That call reportedly did not take place. Meanwhile, Leto has since parted ways with both his music manager and CAA, in part due to the Joker ordeal.
Fans may recall that Leto had gone full Method to get into the headspace of the Joker, even terrorizing his Suicide Squad co-stars. Ironically, this behavior was also a factor in Warner Bros.' decision to roll the dice on Phillips' film. That's the kind of punchline that only the Joker could appreciate.
The weakest Joker performance
While Suicide Squad did take chances with its radical portrayal of the Joker, Leto's work pales in comparison to its counterparts. Jack Nicholson imbued the Joker with a dark, yet still playful edge. Ledger tapped into a post-9/11 pathos that retained his inherent mystique. Even Phoenix — the only actor mentioned who has yet to win an Academy Award — is likely to be nominated for his committed work.
Despite Leto's zeal for the role, his Joker feels less alive than all three of the above. He's more a collection of quirks, flourishes, and visual gimmicks than a fully realized character. In response to Suicide Squad, many fans chimed in with their thoughts on how Leto's Joker and his story should be fixed in future installments. But will the actor ever get the chance to do so?
How many Jokers will coexist in the DCEU?
At one point in time, Warner Bros. was considering a standalone film for Leto. Yet, it's hard to imagine that happening in the wake of Joker's more than $700 million success story. More likely options include either a Phillips/Phoenix reunion for a sequel or a rebooted Joker for the world of Matt Reeves' The Batman.
To be fair, the DC Extended Universe is still segmented and very much in flux. So, technically, anything is possible. However, Leto remains absent from James Gunn's The Suicide Squad and the Harley Quinn-led Birds of Prey. Continuity-wise, either of these could have marked his return with ease. Couple that fact with Leto's behavior, and his Joker is almost certainly done for.