Jokes Made About Harvey Weinstein's Behavior on Shows in 2012 and 2013
Various celebrities who knew Harvey Weinstein have expressed utter shock at the allegations against the producer of sexual misconduct. However, jokes about Weinstein's supposed behavior were made on TV over the years.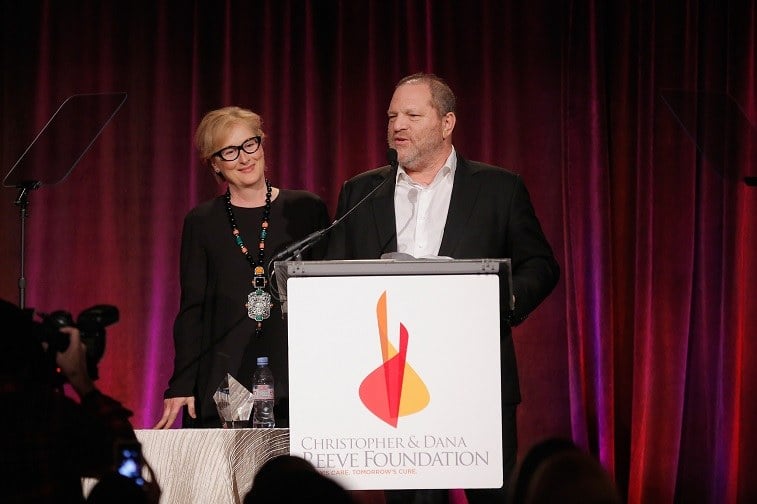 Some who knew Weinstein but say they had no inkling of any harassment or abusive behavior include actress Meryl Streep. The actress once referred to Weinstein as "God" in an Oscar acceptance speech. However, on Monday, she referred the alleged actions as "disgraceful," "inexcusable," and an "abuse of power," referring to alleged victims coming forward with stories as "heroes."
Streep collaborated with Weinstein over the years on films such as August: Osage County and The Iron Lady.
Jennifer Lawrence, 27, appeared in Silver Linings Playbook, which was produced by Weinstein. The actress went on to win an Oscar for the movie in 2013. In her acceptance speech, Lawrence said, "Harvey, thank you for killing whoever you had to kill to get me up here today."
In a statement quoted by People Tuesday, Lawrence said she was "deeply disturbed" to hear of the allegations against Weinstein. "I worked with Harvey five years ago and I did not experience any form of harassment personally, nor did I know about any of these allegations," Lawrence's statement read. "This kind of abuse is inexcusable and absolutely upsetting."
Although some expressed shock at the allegations, jokes had been made on TV over the years regarding Weinstein that indicated he had developed a reputation. At the 2013 Oscars, host Seth MacFarlane announced the five women nominated for best supporting actress. He joked, "Congratulations, you five ladies no longer have to pretend to be attracted to Harvey Weinstein," to a few laughs and some silence.
In NBC's 30 Rock, actress Jane Krakowski played an actress on the show named Jenna Maroney. The character often referred to her past with other celebrities. In an episode which aired in March of 2012, Jenna responds to another character with the statement, "Oh, please, I'm not afraid of anyone in show business. I turned down intercourse with Harvey Weinstein on no less than three occasions. Out of five."
https://twitter.com/karenricks/status/917633404614590464
Since the allegations against Weinstein were reported by The New York Times last Friday, another public figure who expressed shock was former Secretary of State Hilary Clinton, who knew Weinstein and said she was "shocked and appalled."