Jon Hamm Jokes About Bowling Movies, Reese Witherspoon and Natalie Portman
Jon Hamm's breakthrough role was on the drama Mad Men but he found his calling in comedy guest starring on 30 Rock and Saturday Night Live. Lucy In the Sky is a serious dramatic role for him, but at the press conference for his latest film he couldn't resist being funny Jon Hamm, or Hamming it up if you will.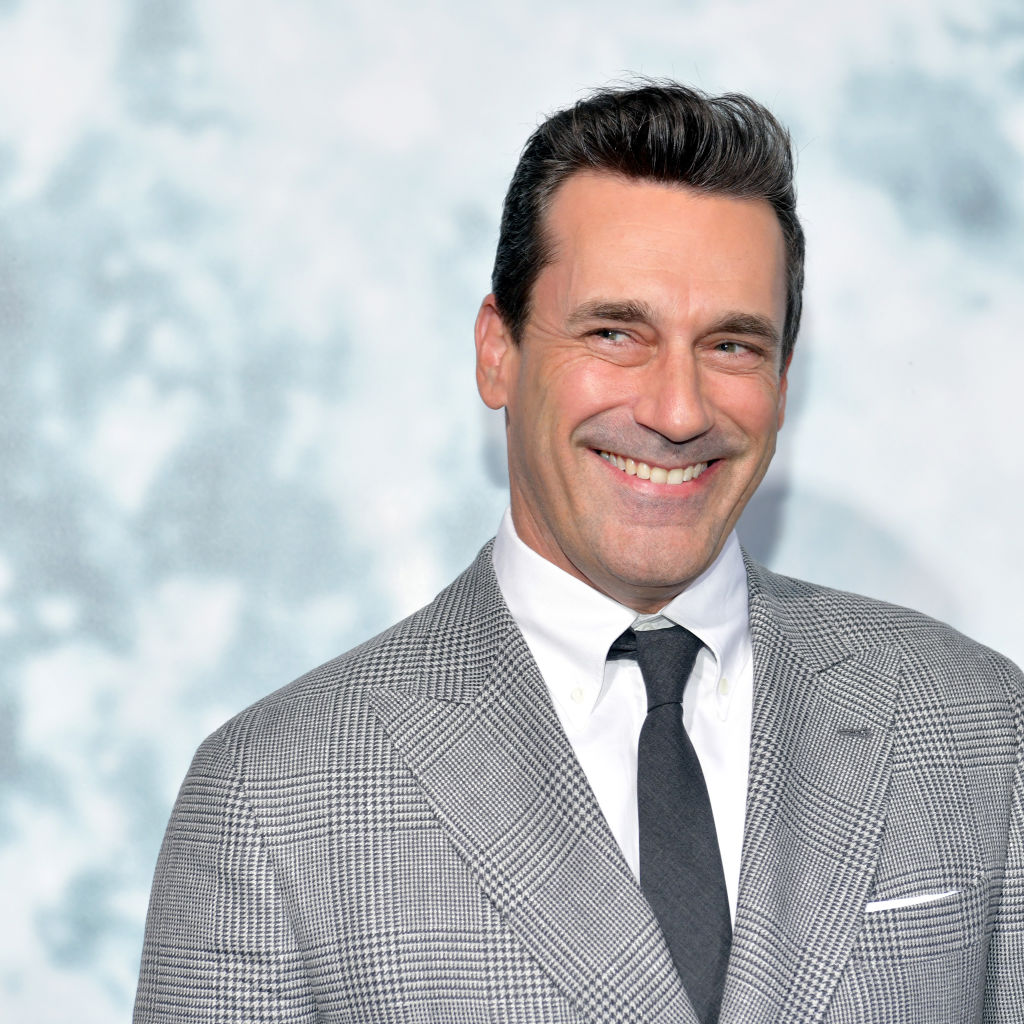 Hamm plays astronaut Mark Goodwin, who has an affair with Lucy Cola (Natalie Portman). While Lucy's career and marriage take turns for the worse, she becomes obsessive about their relationship. Hamm discussed the serious themes of Lucy in the Sky, but not without jokes first. Lucy in the Sky is in theaters Friday, October 4.
Jon Hamm wanted the Woody Harrelson role in 'Kingpin'
Lucy in the Sky shows the grueling training astronauts go through and the religious experience of being in the atmosphere above Earth. And it shows astronauts bowling.
"Especially since I was up for Kingpin and I didn't get it," Hamm joked. "Harrelson!"
Kingpin came out in 1996 and Hamm's first credit was a 1997 episode of Ally McBeal.
"I crushed bowling," Hamm bragged. "I don't know if you've seen it but it's pretty rad."
Reese Witherspoon was the original Lucy
Reese Witherspoon still receives a producer credit on Lucy in the Sky because she was originally attached to play Lucy. 
"When I first had heard about it, Reese was attached to it and Reese had to fall out because of Big Little Lies 2: Bigger, Littler Lies," Hamm joked.
Getting serious, he was happy with his costar.
"Then when Natalie became attached to it, that's even better," Hamm said. "Then [director] Noah [Hawley] and I was like oh my gosh, all these things are coalescing into this project that I feel like is becoming greater than the sum of its parts. At everywhere I looked, there was somebody whose work I really respected and enjoyed."
Jon Hamm joked about Natalie Portman
Every actor gets asked about working with their costar. Hamm turned it into a joke.
"Terrible, just awful," Hamm said. "I don't like her. No, obviously I'm kidding."
Hamm and Portman crossed paths when Portman hosted SNL and Hamm guest starred.
"Natalie and I have known one another for some time," Hamm said. "I think the first time we met was SNL."
'Lucy In the Sky' deleted scenes could make a whole movie
One scene in Lucy In the Sky has Mark and Lucy talking in the back of a pickup truck. Hamm joked about how much extra material there was for that scene.
"It's coming," Hamm said. "It's called Lucy in the Truck. It's early but it's looking good. We've shot some of it."
Actually, they only filmed the scene for two days and one whole day's worth of footage got cut from the film.
"It was kind of two days. A bit of it was not used, but there was some of it, a whole other different part of that you'll see on the DVD. It's a very important part of the relationship between these two characters which is just them sussing each other out and kind of figuring out what each of them wants and means to one another and then it's the tipping point in the relationship where it goes from theoretical to real. It gets real real real fast as it is want to do sometimes." 

Jon Hamm, Lucy in the Sky press conference, 9/25/19
Now Jon Hamm wants to be an astronaut, no joke
Jon Hamm is not an astronaut. He just plays one in a movie. That wasn't quite enough to satisfy him though.
"Yes, I would totally be an astronaut. If I could be an astronaut for a day or a month or a year, it sounds like the coolest thing in the world and it is. Having spoken to several astronauts and met them, my thing is all the math. I would relish the opportunity to go into space and see that. I think that's part of the central thrust of the narrative arc of the film is how intoxicating that is and how unique it is and how few people get to see it. I would take the opportunity in a heartbeat."

Jon Hamm, Lucy in the Sky press conference, 9/25/19