Jonas Brothers Reunion: Everything We Know So Far
An interesting report came out yesterday that had many Jonas fans feeling things: the Jonas Brothers are reportedly planning a reunion and will be recording new music. Let's unpack everything we know so far about this monumental announcement.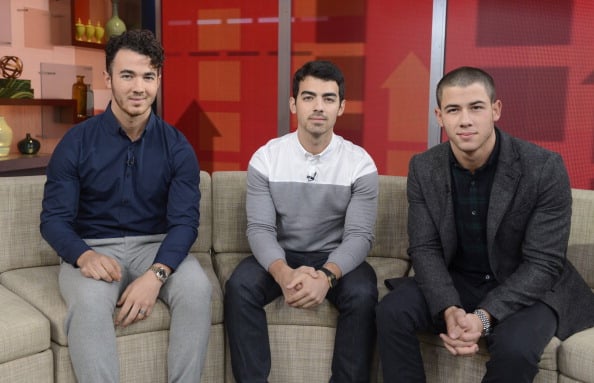 Jonas Brothers are reuniting, but under a different name
Let's dive in to the announcement that first floated about the brothers reuniting. Us Weekly reported that the guys would be making a comeback under the name JONAS and that fans can expect new music, a tour, and a documentary.
Further, a source told The Sun: "After enjoying solo music success and taking time to work on passion projects, they feel that now is the right time to get back together."
Is the Jonas Brothers reunion news true?
Upon hearing the news, fans didn't want to get their hopes up — after all, rumors happen and no one wants to be disappointed. So, most people went to the official source: Joe Jonas, Nick Jonas, and Kevin Jonas' social media accounts. Sadly, there wasn't a single mention of the reunion news.
As these things go, it's always best to get the official confirmation via a rep or straight from the star themselves, so fans were left feeling a little in limbo but still hoping for the best.
The best semi-confirmation so far has been Nick liking a number of tweets about the reunion., including one that read: "11 years ago I became a fan of the Jonas Brothers but I never had the chance to see them live. If a reunion is really gonna happen I will be the happiest man on earth."
There's radio silence on their Instagram account
The Jonas Brothers Instagram account, which had fans buzzing when it was reactivated in January 2018, has nothing new posted either.
At the time, Nick shot down the idea that the return of the Instagram account meant anything, but did tease a possibility of a reunion, telling W magazine: "I mean, it is not happening right now… Never say never. I think that there is some great things happening in all of our lives individually still and we are all focusing on that at the moment."
Why did the Jonas Brothers break up?
Most fans can remember that ill fated day in October 2013, when the Jonas Brothers sat down on Good Morning America and told the world they were breaking up. Kevin began by sharing: "We feel like it's time that the Jonas Brothers comes to an end."
Nick added: "We're family first… I came to the table with the guys… and shared my heart with them and my feelings. I said, 'Look, I feel like we've had some complications within the group for a long time [and] without addressing them I think this train will fall off the tracks.'"
Many wondered what really happened — and who was to blame, with Nick taking most of the burden as being the one who wanted out.
They had suddenly canceled their tour and deleted their Twitter account, with their rep telling People magazine at the time that the breakup was due to "a deep rift within the band." Their spokesman added, "There was a big disagreement over their music direction."
Things were changing for the Jonas Brothers — personally, Kevin was starting a family and professionally, Nick was venturing into acting and both Nick and Joe went on to record their own music (Joe as part of the band DNCE).