Jordyn Woods Claims She Didn't Know How to Feel After Kissing Tristan Thompson
Jordyn Woods has had an incredibly difficult year, but the young woman is choosing to speak out rather than hiding herself away.
Woods, as everyone now knows, was the longtime best friend of Kylie Jenner and a firm member of the Kardashian-Jenner inner circle — that is, until she shared an illicit kiss with Khloe Kardashian's boyfriend, Tristan Thompson.
The scandal that followed was covered by tabloids everywhere, with many critics painting Woods as a homewrecker and man-stealer. Woods has since been kicked out of the Kardashian family circle of trust and has been quietly working to build her own brand, separate from the family that she was friends with for so long.
Jordyn Woods received the bulk of the criticism after the scandal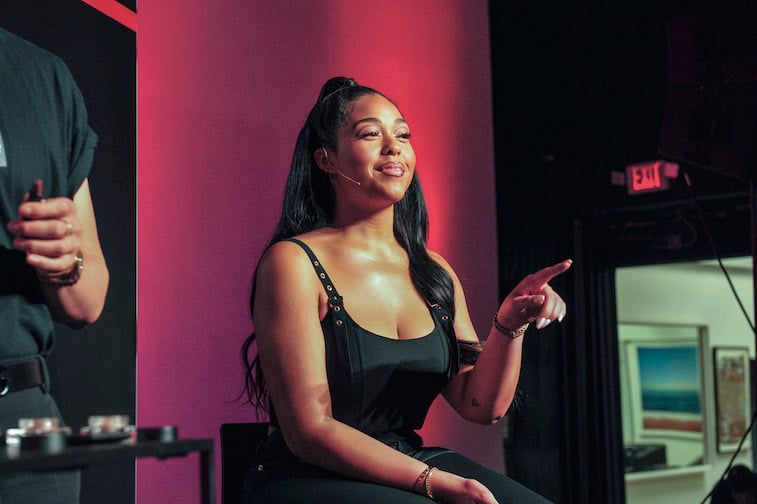 In the days immediately following the news of the scandal breaking, Woods took the lion's share of the blame. Even Khloe Kardashian blasted Woods on Twitter, claiming that it was her fault alone that Kardashian's family isn't together anymore.
Although Kardashian since deleted the tweet after getting a lot of backlash, it still left a bad taste in people's mouths. After all, Thompson was a man with a history of cheating — he had previously stepped out on Kardashian immediately prior to Kardashian giving birth to their daughter.
While most online critics found some fault with Woods for putting herself in a compromising position with Thompson, many more believed that it was very wrong for Woods to be the only one receiving blame for the incident. A BuzzFeed poll revealed that an overwhelming majority of people think that Thompson is as much or more to blame than Woods.
What do fans think about Woods now?
In the months since the scandal broke, Woods has reclaimed her story and started to post on social media and pursue various business opportunities. She has also been talking about everything that happened between her and Tristan Thompson.
In a recent interview with Cosmopolitan, Woods opened up about the night when Thompson kissed her, following a party at his house. Woods admits that she "didn't know how to feel" after the kiss, and was in a state of shock. Woods revealed that immediately following the incident, Woods called her mother in order to help her process everything.
She credits her faith for helping her through the difficult times and admits that she frequently finds the need to step away from social media. As a result of the mature way that she has handled the Thompson scandal, she has slowly started to rebuild good graces with the public.
Could Woods ever become friends with Kylie Jenner again?
Fans might be accepting of Jordyn Woods, but as for Kylie Jenner, she is still sticking by her sister. Prior to the scandal, Woods lived on Jenner's property, worked with her on business deals, and frequently went on luxurious vacations with her bestie.
In a recent episode of Keeping Up with the Kardashians, Jenner admitted that she had grown to rely on Woods a great deal and that perhaps cutting ties with her after the scandal was for the best. She also recently unfollowed Woods on social media, a move that made headlines.
As for Woods, she admitted that she still has nothing but love for Jenner. While she stopped short of saying whether or not she believes that the two can mend fences someday, she said that she "hopes so," and that perhaps one day, things can be stronger and happier than they ever were.
It's too soon to tell what the future holds for Woods, it does seem that she has found some peace within herself.