Jose Canseco Wants Everyone to take a Lie Detector Test
Jose Canseco inserted himself into the spotlight last week when he accused newly-engaged Alex Rodriguez of cheating on Jennifer Lopez. Canseco took to social media to blast the former MLB all-star, suggesting he had insider knowledge of a relationship between Rodriguez and Jessica Canseco, Jose's ex-wife. The 54-year-old former outfielder has been so vocal about his claims that Jessica Canseco redownloaded Twitter just to set the story straight. Now the former Oakland A's superstar is challenging his former spouse and Rodriguez to lie detector tests.
Jose Canseco has had an axe to grind with Rodriguez for more than two decades
While the currently Twitter-addicted Canseco levied his most recent accusations at Rodriguez over the last week, he's had a problem with Rodriguez for more than two decades. Not only did Canseco out Rodriguez for using performance-enhancing drugs, but he accused the Yankee shortstop of having an affair with his then-wife.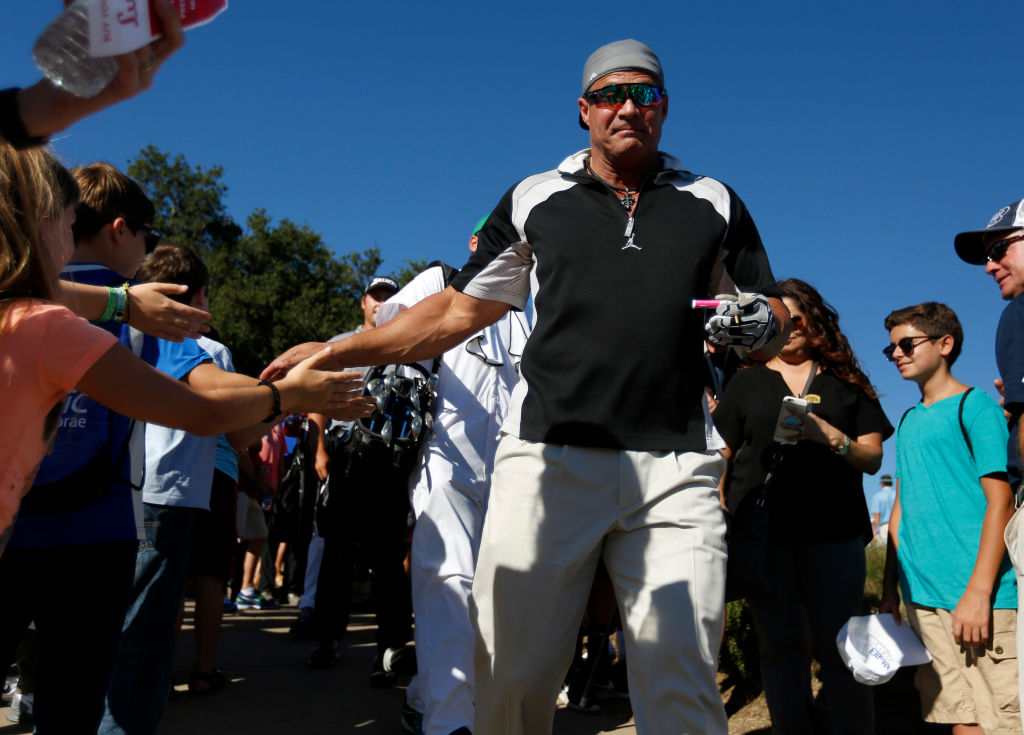 Jose and Jessica Canseco married in 1996, but trouble was brewing quickly. According to AP News, Canseco was arrested for domestic violence in 1997 as the pair were beginning divorce proceedings. The couple's divorce was finalized in 1999, but 20 years haven't dulled Canseco's feelings about Jessica and an affair he alleges she had way back then.
In his 2008 tell-all book, Vindicated, Canseco alleges that Rodriguez and Jessica began working out together in the early 1990s. He claims that Rodriguez, then a young buck, bombarded Jessica with messages and flirtatious comments. He goes on to accuse the pair of having an affair behind his back.
The feud between Canseco and Rodriguez is completely one-sided
While Canseco is still hopping mad over what he believes happened in the 1990s, Alex Rodriguez barely seems to know the ex-MLB star =exists. While Rodriguez was outed for his steroid use by Canseco, he took it all in stride and never publicly spoke about the whistleblower. He also has never publicly commented on the cheating allegations that were levied at him in Canseco's book.
Now working in broadcasting and engaged to his heart's desire, Rodriguez is even further removed from the drama. He nor Jennifer Lopez have commented on Canseco's most recent attack, and while Canseco is challenging the baseball broadcaster to a boxing match, it's unlikely Rodriguez will be taking him up on that offer, or on the challenge to take a lie detector test, according to Complex.
Canseco wants everyone to take a lie detector test
Canseco first extended an offer to take a lie detector test himself a few days ago via Twitter. Now, the MLB great is challenging both his ex-wife and her allegedly lover to submit to one, too. Canseco, who has been known to uncover big lies in the past, would like to put the matter to rest once and for all. Neither Rodriguez or Jessica seems to be taking Canseco up on that offer, but Jessica was more than happy to throw her ex-husband some shade.
Jessica took to Twitter to call Jose a massive liar, and even took a jab at some of his crazier Twitter rants, suggesting he should hang out with his alien friends. Canseco has positioned himself as a conspiracy theorist on Twitter as of late, according to The Mercury News.