Josh Duggar's Wife, Anna, Has a New Look, and 'Counting On' Fans Are Shocked to See It
From 19 Kids and Counting to Counting On, we've all heard of the Duggars over the years. And while Jim Bob and Michelle Duggar originally took the spotlight, it's their adult kids who are now carrying the reality TV torch. Fans are loving this season of Counting On, as we get to see details on Jinger's move to Los Angeles and Jessa's preparations for baby Ivy. But there are a few Duggar missing from the show, and one of them is Josh.
Josh Duggar was involved in a serious sexual abuse case in the past, causing TLC to remove him from their programming. This also left his wife, Anna, off the show — though fans are still interested in what she's up to. Her frequent posts on social media give insight into her life as well. And fans noticed Anna seemed to totally change up her hair in an unexpected way.
Josh Duggar's wife, Anna, is very active on social media
Many of the Duggars have their own social media accounts, but few are as active on Instagram as Anna Duggar. Anna frequently posts about her five children — and now that she has a sixth child on the way, she also tells her followers the latest news on her pregnancy. Not only that, but Josh also makes many appearances on her 'gram. Josh didn't have an Instagram for quite some time, but thanks to Anna, we still got to see what he was up to as well.
Anna's proven she's also willing to get candid on the 'gram. Josh's scandals are no secret, and while she never fully comes out and discusses them with her followers, she did mention the "shadows of sorrow" that were present in their lives on this anniversary post. And she's also taken to answering some of the questions her followers leave on her posts.
Fans wonder if Josh controls Anna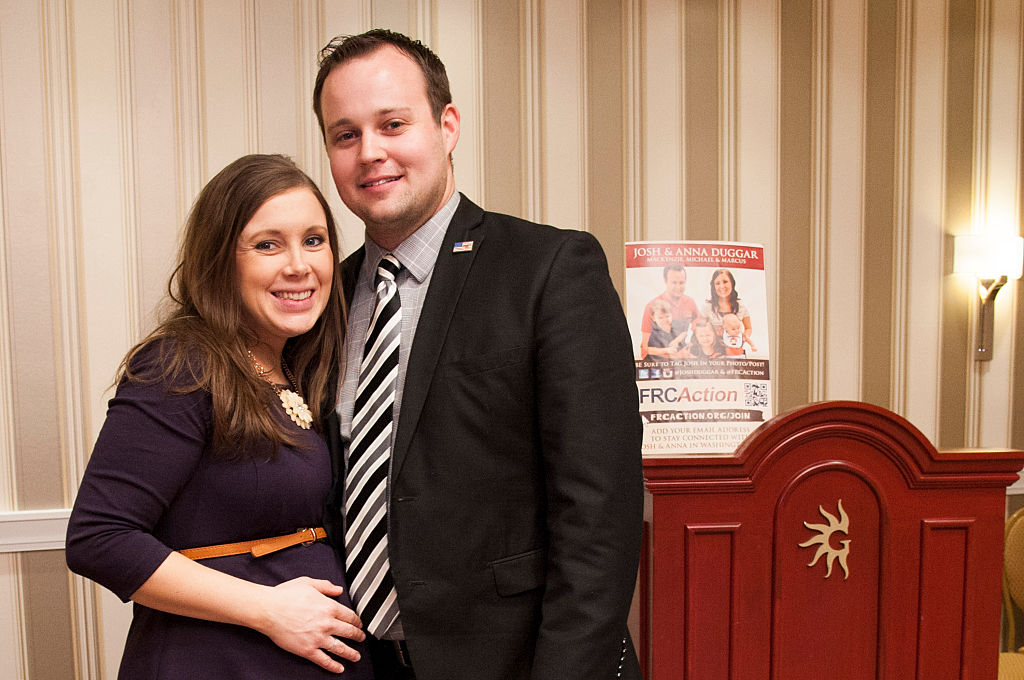 Anna's frequent social media posting and communicating with the other Duggars via Instagram has many wondering if she's actively crying for help and attention. And there have even been reports claiming Josh controls Anna. According to Babygaga, Josh is the one who controls the money in the household, and he makes Anna abide by the strict and modest dress code he and his siblings grew up with. Not only that, but the publication claims Josh also doesn't allow Anna to talk to other men.
It seems Josh may also have a say in what Anna posts on social media. Considering how often she posts, we're not sure if Josh is really approving everything she writes, but we wouldn't be surprised if he keeps up with his wife's online activity.
Anna switched up her look and totally shocked fans
Is Josh really as controlling as publications make him out to be? We can't say for sure — especially now that Anna has completely changed up her hair. She posted a photo of herself holding Amy Duggar's newborn, Dax. "Enjoyed getting to meet little Dax tonight! What a precious little guy!" Anna captioned the post. And fans couldn't get over her hair, as it keeps getting blonder every time she adds a new photo.
"The lighter hair looks beautiful," one of her followers commented. Another wrote, "I love your hair Anna! It looks lighter." Yet another added, "Love the blonde color on you!! Miss you on TV. Hope you're doing well!"
So, did Anna need permission from Josh to have her hair this blonde? We can't forget that when she wed him over a decade ago, she had red locks, and she seems to have gone for a range of shades in the brunette and blonde range ever since. Whether Josh needed to approve or Anna went out on a limb and got the dye job completely for herself, we're excited to see this new look and hope she keeps it up!
Check out Showbiz Cheat Sheet on Facebook!