Joy-Anna Duggar Just Proved Jessa Duggar Is Just Fine in Her Latest Instagram Photo
The Duggars have become fan favorites in the world of reality TV — and while we remember many of Jim Bob and Michelle's kids as starting on TV in their teens, they're all growing up fast. Jessa Duggar has always been a fan favorite, and viewers have watched her go through her courtship with Ben Seewald followed by three pregnancies. While she's featured on Counting On, she's also quite candid on Instagram as well. Though after the birth of her daughter, it seems any recent photos of Jessa have been totally absent from the internet.
Fans flocked to social media to question where she is and what she's up to. Jessa just posted a photo of her kids, but any images of herself have still been absent. And while we haven't seen any photos of her in awhile, Joy-Anna Duggar's recent family photo includes Jessa. It looks like fans can breathe a deep sigh of relief.
Fans wondered where Jessa Duggar's been lately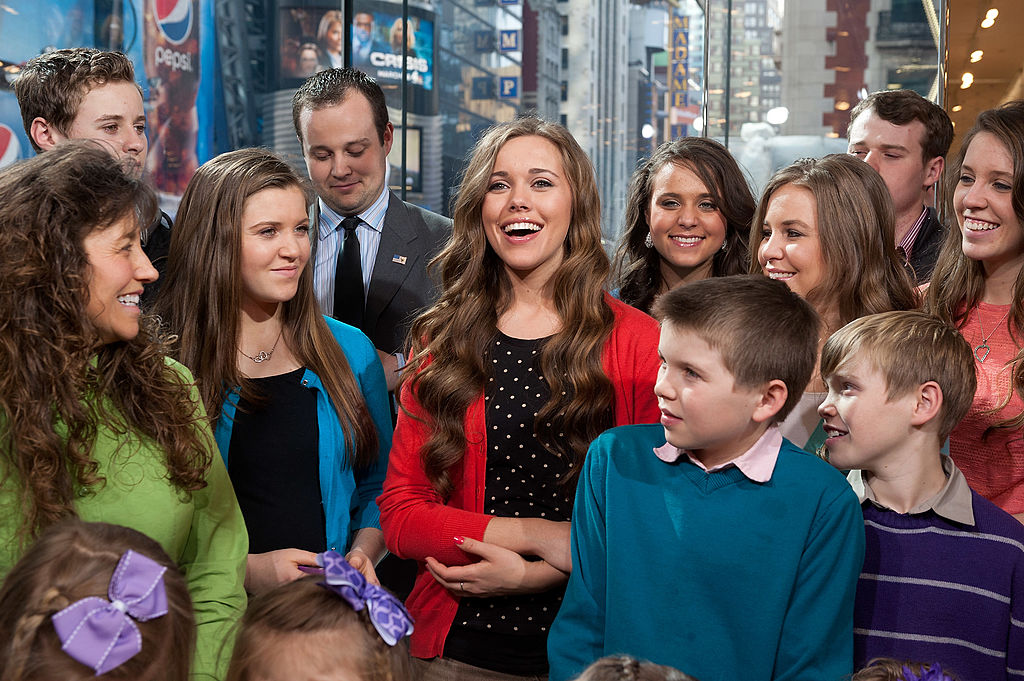 All of the married Duggars are present on Instagram, as it's the perfect platform to keep fans involved and informed between seasons of Counting On. And Jessa typically posts plenty of content from her life, including updates on her home life, her two sons, and now, her baby, Ivy. Ivy Seewald is just 2 months old, and Jessa and Ben have both been super candid about the birth process and what life's been like for them since having their first daughter. And while we finally got a new photo of their three children following a month of silence on the 'gram, it still doesn't feature the busy mom.
Before Jessa just posted the photo of her two sons and newborn daughter, fans were worried something may have happened to her. As one fan commented on this photo of baby Ivy, "@jessaseewald haven't seen or heard much from you lately. Hope you're ok and not getting too overwhelmed."
The Duggar family Instagram just insisted she's busy but fine
It seems the Duggars noticed fans were worried about Jessa. They recently posted a photo of Jessa's oldest son, Spurgeon, on their family Instagram — and even more recently, they added a photo featuring Ben and their son, Henry. Since the family kept adding photos of Jessa's family without the Duggar daughter in them, fans grew even more concerned. "Hope everything is ok with Jessa! She hasn't posted in awhile," a fan commented on the photo of Ben and Henry. Another added, "What is wrong with Jessa?"
The Duggar Family Instagram finally responded to the worry. "She's doing great! Busy taking care of her little ones!" To that, fans told the Duggars to let Jessa know that her followers miss her content and hope she's doing well.
Joy-Anna just added a photo to Instagram that includes Jessa
It seems we finally have evidence that Jessa is, in fact, doing just fine. Joy-Anna Duggar recently posted a photo to her Instagram of a recent "family night" that occurred at Jim Bob and Michelle's big home. "It's hard to get all of us together now that we're getting older and have our own schedules. 
Not all of us were able to make it tonight, but it was great catching up with the ones that were," Joy-Anna captioned the post. And on the left of the photo, we can see Jessa has finally made an appearance next to Ben.
Fans are loving seeing the family get together, too — but they noticed a few key family members were missing. "I don't see Jill & family or Josh & family. Do they not come to family night?" one fan questioned. And while Anna, Josh's wife, commented on the photo that she'd surely be at the next one, it didn't look like Jill had much to say.
While a few Duggars may be missing from the photo, everyone's glad to finally see Jessa after so long. Here's to the busy Seewalds and their growing, happy family!
Check out Showbiz Cheat Sheet on Facebook!