Joy-Anna Duggar Just Showed Why She Didn't Attend the Duggar Road Trip to Los Angeles
The Duggars all just went to Los Angeles to visit Jinger, but Joy-Anna didn't attend. Here's what she was up to instead.
Counting On is returning soon, and fans of the Duggar family can't wait to see what's new. While viewers were most invested in Jim Bob and Michelle Duggar when they first started their time on reality TV, a lot has changed since the beginning. Now, it's the other family members who are most intriguing to fans. From Jessa to Jinger to Jana and everyone in between, there's always something going on with one of Jim Bob and Michelle's 19 kids.
Most recently, fans saw many of the Duggars head out to Los Angeles for a road trip that was documented on social media. And some fan favorites, like Joy-Anna, didn't go. We finally see why Joy-Anna didn't attend the outing, however, as she was on an adventure of her own.
The Duggar family just took a road trip out to Los Angeles
While most of the Duggars still live in Arkansas, there's one who moved to the West Coast — and that's Jinger. Jinger and her husband, Jeremy, decided to head out to Los Angeles a few months back for Jeremy's graduate studies in ministry. And while we don't often see the Duggar family going and visiting Jinger, it seems many of them recently took a road trip all the way out there to see her — and they made a few stops along the way.
According to the Duggar Family Instagram, Jim Bob and Michelle took many of the younger kids along with Jana, Josh and his wife, Anna, and John-David and his wife, Abbie, to the Grand Canyon first. From there, they went to Phoenix, Arizona, and stopped at the American Girl store in California. After that, it was time to visit with Jinger in Los Angeles, and both Jinger and the Duggar Family Instagram posted about the sweet visit with the Vuolo family.
Joy-Anna Duggar was on a different kind of vacation
While a number of Duggars went on this trip out west, Joy-Anna Duggar wasn't one of them. She commented on this photo of Michelle and Jinger with, "Y'all are so pretty!! Sooo wish we could be there!!" And while Duggar family followers questioned why she wasn't on the trip, she finally revealed what she was up to during this time. According to OK! Magazine, Joy-Anna was on a hunting trip with a few of her brothers and her husband, Austin Forsyth, to Aspen, Colorado.
The publication notes Joy-Anna has a special connection to Colorado, as it's where she and her husband went on a trip after they were married. She posted a number of photos to Instagram of the trip with the caption, "Y'all! I got to come with the guys this year on their Elk Hunting trip! 
It's freezing cold and we have already done a ton of hiking, but we're excited cuz we've already spotted some elk!" And Joy-Anna also posted this funny video of the boys eating Klondike ice cream bars after a cold day outdoors and despite packing healthier snacks.
Joy-Anna's not the only Duggar to not go on the trip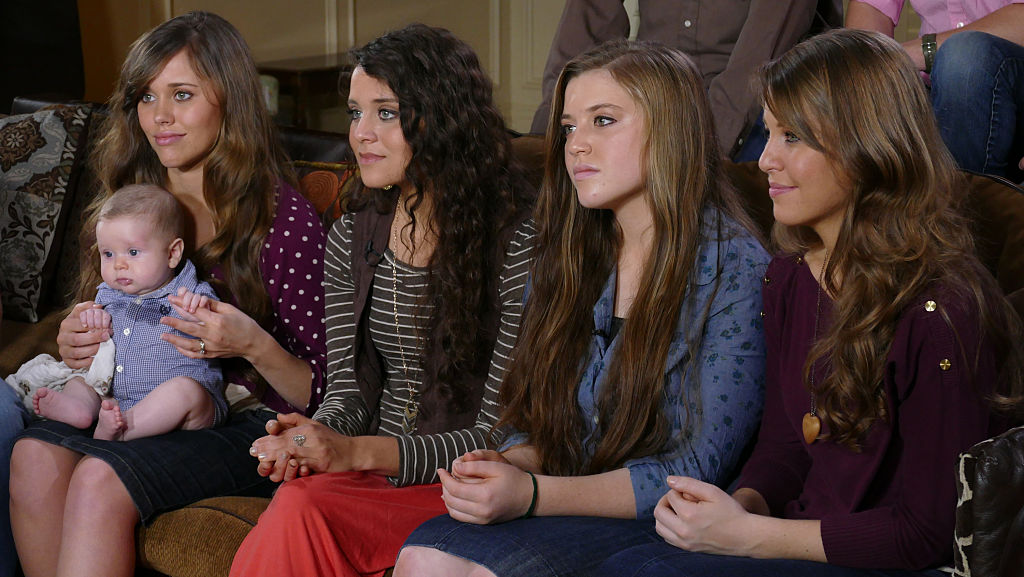 Joy-Anna may not have visited Jinger, but she's not the only one who missed out. Jessa and Jill Duggar were also noticeably absent from the trip, which may cause fans to speculate. According to Jill's Instagram, it seems she spent time with her mother-in-law and friends from church while her family was out west. And while she usually makes comments on her family's Instagram posts, it doesn't seem like she did in regards to their trip.
As for Jessa, she's been noticeably absent on the internet lately — and she even switched her profile photo on Instagram to one of her husband, Ben Seewald. All of her latest photos have been of her children instead of herself, too. While fans grew concerned that something may be up, the Duggars wrote on their Instagram that she's simply busy with her young daughter and two boys, so that's the most likely reason as to why she skipped the trip.
We're happy to see Joy-Anna's having a great time in Colorado — and we're excited to see what the other Duggars, especially those who missed the trip out west, are up to next!
Check out Showbiz Cheat Sheet on Facebook!