Judd Apatow's Netflix Show: Safe From 'Arrested Development' Curse?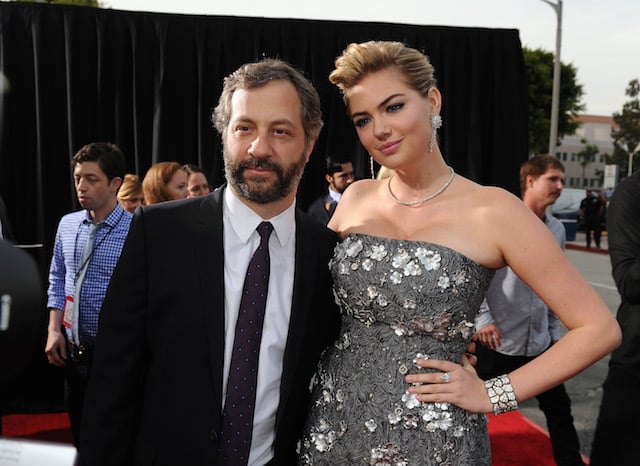 Another day, another famed movie director moving to TV. Judd Apatow has created a new comedy, Love, that has been picked for two seasons by online streaming service Netflix, according to Deadline. The comedic director is best known for movies like Knocked Up and The 40 Year Old Virgin, but has worked on television in the past with the half-hour comedy on Fox, Undeclared, that ran for one season, and the cult classic Freaks and Geeks, which also only had one season. He's also worked in part on Girls, The Larry Sanders Show, and earlier in his career The Critic and The Ben Stiller Show.
Love will star Paul Rust of I Love You, Beth Cooper and Community's Gillian Jacobs as a couple that wasn't looking for a relationship, but unexpectedly falls in love. They then have to deal with all the things that come along with being in a relationship that they had been looking to avoid, including intimacy and commitment. Community fans needn't fret, as Jacobs will finish her commitments related to season six of that show, which was picked up for 13 more episodes by Yahoo after being cancelled by NBC earlier this year.
Apatow co-created and wrote the series with Rust and Brooklyn Nine-Nine's Lesley Arfin. In addition to acting, Rust was a story editor on Netflix's fourth season of Arrested Development, and Arfin has written for HBO's hit Girls as well as Brooklyn Nine-Nine. Brent Forrester, who has worked on King of the Hill, The Office, and The Simpsons, is an executive producer. As is typical for the filmmaker, Apatow has assembled a powerhouse comedic staff to work on the show.
"Judd Apatow has a unique comedic voice that manages to be delightful, insightful, and shockingly frank — often at the same time," said Netflix chief content officer Ted Sarandos, per Deadline. "Together with Paul and Lesley, he's bringing a whole new level of agony and ecstasy to this modern day comedy of manners."
"I am so excited to get to work with Paul and Lesley on this project," said Apatow. "Netflix has been supportive in ways I couldn't create in my wildest fever dreams."
Netflix has already ordered two seasons, the first with ten episodes and the second with twelve, so Love is guaranteed to run longer than Apatow's previous ventures into television. Deadline noted that the two-season commitment from Netflix is the type of deal that's been offered for the streaming service's top-tier originals, including House of Cards, so Netflix has high expectations for the show.
The freedom that working on Netflix offers can be a double-edged sword. The streaming service doesn't force shows to stay within a half-hour or hour time limit like series on traditional networks, as was seen with the fourth season of Arrested Development. That allows creators to pursue storylines in different ways and generally stray outside the box of traditional TV, but sometimes those limitations can be good for comedy.
Arrested Development's fourth season got a lukewarm reception from both fans and critics. The show's episodes frequently strayed over 40 minutes, taking time to unravel a complicated plot that the writers cooked up in an attempt to make up for the fact that the ensemble cast that originally made the show so great couldn't work out their schedules to actually be together all that much.
"You need to have watched [the previous three seasons] to comprehend Season 4 — to understand much of its humor or to make sense of its convoluted plot — but if you truly loved them, it's hard to imagine being anything but disappointed with this new rendition," said The New York Times review of season four, which criticized the show's creators for getting too caught up in the binge-watching model, creating elaborate time jumps, meta-references, and not just delivering funny jokes. Overall, the fourth season didn't do as well with critics, getting a mixed 71 rating on Metacritic versus season one's 89 metascore.
Netflix is going to try again with Arrested Development, planning to make a fifth season and get the actors together more for it. Apatow's movies have been criticized for being too long, overindulging in too many jokes instead of keeping it tight and cutting everything but the funniest parts, so the director could fall victim to a similar tendency on Netflix, especially since Rust had a hand in Arrested Development's fourth season. But it's also possible the team could learn from that season's mistakes and come back with a show that reaches the comedic potential of the people involved.
Follow Jacqueline on Twitter @Jacqui_WSCS
More From Entertainment Cheat Sheet:
Want more great content like this? Sign up here to receive the best of Cheat Sheet delivered daily. No spam; just tailored content straight to your inbox.