'Ozark' Julia Garner Won Outstanding Supporting Actress in a Drama Series Emmy Over 'Game Of Thrones' Stars
25-year-old Julia Garner who portrays the resilient character of Ruth Langmore in crime drama Netflix series, Ozark, won her first Emmy nomination for Outstanding Supporting Actress in a Drama Series over four beloved Game of Thrones actresses including Sophie Turner and Lena Headey.
Who is the young actress and which episode did she submit for the Emmys consideration?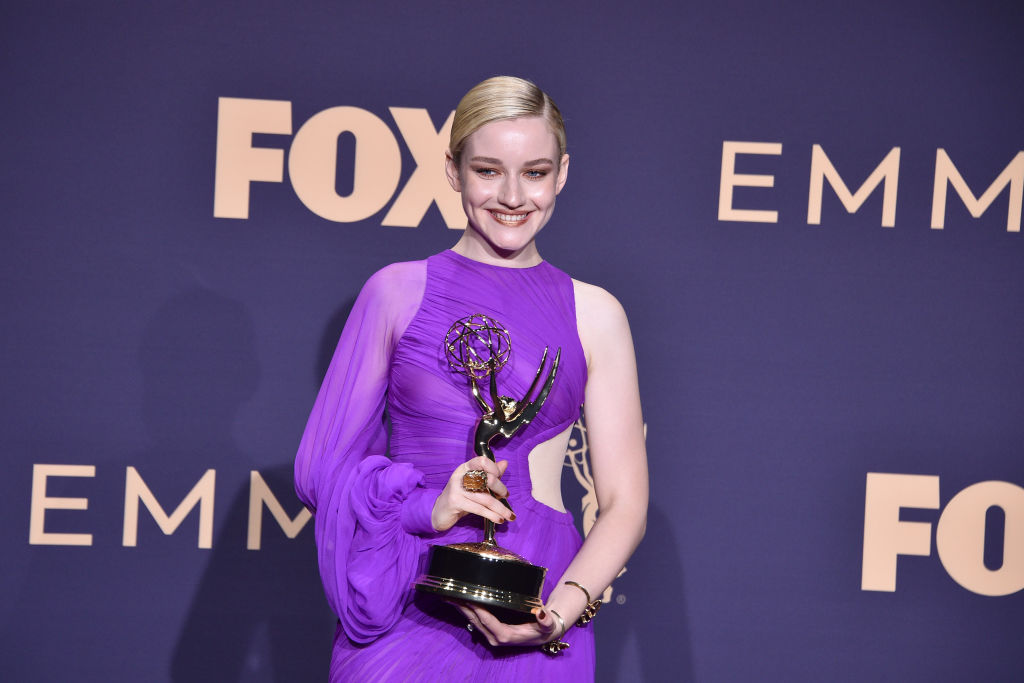 Who is Julia Garner?
Born February 1, 1994, in a neighborhood of the Bronx, New York, to a Jewish family, her mother, Tami Gingold, was a successful Israeli comedian. Garner wanted to overcome her shyness as a child, so she started taking acting classes at 15-years-old and made her theater debut two years later in Martha Marcy May Marlene portraying Sarah.
In 2012, the young actress appeared in her first movie, Electrick Children, and then starred in the horror film, The Last Exorcism Part II. She also landed a lead role in another horror movie, We Are What We Are, and then acted against a green screen for the first time in Sin City: A Dame to Kill For (2014).
Garner later starred as a recurring character on FX series, The Americans for three seasons until landing the role of Ruth Langmore on Netflix Original Series, Ozark.
Julia Garner as Ruth Langmore on 'Ozark'
The crime drama revolves around financial planner Marty Byrde (Jason Bateman) and his family, who he suddenly relocates from Chicago to a summer resort community in Missouri after a money-laundering scheme he's involved with goes awry.
Therefore, Marty must set up a more extensive operation in the Ozarks to appease the Mexican drug cartel. However, once they arrive in Missouri, the family has to deal with local criminals, the Snells and Langmores.
Garner stars as Ruth, a 19-year-old young woman who is a part of a criminal family that Marty ends up taking under his wing, even though her family wants her to rob and kill him.
After the first season premiered, it received an impressive approval rating of 70% on Rotten Tomatoes, and critics mainly praised Bateman's outstanding performance. However, for the next season, viewers began acknowledging Laura Linney (who plays Marty's wife, Wendy) and Garner, noting "Season 2 champions female stories through all 10 of its episodes with an array of women that rivals the ensemble complexity of HBO's The Sopranos."
Julia Garner won 2019 Outstanding Supporting Actress in a Drama Series Emmy
This year is the first time the show has been nominated for an Emmy, receiving a total of nine nominations. Even though Ozark didn't win an award for Outstanding Drama Series, Jason Bateman took home an award for Outstanding Directing for a Drama Series, and Garner received the Outstanding Supporting Actress in a Drama Series Emmy.
She submitted the season finale of Ozark for the Emmys consideration where Marty explains to her how to launder the drug money while he goes to Australia.
While doing so, she has to fend off her ex-con father, who is blackmailing her for money. Her passionate performance beat out Game of Thrones stars Maisie Williams, Gwendoline Christie, Lena Headey, and Sophie Turner, as well as Killing Eve's Fiona Shaw.
In an interview with IMDB after the Emmys, Garner admitted to being overwhelmed with her win and shouted out Jason Bateman, saying he deserved his award.