Oscar-Winner Julianne Moore's 10 Best Roles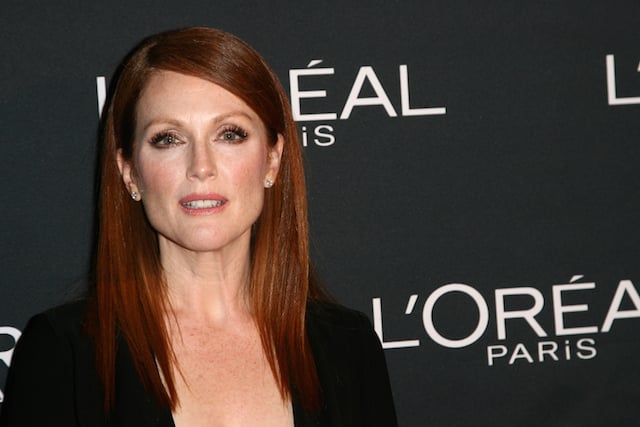 Julianne Moore is one of those actresses whose career seems to only be getting better as she ages. Moore took home her first well-deserved Oscar on Sunday night for her role as a university professor with early-onset Alzheimer's in Still Alice and she shows no signs of slowing down. Here's a look at the talented redhead's most memorable performances across her long career.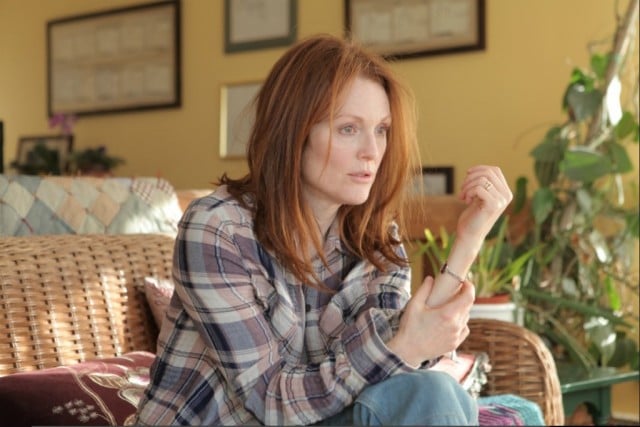 1. Still Alice
Still Alice won Moore her first Academy Award for Best Actress for her "career-high" performance as a gifted linguistics professor at Columbia whose brain is ravaged by early-onset Alzheimer's. "This insider's account would be a tall order for any actor to fill without resorting to sentimentality or falling into the obvious, but she never loses control of the film for a second," said The Hollywood Reporter. Co-stars Alec Baldwin, Kate Bosworth, Kristin Stewart, and Hunter Parrish have all earned positive notices for their roles as her husband and adult children as well.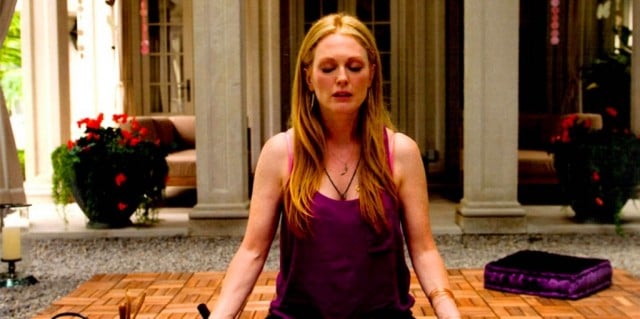 2. Maps to the Stars
Cronenberg's dark satire of Hollywood sees Moore playing a pathetic aging actress who attempts to cope with her neurosis through vigorous psychotherapy and New Age healing. She was once very famous, but her star is fading due to her age and she never really escaped from the shadow of her more-famous mother. Variety called Moore's work in the film "a fearless performance far more gonzo than the out-of-touch satire that contains it." Moore has said that she took the role in order to work with Cronenberg and that her character took inspiration from "an amalgam of people I've known and observed." The movie earned Moore the Best Actress award at the Cannes Film Fest this year.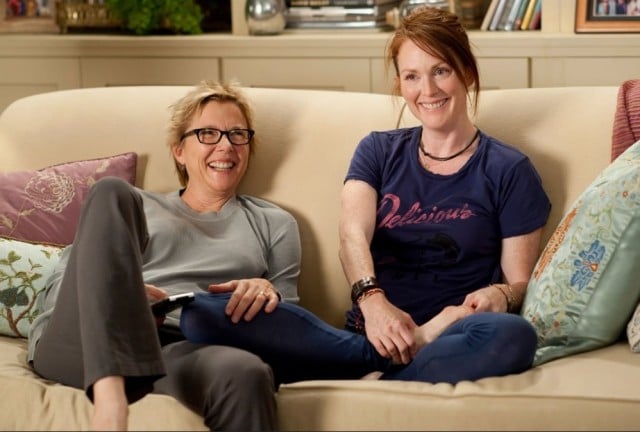 3. The Kids Are All Right
Moore isn't particularly known for taking on comedic roles very often, but she received wide praise for co-starring with Annette Bening in this indie comedy about a lesbian couple whose children decide to seek out their sperm donor father, played by Mark Ruffalo. The film explores how the family's dynamics change when the two teenage children initiate a meeting with their biological father and what happens when he becomes a part of their lives. "There are countless moments when the actress strips bare before the camera — sometimes literally, sometimes emotionally, but always with an abandon that exposes all of the character's complicated layers. Jules is an existential bundle of unrealized need and midlife uncertainty, and Moore plays every note perfectly," said Los Angeles Times film critic Betsy Sharkey of Moore's performance as the character Jules.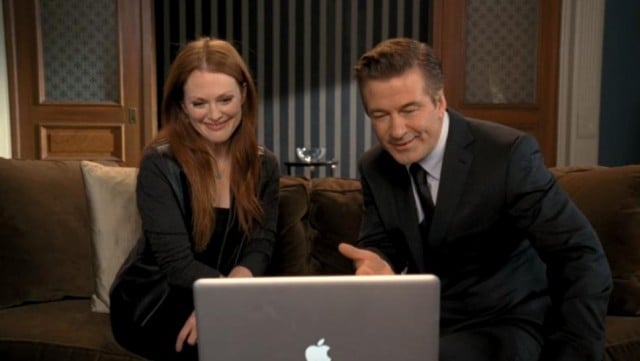 4. 30 Rock
Moore took on a rare television role for the fourth season of Tina Fey's hit series 30 Rock in 2010, her first time on the small screen in 18 years. The comedic role of Nancy Donovan saw Moore adopting a ridiculous Boston accent to play a former girlfriend of Alec Baldwin's character Jack Donaghy. Donaghy is the CEO of NBC, where Fey's character Liz Lemon runs her late-night variety show loosely based on Saturday Night Live. Donaghy juggles his romantic feelings for Nancy, who represents his hometown and a more realistic romance, one he might have achieved had he not become the multi-millionaire CEO of a huge company, with his other relationship with a spicy Latina nurse played by Salma Hayek.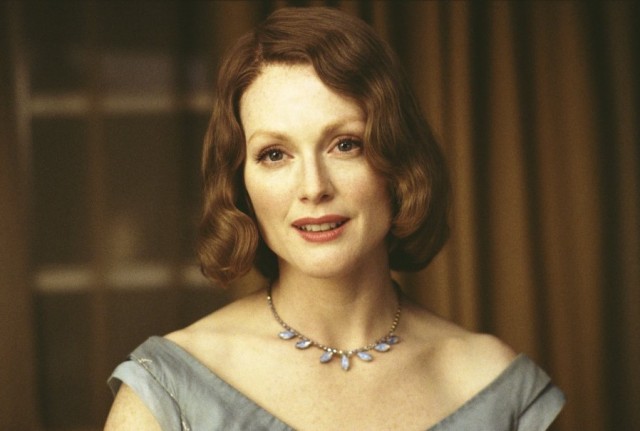 5. The Hours
The Hours sees Moore acting alongside Nicole Kidman and Meryl Streep, playing women of three different generations whose lives are all connected by the novel Mrs. Dalloway by Virginia Woolf. The actress plays Laura Brown, a pregnant housewife living in California in the 1950s who is trying to raise her young son while coping with an unhappy marriage. The plot of the film takes place on a single day in three different years. Moore's character changes her mind about committing suicide when she begins reading Mrs. Dalloway. This role landed her an Oscar nomination and Moore  received another Oscar nod the same year for Far From Heaven, making her the ninth actor in history to be nominated for two Academy Awards in one year.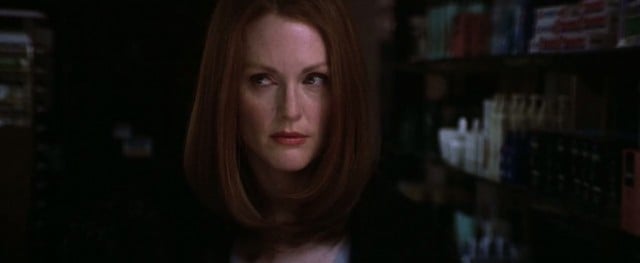 6. Magnolia
After working with her on Boogie Nights, the director Paul Thomas Anderson wrote Moore's role as a morphine-addicted wife in Magnolia specifically for her. Moore plays the trophy wife of a former producer who's dying of cancer and she steals his narcotic prescriptions so she can get high. "And Julianne Moore, I just thought I really wanted to see her explode. I just haven't seen her do that. I said, 'I want you to go fucking nuts!' Crazy is so hard to play, there's nothing you can really tell an actor. You end up saying, 'She's nuts, and she's on so many pharmaceuticals, and I can't rationalise her behaviour. Just go nuts,'" Thomas Anderson told The Guardian.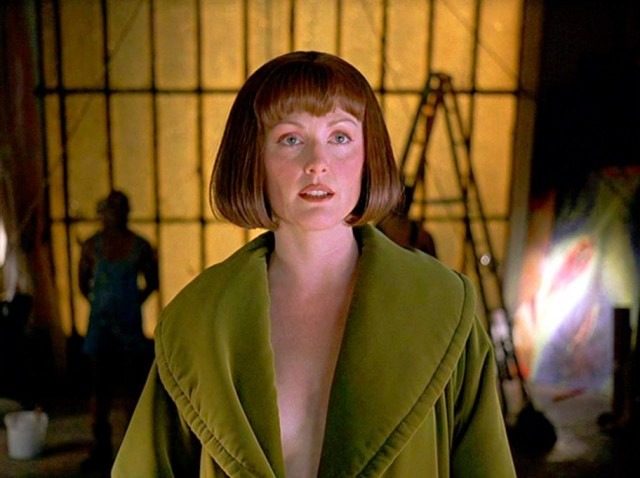 7. The Big Lebowski
The Coen brother's cult classic was not a hit when it was released, but is now a must-watch for college freshmen and is given midnight screenings at art house theaters on a regular basis. Moore plays the feminist avant-garde artist Maude Lebowski, who has an affair with Jeff Bridges' character "The Dude" only in the hopes of conceiving a child which she has no desire for him to help raise. The movie is part detective movie, part surrealism, and part comedy with bizarre, smart dialogue from the Coens that's endlessly quotable. The character Maude is bizarrely straightforward and commended in the art world for her "strongly vaginal" work.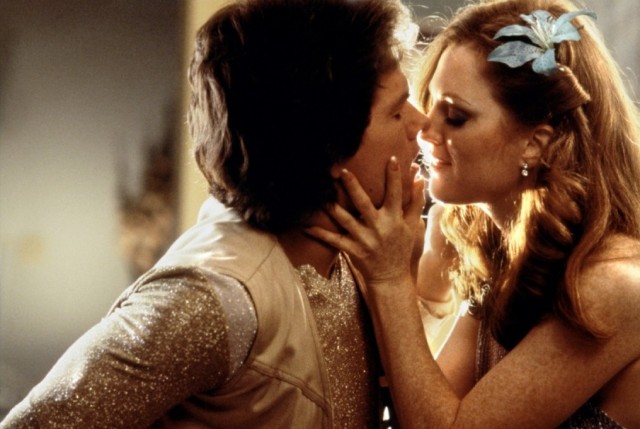 8. Boogie Nights
In Boogie Nights Moore plays the porn star Amber Waves, who teaches Mark Wahlberg's character the ropes when he enters the porn industry and eventually becomes the famous Dirk Diggler. The movie was widely praised for its look at porn culture, America in the 1970s, and the performances from Moore, Wahlberg, and Burt Reynolds. Moore's character is a porn veteran who's jaded to having sex on camera and longs to be reunited with her son. Boogie Nights gave Moore her first nomination for an Academy Award for Best Supporting Actress and she was also nominated for a Golden Globe and a Screen Actor's Guild award.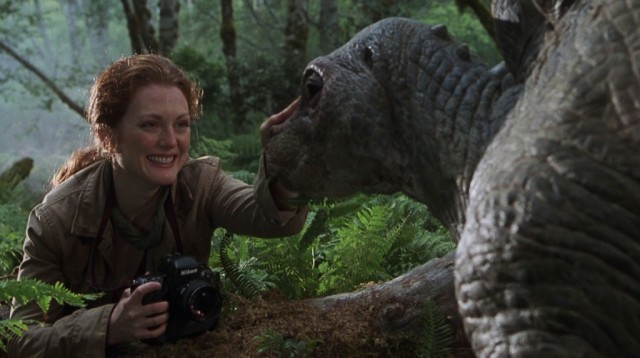 9. The Lost World: Jurassic Park
Moore's casting as the head paleontologist and the girlfriend to Jeff Goldblum's character Dr. Sarah Harding in Steven Spielberg's sequel to Jurassic Park was one of the films that helped establish her as a mainstream leading lady in Hollywood after she made several very well-received smaller films. She's said she enjoyed the physicality of making a big-budget action film immensely. "There was so much hanging everywhere. We hung off everything available, plus we climbed, ran, jumped off things. It was always cold and raining, so we were always wet. It was just non-stop physicality," Moore told Urban Cinefile.
10. Short Cuts
Legendary director Robert Altman cast Moore in her breakout role after seeing her on the stage in Uncle Vanya. The project was intimidating for the unknown actress working with established stars. The 1993 movie is a series of vignettes based on short stories and poetry by the writer Raymond Carver and stars Jack Lemmon, Andie MacDowell, and Robert Downey Jr. among others. Moore plays the artist Marian Wymann, who is suspected by her husband of having had an affair years prior. The Variety review praised Moore in particular, saying "Moore is arresting as the spunky artist (she also stars in what will no doubt be the most discussed scene, in which she casually performs naked from the waist down)."
Follow Jacqueline on Twitter @Jacqui_WSCS
More from Entertainment Cheat Sheet:
Want more great content like this? Sign up here to receive the best of Cheat Sheet delivered daily. No spam; just tailored content straight to your inbox.