'Jumanji: The Next Level' Movie Review: Karen Gillan Wins This Round(house)
Jumanji: Welcome to the Jungle was a pleasant surprise. It updated the 1995 family-friendly adventure with a modern twist while still feeling like the Jumanji we loved. Dwayne Johnson, Karen Gillan, Jack Black and Kevin Hart got into the spirit of the game.
It helped that they included some Easter eggs that confirm Welcome to the Jungle was Jumanji 2. So if The Next Level is Jumanji 3, it brings another new take to the premise but still gives you what you want to see.
'Jumanji: The Next Level' Tutorial
Jumanji: The Next Level does a lot of work in the first 20 minutes getting the game going. Spencer (Alex Wolff), Martha (Morgan Turner), Fridge (Se'Darius Blain) and Bethany (Madison Iseman) are coming home from college for Christmas. Spencer's been distant and his grandpa Eddie (Danny DeVito) is staying with him recovering from hip replacement surgery. Eddie's estranged old friend Milo (Danny Glover) comes over to make amends too.
It's all a bit overwhelming for Spencer so he decides to escape into Jumanji again, which apparently he's kept in his basement after surviving Welcome to the Jungle. So his friends go into Jumanji to save him. This time Eddie and Milo end up getting sucked in with them, and they all end up with different characters.
Now Smolder Bravestone (Dwayne Johnson) is Eddie, Professor Oberon (Jack Black) is Fridge, Franklin Finbar (Kevin Hart) is Milo and Ruby Roundhouse (Karen Gillan) is still Martha. Bethany gets left in the real world on a side mission if you will. Martha quickly explains the rules to the new players, while also explaining video games to grandparents, and the game quickly sends them off on a new adventure.
Changing the game
Having the returning stars switch characters was inherent to the very premise of Jumanji: Welcome to the Jungle. If Dwayne Johnson, Karen Gillan, Kevin Hart and Jack Black are only playing video game avatars, then the players should be able to select different avatars each game.
Johnson is doing Danny DeVito which feels like a Saturday Night Live skit, but spread out over the course of the movie works. Jack Black does a black voice. Someone else more qualified can say whether that's offensive or endearing.
Ruby Roundhouse is really the star now, rightfully so. Martha took it upon herself to return to Jumanji for Spencer and she's the only one mature enough to corale everyone else. Plus, she was the most memorable character from Welcome to the Jungle anyway.
The film balances all four characters equally. Each scene gives them not only something to do in the action, but some comedy moments they can own too. If you really miss Spencer as Bravestone and Oberon as Bethany, things happen along the way that play off the avatar concept throughout the film. It's new, but the film remembers what you liked the last time.
New action in the spirit of 'Jumanji'
The Next Level takes the heroes to new realms of Jumanji. Kids, that music that plays when they enter the desert is from Lawrence of Arabia. That's why your parents are laughing. This may be the best desert chase since Mad Max: Fury Road. It's a lot more CGI but it's fun.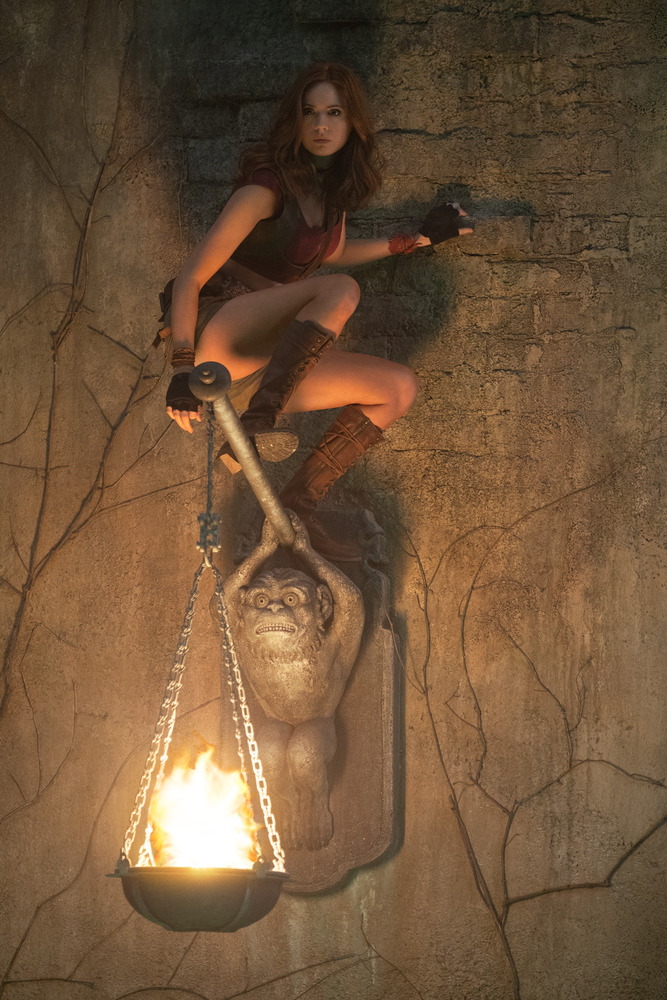 There's a temple challenge that feels like a better Tomb Raider movie than any of the three Tomb Raider movies so far. And before you say that Tomb Raider was inspired by Indiana Jones, it was but Jumanji really embraces the action puzzle element of it. Indiana Jones didn't flip and grapple like Lara Croft. Dwayne Johnson gets to do basically a live-action Double Dragon fight scene.
The best action sequence involves moving bridges that the players have to time right, while fending off attacking monkeys. It's all green screen, but Jumanji is a game after all. It's a well designed sequence that establishes the geography of all the moving parts and escalates the danger.
Give us more 'Jumanji'
Welcome to the Jungle showed that Jumanji can adapt itself from a board game to a more modern video game. The Next Level showed that it can keep coming up with new adventures. This feels like a creatively robust franchise that should keep dreaming up new adventures in gaming.
This one even hints at what a fourth Jumanji could be, and it's another new take that incorporates traditions from the previous games. But that won't be for another few years, so this holiday season enjoy Jumanji: The Next Level.