Jungkook Debuts Blonde Highlights at BTS's Japan Muster
On Nov. 21, BTS arrived at the Gimpo International Airport to depart for their 5th Muster in Chiba, Japan. Jungkook wore a hooded jacket to the airport and kept his newly-dyed blonde hair hidden. At BTS's Japan Muster on Nov. 23, Jungkook debuted his blonde highlights to the delight of ARMY.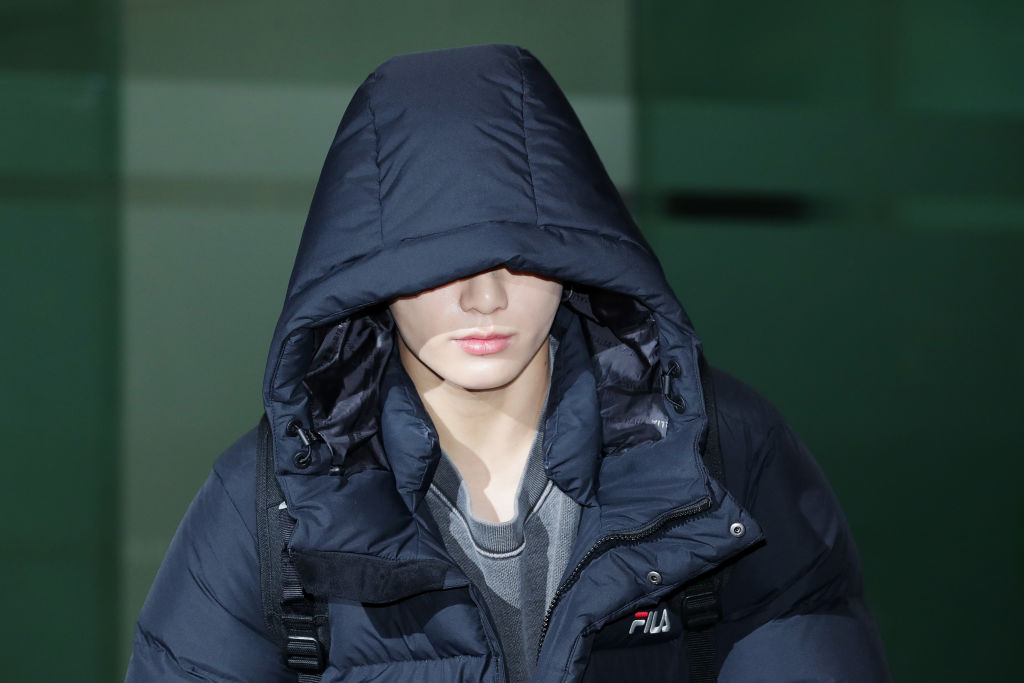 Jungkook showed off his blonde highlights at BTS's 5th Muster
At BTS's 5th Muster in Busan and Seoul, ARMY was treated to Jungkook performing with his long black hair. His performance of "Pied Piper" with his long hair went viral after the fan meetings. At BTS's Japan Muster, fans were blessed with Jungkook performing with blonde highlights.
"i think that as a society, we need to talk about his HAIR," one fan tweeted about Jungkook.
"whoever decided to place those blonde accents in jungkooks hair,, I salute your decision," tweeted a fan.
BTS fans also realized that Jungkook's hair has grown out again since he cut it in October.
"JUNGKOOKS HAIR WOWWW AND HES GROWING IT BACKKKKKKK AHHHHHHHHH," one fan tweeted.
"Whoever's managing jungkook and decided to add some blonde highlights into his hair, thank you very much, you're our hero @BTS_twt #MagicShopJapan," wrote a Twitter user.
BTS fans speculate a comeback is just around the corner
ARMY knows that BTS is working on a new album. While fans originally suspected the album could drop in October or November, ARMY now thinks a BTS comeback could arrive in January 2020. A few of the BTS members have dyed their hair while others are growing their hair out. Fans took this as a sign the group is filming material for the comeback's new concept.
"SO NOW AT JAPAN MUSTER: – SEOKJIN BLACK HAIR – JUNGKOOK NOT FULL BLOND HAIR – JOON BLOND MULLET HAIR – YOONGI BROWN HAIR – HOSEOK BROWN HAIR – JIMIN GREY-BLOND HAIR – TAEHYUNG-PERMED HAIR WE AIN'T READY GUYS," wrote a Twitter user.
"EVERYONE IS GROWING THEIR HAIR WE REALLY BE GETTING LONG HAIRED BANGTAN FOR THE NEXT COMEBACK @BTS_twt," wrote a fan on Twitter.
One fan tweeted, "Y'all….how are we going to survive next comeback?!"
"long hair bts for comeback AAAAAH," one fan tweeted.
Based on Jungkook and Jimin's hair colors, some fans suspect BTS's comeback could be similar to Wings or Love Yourself: Tear.
"Jungkook's hair remind me of Jimin hair in 'Fake love,'" wrote a fan on Twitter.
"WINGS ERA JIMIN IS BACK," a fan tweeted.
The members of BTS wowed fans at their Japan Muster
The reveal of Jungkook's blonde highlights finally ended the mystery of what the singer did with his hair. However, Jungkook's blonde hair was not the only high point of BTS's Japan Muster. All of the members of BTS served looks and vocal talent at the fan meeting.
"I didn't know how much I needed to see Yoongi rapping wearing a beret and a silk shirt," a fan tweeted.
"Namjoons long blonde hair peaking out in that beanie. his head bopping along to jins voice. those deep crater dimples spreading across his face. pls, I really am struggling rn," one fan tweeted.
"today we got: yoongi beret and forehead exposed, bts with silk shirts, jungkook ombré hair, namjoon blonde hair and mullet, taehyung wet curly hair, seokjin main dancer and amazing vocals, jimin singing paradise, and hoseok's duality in every song. it has been a day of blessings," wrote a Twitter user.