Jungkook From BTS Posted On Weverse And The Entire App Crashed
Jungkook posted on Weverse for the first time since BTS went on a hiatus and the entire app crashed.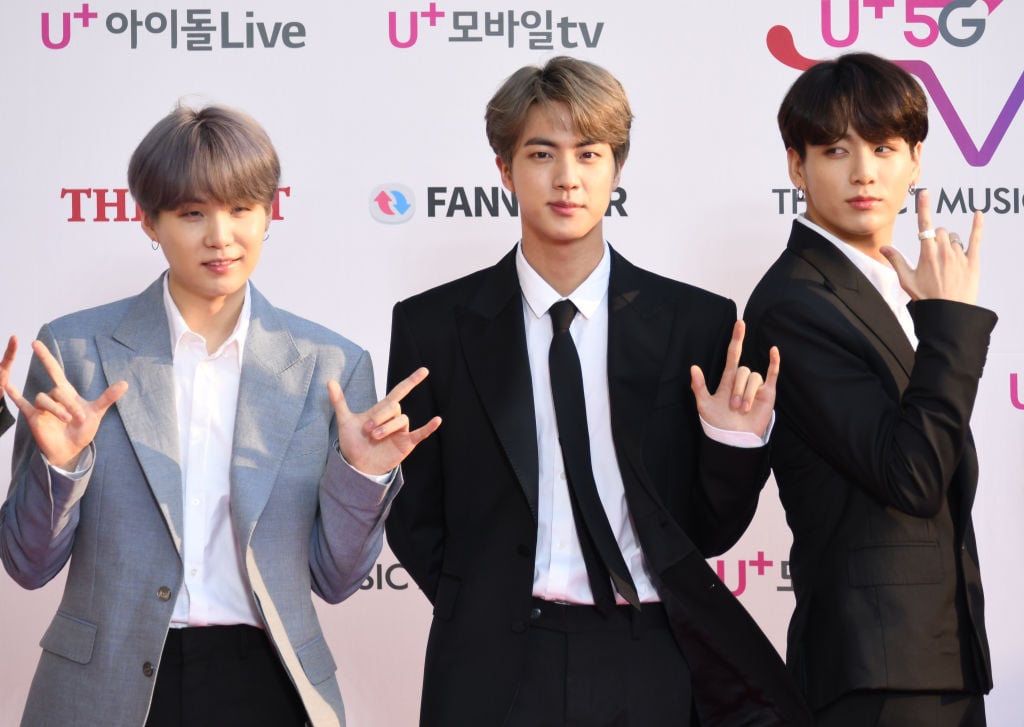 BTS is currently on hiatus until their Love Yourself: Speak Yourself tour restarts in October 2019. While on hiatus, several members of BTS posted on social media to keep in touch with fans. However, Jungkook was particularly quiet and did not post anything for the first couple weeks of the group's break. When Jungkook finally posted on Weverse, BTS fans were so excited the entire app crashed.
BTS fans joked Jungkook became the next Avatar
BTS is on a well-deserved break for the first time since their debut. While on break, Jimin hosted multiple VLIVE livestreams and RM posted photos visiting museums. J-Hope visited Los Angeles and Suga and Jin posted photos from a fishing trip.
Jungkook did not post anything, so fans joked that he was learning to become the next Avatar. In BTS, Jungkook is considered the Golden Maknae because he is good at everything. Because he already masters everything he tries, the joke took off.
"jungkook's so silent because he's off in the mountains learning how to become the next avatar," joked a fan on Twitter.
"Its already been 16 days on weverse 40 days since he last posted a photo here on twitter srsly jungkook did you become an avatar?? Where u at i miss u," wrote another.
After Jungkook posted on Weverse, fans continued the jokes.
"perhaps jungkook is finally done of being The Next Avatar so he decided to come back," wrote a fan.
Jungkook posted on Weverse and the app crashed
Jungkook was only silent for the first 12 days of BTS's vacation. When he posted on Weverse, he posted just after 3 a.m. KST.
His first post read, "What are you all doing?" followed by " I don't want to sleep now. What should I do?"
For a little over an hour, Jungkook wrote a string of posts about playing Overwatch and eating rameyeon. The app crashed after his third post which read, "its been a while since (I played) overwatch, shall I play it."
Even though the app crashed for some members of BTS ARMY, Jungkook continued to post until after 4 a.m. KST. After Jungkook wished everyone goodbye, Jimin replied to one of Jungkook's Weverse posts.
"I'm also eating ramyeon deliciously thanks to you," he wrote.
Fans panicked on Twitter when Weverse crashed
After Weverse crashed, BTS fans vented about their frustrations on Twitter. So many people were tweeting about it, "Weverse" trended worldwide. After the panic faded, BTS ARMY did what they do best and turned the entire ordeal into a meme.
"jungkook comes back on weverse just for it to crash the second he posts, the power," wrote a fan.
"jungkook going to weverse after we haven't heard from him only to post that he wants ramen at 4am," wrote another.
While most fans were happy about Jungkook's post, others were angry that Jungkook was inactive for the start of his vacation. This led to some members of ARMY expressing their disappointment in other fans.
"ppl on weverse is still begging jungkook to go live after he said he was going to bed. let mans sleep," wrote a fan on Twitter.
"i cant believe some people are actually mad at jungkook for resting?? and spending his vacation well??," wrote another fan.