Jungkook of BTS Discusses His Mixtape Plans
Once upon a time, Jungkook hinted to BTS fans across the world he was working on mixtape during a VLIVE livestream with J-Hope. The singer also released a short clip of a song to Twitter on his birthday in September. Since those two events, ARMY has anxiously waited for Jungkook to release his mixtape. In a recent interview, Jungkook discussed his plans for his mixtape.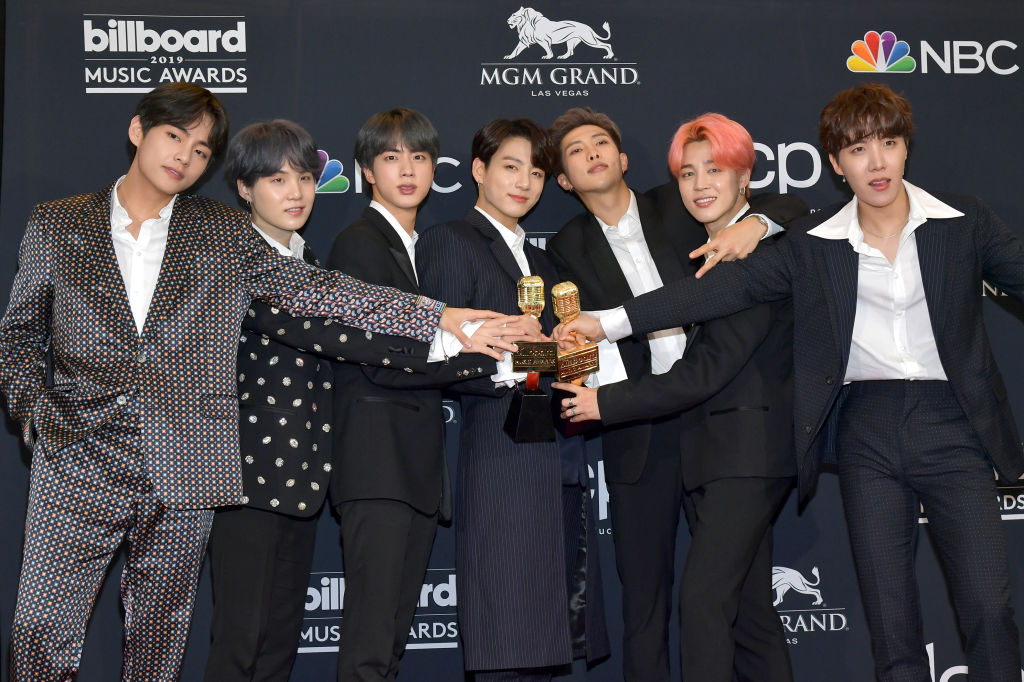 BTS appeared on 'Ask Anything' with Most Requested Live
During an interview on "Ask Anything" with Most Requested Live, Jungkook was asked about his mixtape. A fan asked the singer when he planned to release the mixtape.
"Ah, right now, I'm working on it now," Jungkook said according to an online translation.
RM added, "Maybe in his forties."
Jungkook admitted that he had already recorded the mixtape, but was planning to record it all over again.
Suga gave Jungkook advice about his mixtape
When Jungkook said he planned to record the mixtape over again, Suga stepped in and gave the singer advice. Suga released his mixtape, Agust D, in 2016 and also produces a lot of BTS's music.
"I guarantee that if you edit it in that way, you won't end up releasing it," Suga said.
"No no, so rather than calling it a mixtape, I'm planning on releasing the songs one after another within a short time frame," Jungkook said.
RM jumped into the conversation and told Jungkook he looked forward to the songs. Suga again offered Jungkook a piece of advice when it comes to releasing solo music.
"Even if you're gunna regret it, you have to release it and then regret it," he said.
BTS fans are excited for Jungkook's solo work
It seems there is no specific timeline for Jungkook to release his solo music. The singer clearly wants to release something he won't regret and is taking his time with the project. Even though Jungkook is no longer calling the project a mixtape, BTS fans are excited for the prospect of Jungkook's solo music.
One fan tweeted, "So did I understand correctly?! Jungkook says he's recorded his entire mixtape but wants to record it over again? So he'll release a song first and then the rest? We love a perfectionist. I'll wait however long you want Jungkook!"
ARMY is also excited at the idea that Jungkook could release the songs or mixtape at any time.
"jungkook has all the songs for his mixtape recorded he just has to rerecord them jjk one is coming y'all are we ready," a fan tweeted.
BTS fans hope Jungkook makes the music for himself
So far, RM, J-Hope, and Suga have all released solo mixtapes outside of their work with BTS. Jimin, Jin, and V have all released their own solo songs as well. Jungkook has released covers of other artists' songs. Moving forward, ARMY hopes that Jungkook enjoys whatever music he chooses to release.
"Idk who needs to hear this but jungkook's mixtape isnt for you. It's for Jungkook. Yes he is releasing it for us but ultimately, he and the other members make their solo songs for their own passion and reprieve and not to please you," one fan wrote on Twitter.
Fans also appreciate that the members of BTS are able to pursue solo projects in a way that allows them creative freedom.
"Do you know the real reason why BH doesn't endorse official solo projects? Because that would mean that they would have to control the creative output to some degree since their producers and other people would be involved in the process," wrote a Twitter user.