'Big Brother 21': Juror Number Three Sat Down With Julie Chen-Moonves to Watch the Goodbye Messages
Without winning any Head of Household competitions and a part of the dominant alliances of the season, Analyse seemed to float by week after week. However, left without many options, Jackson nominated the soccer star alongside her best friend in the house, and his target, Christie.
After the boutique owner blew up Nick's game during Taco Tuesday and struck a deal with Jackson, the house chose to save her and evict the pawn, Analyse. The soccer star sat down with Julie Chen Moonves to discuss Nick's gameplay, why she felt betrayed by Jackson, and if her and Jack's romance would continue.
Whose goodbye message caused her to tear up? Keep reading to find out.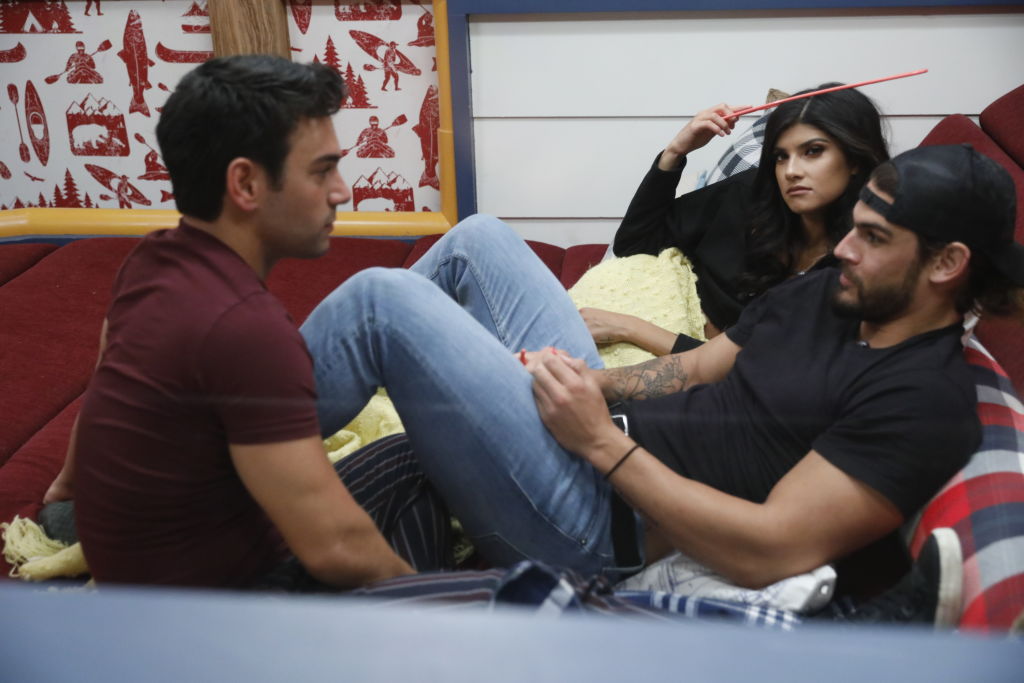 Analyse on the Six Shooters blow-up and after-math
Moonves first asked Analyse why it didn't work when she tried to reunite the Six Shooters after Holly and Kathryn's secret blew it up. Analyse explained that the comments Christie said about Jackson tore apart their relationship and made it impossible to trust each other again.
The soccer star elaborated and admitted she didn't blame them for separating from Christie because even she had her doubts at one point. However, Analyse claimed the boutique owner realized she was playing too hard "and took a step back."
Therefore, the California native began trusting Christie again and felt like Jackson and Holly should have also given her another chance. Even though Analyse declared she wanted nothing to do with the alliance anymore, she said she still had Holly and Jackson's back.
So, when he nominated her and not Nick, Analyse felt betrayed.
Juror Number Three Analyse opened up about Nick
The soccer star admitted she questioned Nick because Christie continually told her things about Nick that were concerning. She began to wonder if he was telling everyone the same things he told her and got paranoid.
Moonves asked Analyse if she thought Christie told her information about Nick to manipulate the situation or because Christie genuinely felt that way. Not wanting to think the worse about her best friend in the house, she claimed she didn't know but thought at the time that's how she truly felt.
Even so, Analyse said she thought Nick was playing the best game in the house. Before Christie exposed him, he was close with everyone, and she said he had a way of making them feel special and protected.
Will the Analyse and Jack showmance continue in the real world?
Early in the season, Analyse and Jack coupled up. Alongside Holly and Jackson, it seemed as if the four could potentially make it to the finals until the house voted to evict Jack two weeks ago.
While she is admittedly excited to reunite with Jack in The Jury House, Analyse explained she's 22-years-old compared to Jack's 29 years. Even though age doesn't matter to her, the soccer star said she's not looking to settle down anytime soon. Instead, Analyse said she's "going with the flow."
Juror Number Three Analyse watched her goodbye messages
Nicole kicked off the goodbye messages by telling Analyse things got crazy, and Jackson changed his mind, but she "still has mad respect" for the soccer star. Next, Jackson apologized to Analyse and told her he loved her to death.
Her former close ally, Holly, called Analyse her little sister and said they're still "BB best friends." Jessica and Cliff also apologized to the soccer star, and Nick left her a message saying how guilty he felt for her eviction.
In Christie's video message, she said "her heart is broken" now that Analyse is gone, but had to campaign against Nick because they were close. Tommy ended the goodbye message segment by crying while telling Analyse she was his "anchor" in the house.
The broadway dancer's video made her tear up, and she told Moonves Tommy was her closest friend in the house over Christie. Analyse even said she would choose him over Jack if she made it to the finals because he always stayed loyal. The soccer star also thinks he's an amazing person.
Watch Big Brother Sundays at 8 p.m. EST on CBS!