Jussie Smollett's Check to Two Brothers Reportedly for Training Not Attack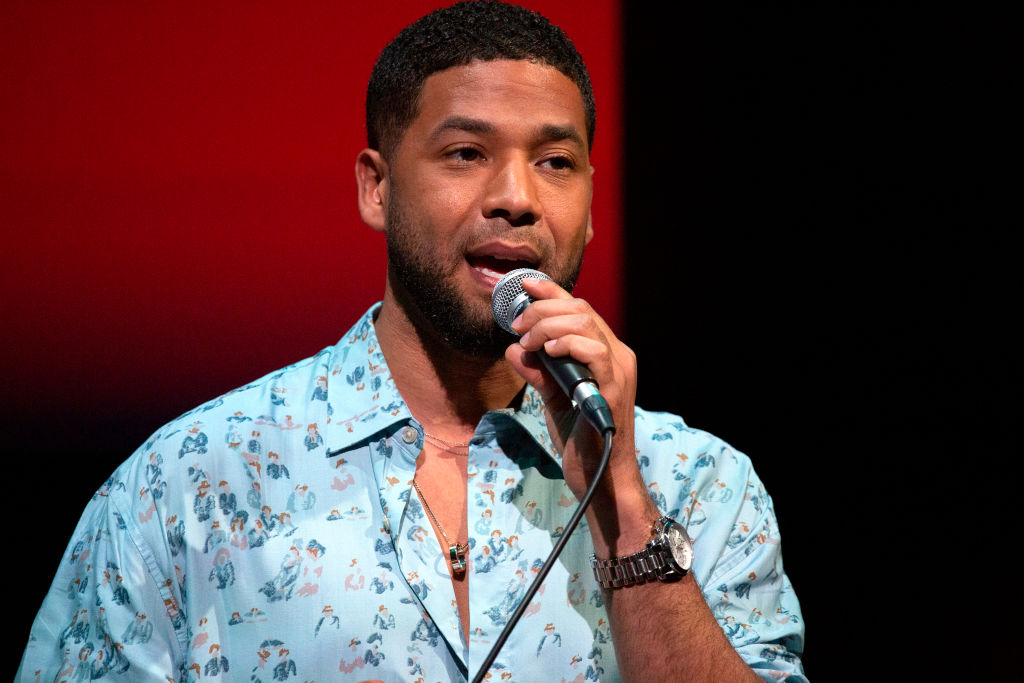 It's been hard to keep track of Jussie Smollett's case given new evidence keeps being revealed like the reported $3,500 check he made out to two people to allegedly plan his attack. However, it is now being reported that the check wasn't for that but for training. Here is everything you need to know about the new reports.
Jussie Smollett first claimed he was a victim of a homophobic and racist attack
Everything started when it was reported that Jussie Smollett was near his home in the Streeterville section of Chicago when he was allegedly attacked by two masked men. The attackers reportedly shouted homophobic and racist slurs at the actor as they poured an unknown substance on him and had a rope around his neck. Smollett went to Northwestern Memorial Hospital but was reportedly in good condition.
There were already some false information being reported after the alleged attack. It was reported that the attackers wore MAGA hats and shouted "MAGA country" at him. Smollett later said that wasn't true.
Then the case took another turn when it started to be reported that Smollett wasn't a victim, but a participant in planning a fake attack.
Smollett was accused of paying two brothers $3,500 to stage a racist and homophobic attack
The Empire star was arrested and charged for allegedly filing a false police report. One piece of evidence that reportedly went against him was a check for $3,500 to two brothers Abimbola and Olabinjo Osundairo to carry out the staged attack.
The brothers were taken into custody and after a 48-hour holding period they reportedly confessed to planning the attack with Smollett himself.
"We just didn't have the total package to support that it was a hoax," said
Chicago Police Superintendent Eddie Johnson. "This investigation didn't turn in the direction of Mr. Smollett being a defendant until the 47th hour that we had those two individuals in custody."
He went on to say Smollett's reason for the staging was "because he was dissatisfied with his salary." However, now there is a report that the check isn't for a staged attack at all.
Smollett's check to two brothers was reportedly for a 5-week Nutrition/Workout program
The check that is reportedly evidence that Smollett somehow planned the attack has been released by TMZ. There is a reason on the Jan. 23 check that might support Smollett's defense.
The memo reads "5 week Nutrition/Workout program Don't Go." "Don't Go" is in reference to Smollett's music video, "Don't Go" and the singer claimed he had to lose 20 pounds for it.
Abimbola Osundairo is a bodybuilder who Smollett knew from a gym called "Bon" according to Page Six. There are texts between the two beginning on Jan. 20 of the two talking about his meal plan. Another text shows that filming for "Don't Go" was scheduled for Feb. 23.
There was also a screenshot of a Venmo payment of $100 to "Bola" for "training." The brothers also reportedly testified that the payments were for training.
It's unknown how this will affect the case against Smollett, but it looks like there could be some reasonable doubt behind the evidence against him.
Read more: 'Empire': Why Jussie Smollett Reportedly Has Been Cut from Final 2 Episodes of Season 5
Check out The Cheat Sheet on Facebook!