Just As You'd Expect, Baby Yoda Takes Up The Most Attention On Set, Too
The Mandalorian is an undeniable hit with fans of Disney+ and Star Wars. Its fourth episode just premiered on Nov. 29 and introduced Gina Carano as Cara Dune. It continued the adventures of Mando and The Child, or — as the internet affectionately calls him — Baby Yoda. They land on the planet of Sorgan and find out about some ruffians disturbing a quiet farming village. 
Bryce Dallas Howard directed "Chapter 4: Sanctuary" and talked about the process, which included directing the puppet/alien that has come to take over the web. 
Spoilers ahead for Episode 4 of The Mandalorian ahead.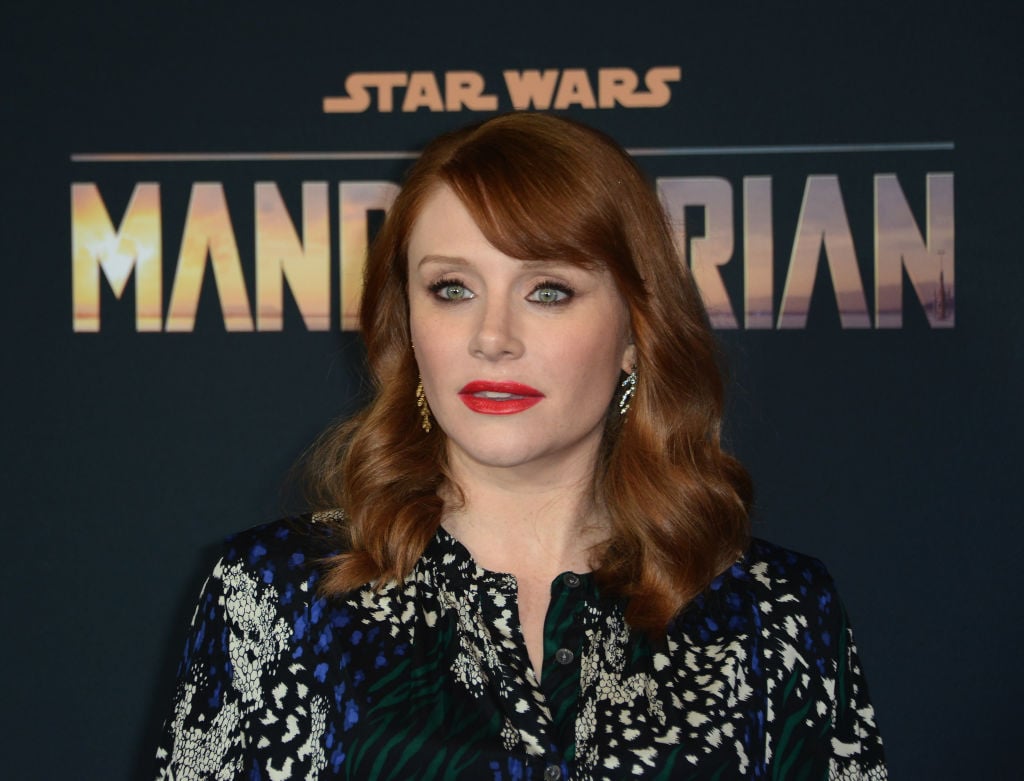 Bryce Dallas Howard had a lot to focus on for her episode
In an interview with Variety, Howard talked about the monumental task of directing a part of the Star Wars universe. This episode also required a lot of focus on Carano as well. "When we were shooting that fight just before, so much rested on Gina because Pedro at that point was on rehearsal for another show," Howard told Variety. "It wasn't like I was working with Pedro on a day-to-day basis, so Gina was the face of the episode.
She notes that the fighting stunts with Carano were pretty tough and took up a lot of the filming. "Working with Mando's stunt double and body double it was exciting because Gina was able to do all that action and we could lean into it," Howard said. "That day was all about that brutal fight: Gina and Mando's stunt double were just destroying each other." 
The Baby Yoda sipping soup meme was carefully constructed
Despite that massive fighting scene, Baby Yoda was the character that took a lot of Howard's attention. But it's to be expected; have you seen Baby Yoda? "Then it gets to Baby sipping his soup and everything else goes away, all these amazing feats of athleticism and martial arts, and all this stuff just becomes Baby with soup and all we wanted to do was a zillion takes of how Baby was going to drink his soup," she said. "Would he drink it with one hand? With two hands? Sipping it a lot? Sipping it a little bit?"
Earlier in the interview, Howard explains how the Child is truly what made the Star Wars experience real for her. "He is the light of all of our lives; it's so exhilarating to be able to share my love and obsession with him with others," she said. She noted later that, "Baby just wins every scene he's in."
Howard wanted to make sure Baby Yoda's "acting" was just right
Howard isn't new to puppets or animated, lifelike robotics, thanks to Terminator Salvation and Jurassic World. Because of this, she said that when she first "met" Baby Yoda, she worked with the puppeteers to see what the little alien "could do." "We wanted to use it as much as possible rather than relying on CG," Howard said. "I wonder if Baby can walk? Can Baby reach for things? Can Baby articulate with its hands? And because of the fact there were other kids in the episode, we could lean into his earnest cuteness and those scenes might have otherwise felt put on. But we know it was OK if Baby is cute right now."
And cute he is! It is no exaggeration to say Baby Yoda is somewhat of a legend on social media. The Force is with the internet, and Baby Yoda is its master.