Just When You Thought EDM Couldn't Get More Mainstream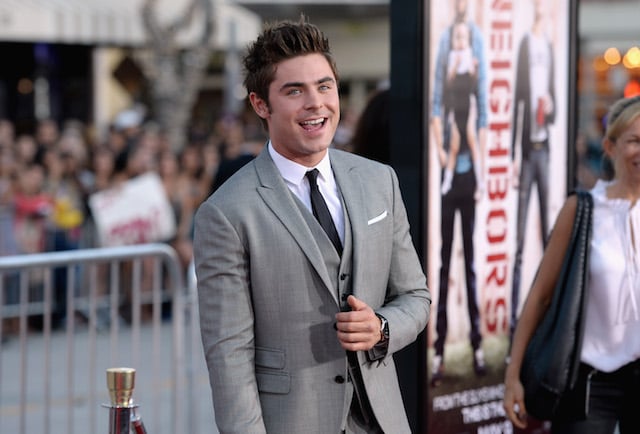 Electronic dance music has become so popular that the formerly underground genre is getting a Hollywood movie. Warner Bros. has just dated the EDM-themed coming-of-age drama We Are Your Friends for this summer, according to Deadline. The film stars Zac Efron as a young, aspiring DJ looking to earn fame as a producer of hit songs. The movie is set to hit theaters on August 28.
We Are Your Friends will see Efron playing Cole, a 23-year-old DJ who heads to Los Angeles to make it big as an electronic music artist. Cole finds an older mentor there in a successful DJ named James, played by Wes Bentley, but things get complicated when Cole falls for James's much younger girlfriend, Sophie, who will be played by the model-actress Emily Ratajkowski of "Blurred Lines" fame.
Ratajkowski has become a sought-after actress after earning fame from stripping down for Robin Thicke's "Blurred Lines" music video and then appearing in Gone Girl. Jon Abrahams of Scary Movie and Meet the Parents will play a sleazy club promoter Cole meets while trying to build his career. Jonny Weston, Shiloh Fernandez, and Alex Shaffer will co-star in the movie, according to TheWrap, which will be mostly set in L.A.'s EDM club scene. First-time director Max Joseph co-wrote the script with Meaghan Oppenheimer.
EDM is a buzzword that has been floating around since the early 2000s but has become inescapable over the past few years. It's an umbrella term that covers a variety of electronic music genres. Formerly an underground phenomenon, it has now been thoroughly embraced by the mainstream, with every pop star on the block throwing electronic sounds into their music and festivals dedicated to the genre becoming so large and unruly that even the former EDM capital of the U.S., Miami, doesn't want to host the popular Ultra Music Festival anymore.
EDM is a genre consisting mostly of solo artists or DJs who mix music live and create songs using various electronics and computer techniques. It's heavily associated with dance club and raves, earning a controversial reputation for the tendency of very young people to take experimental drugs while listening to it.
This has resulted in deaths at EDM festivals. There has also been a backlash against the genre from purists who are disgusted with its new popularity and commercialism. Where once the sounds created by artists like Skrillex were considered abrasive and shocking, now EDM music can be heard accompanying car commercials and Taylor Swift songs.
All these themes will likely be touched in the movie, which is itself an example of how mainstream the genre has become. An underground music phenomena would never be popular enough to warrant a film starring teen heartthrob Efron and one of the hottest models in the world as his love interest.
The storyline sounds pretty bland — guy must choose between his girl, his friends, and his dream — but the setting in the EDM scene might spice up the plot. If EDM fans needed another sign that the genre is mainstream now, they've now got a Hollywood film to point to.
Follow Jacqueline on Twitter @Jacqui_WSCS
More from Entertainment Cheat Sheet: