'Justice League': Why the Movie Doesn't Need Green Lantern
With less than a month until the release of Justice League, new tidbits about the film are being released every day. Fans are grabbing onto every little thing, but one thing in particular keeps coming back around: the potential appearance of Green Lantern in the film.
The latest "leak" has brought the conversation up again — should Justice League include yet another hero? Here's what everyone is talking about, and why we think the movie would be better off saving the character for a later date.
The Big Bang Theory spoiler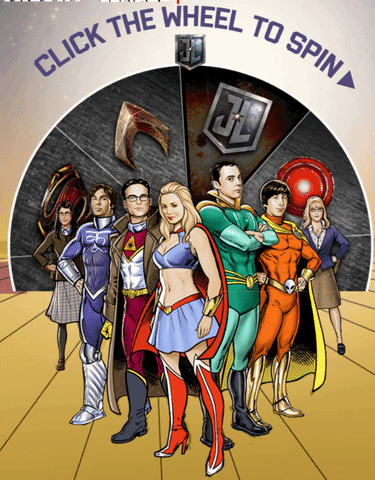 The latest discussion was sparked by, of all things, a promotional tie-in. And popular comedy TV series The Big Bang Theory, which heavily features all things nerdy, is to blame (or thank).
The "geekstakes," which gives contestants the chance to win a trip to the Justice League premiere, appeared with a giant wheel for participants to spin, featuring the symbols of the film's heroes. But there was one surprising option: the Green Lantern symbol.
Past reports
Though Green Lantern isn't featured in any of the movie's other promotional material, this isn't the first time the possibility of the character appearing in this film has arisen. In fact, it has long been speculated that some form of the hero will appear in Justice League.
As early as late 2016, the media was reporting that Green Lantern would show up in a "key sequence." And since then, there has been plenty of fuel added to the fire.
Previous Green Lantern
As all comic fans (and most mainstream viewers) know, we've already seen one iteration of Green Lantern on the big screen. The 2011 film featuring Ryan Reynolds is, of course, what we've referring to.
And as those same people know, the reception for this flick was poor. Now that Reynolds has taken on Deadpool, the character he was born to play, over at Fox, Warner Bros. and DC are eager to give the world another taste of Hal Jordan (or whichever iteration of the hero they've chosen).
Persistent rumors

As previously mentioned, these Green Lantern rumors have been circulating for some time. The most convincing pieces of evidence came after the teaser trailer released at Comic-Con.
A line of Steppenwolf's narration mentions there are "no Lanterns" on Earth, a clear nod to the Green Lantern Corps. Additionally, a couple of subtle images of distinctively green light have caught the eyes of perceptive fans, generating much discussion.
An already crowded film
So why shouldn't a Green Lantern appear in Justice League? Well, for one thing, the movie is already packed.
Aside from Wonder Woman, Batman, Cyborg, Aquaman, the Flash, and (almost definitely) Superman (at some point), we've recently caught glimpses of some of the supporting characters who will make appearances. Included in this are Mera, Alfred, and at least two Amazons, Hippolyta and Antiope. And those are just the "good guys."
But fans are all in

While fans are of course excited to be seeing all of the aforementioned characters, both new and old, there's a special place in many hearts for Green Lantern. After all, he's only been seen once, and most feel it's deserved that DC gets another shot at doing him justice.
In fact, some are already jumping in with their own fan-made content. The above Toon Sandwich trailer is a silly one, mocking the one released at Comic-Con, and ends with a funny nod to Reynold's portrayal of the character.
Green Lantern Corps in 2020
Now that it has been confirmed that the film Green Lantern Corps is headed into theaters in 2020, it raises the question: Should we get a glimpse of the hero (or heroes) first?
DC and Warner Bros. have a lot of films in the works, and, as we've reported, have struggled with the idea of everything existing in one universe. So perhaps it would be better for all of the films if they keep at least some of their heroes relatively separate.
Check out The Cheat Sheet on Facebook!