Justin Bieber and Other Celebrities Who Still Have Tattoos of Their Exes
Over the years, some celebrities have been so infatuated with their significant other that they went so far as getting a tattoo dedicated to them. Unfortunately, most couples in Hollywood don't end up lasting, so these stars have been left to deal with the permanent reminder of their heartbreak on their skin.
While some stars have had their tattoos covered up or removed, others have kept the ink of their exes. These celebrities still have tattoos dedicated to past relationships.
Justin Bieber
Now that Justin Bieber is engaged to Hailey Baldwin, it's come to light that he still has a tattoo on his arm that's dedicated to another woman. And yes, that other woman is Selena Gomez.
Her face is permanently inked on his lower left arm. As Cosmopolitan pointed out, it's "mere inches from where his wedding ring will be." Only time will tell if Bieber decides to have it removed, cover it up, or leave it as a piece from his past.
Johnny Depp
Back in the '90s, Johnny Depp and Winona Ryder were the "it couple." Depp seemed to think so, too, as he got "Winona Forever" tattooed on his upper arm. They became engaged for three years, but decided to call it quits before ever getting married. Instead of completely removing the tattoo, he simply cut off a few letters for the words to read "Wino Forever" instead.
Iggy Azalea
Back when Iggy Azalea and A$AP Rocky were an item in 2011, Azalea proved her love by getting his mixtape's title tattooed on her fingers. They read "Live Love A$AP," with each word tattooed on a different finger.
Once she became engaged to LA Lakers player Nick Young, Azalea decided to simply cross out "A$AP" from her pinky finger with an X.
Carmen Electra
Model Carmen Electra got married to Jane's Addiction guitarist Dave Navarro in 2003. Both got tattoos dedicated to each other, with Electra's featuring their wedding date on her wrist, and Navarro's with her initials on his chest. Unfortunately, they split only three years after getting married, but both seem to have kept their tattoos.
Cheryl
You may now know Cheryl as Liam Payne's ex who gave birth to their son, Bear. Back in 2004, however, she was married to Chelsea football player Ashley Cole. They were together for six years, and even got married in 2006. Cheryl got "Mrs. C" tattooed on the back of her neck, but they divorced in 2010 after reports surface that her husband had cheated on her "multiple times."
She was then married to Jean-Bernard Fernandez-Versini from 2014 to 2016, and even took his last name whiler her neck still read "Mrs. C." Since their divorce, she legally changed her last name back to her maiden name, Tweedy, but publicly goes by just her first name.
Evan Rachel Wood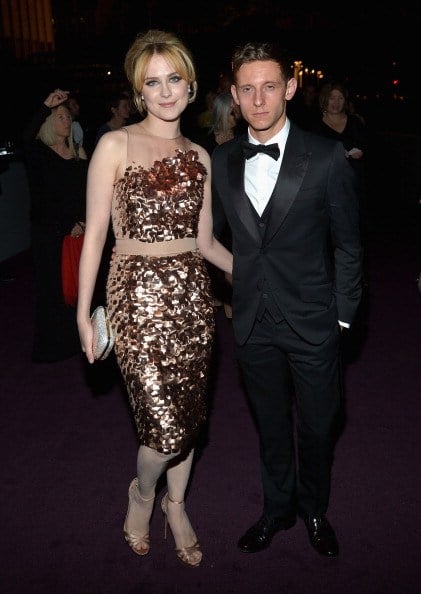 In 2005, Evan Rachel Wood met Jamie Bell on the set of Green Day's "Wake Me Up When September Ends" music video. They went their separate ways, but ended up back together in 2011 and tying the knot in 2012. They had one son together, but got divorced after two years of marriage.
Wood has a simple "J" tattooed on her leg, and doesn't seem to plan on getting it removed.