Kaitlynn Carter's Instagram Followers Are Still Telling Her Miley Cyrus Used Her for Attention
Miley Cyrus has been all over the news thanks to her romance with Cody Simpson. While many knew Cyrus had been in an on-and-off relationship with Liam Hemsworth for 10 years that resulted in a wedding at the end of 2018, the two officially called it quits in August 2019. And Cyrus seems to be quite happy with her new boyfriend — but we can't forget that for a brief moment, she was with Brody Jenner's ex, Kaitlynn Carter.
Carter and Cyrus' romance was so fast that many may have missed it. But Carter has expressed that she had real and lasting feelings for Cyrus that didn't seem to be reciprocated. And Carter's Instagram followers are still telling her that Cyrus just used the romance for personal gain.
Kaitlynn Carter and Miley Cyrus had a whirlwind romance
While Cyrus was in the midst of splitting permanently from Hemsworth, she moved on quickly to a romance with Carter, who also was with Brody Jenner for years prior. According to People, Carter and Cyrus were spotted together on Aug. 9 whilst on a trip to Italy, and Cyrus' sister, Brandi, was also included on the trip. The ladies were out dancing and partying away — and Cyrus was also seen without her wedding ring on for the first time. It was during this same vacation when Cyrus and Carter were spotted kissing.
It seems Carter was also in support of Cyrus during her MTV Video Music Awards performance, too, as the publication notes Carter was backstage rooting her on. And other publications reported Cyrus and Carter were already living together.
Sadly, we know their whirlwind romance didn't last. People notes they broke up six weeks after it all started, and they stated they remained friends.
Carter and Cyrus don't appear to be on good terms anymore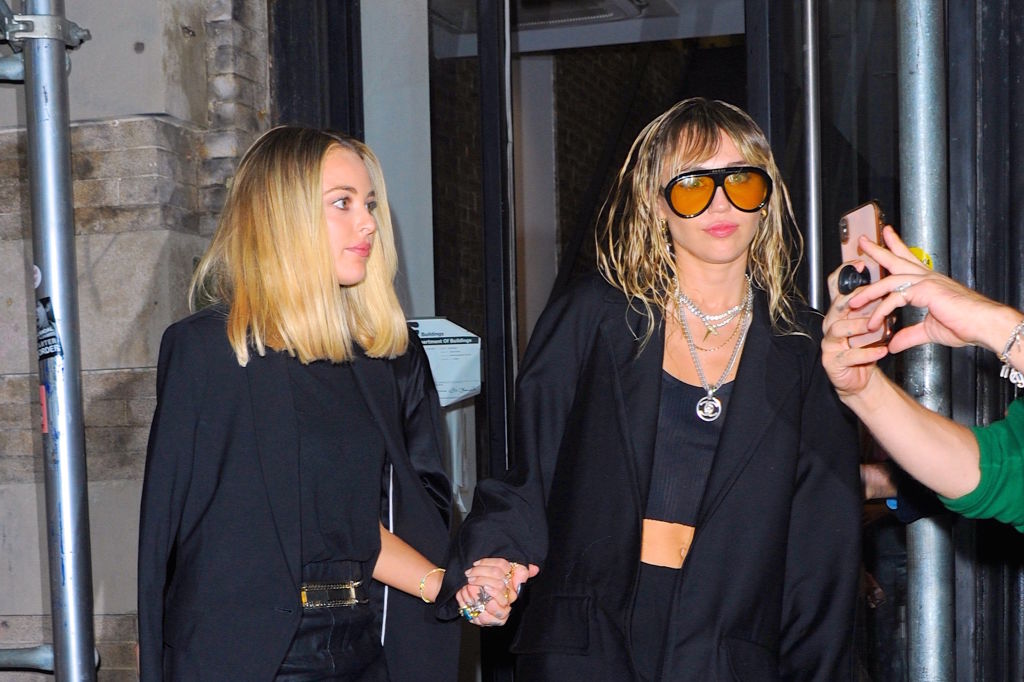 When Carter and Cyrus first split, People reported the two remained on good terms. But now, their relationship seems murky. Carter even opened up about her romance with Cyrus to Elle — and it seemed a lot more serious for her than it did for the pop star.
"This past July, I went on vacation with a female friend; the next thing I knew, I was in love with her," Carter wrote about Cyrus. "While it was short-lived, I'll remain eternally grateful to my most recent relationship for opening my eyes to this unexplored part of myself, and for inspiring a new level of self-discovery and wonder at all the possibilities of life."
In the letter, Carter also noted that she views the relationship as a "profound journey of self-discovery." But we can't forget that Cyrus unfollowed both Hemsworth and Carter on Instagram recently, so we're not sure where the two stand now.
Carter's Instagram followers are telling her Cyrus used her
Cyrus has certainly moved on from Carter — and now, Carter's fans are telling her that she should work on forgetting about Cyrus, too. Carter recently took to Instagram to share her advice for getting over breakups, Entertainment Tonight reports.
"It's easy to get lost in feelings of anger and frustration," Carter wrote on her Instagram Story. "I do think I have a unique ability to not really ever get angry at anyone and to let things go super quickly and easily but I think that's because I always reframe a situation to look at it in terms of what's causing someone to behave a certain way towards me and then feel empathy for them."
It seems her Instagram followers don't want her to have empathy for Cyrus, however. One follower commented on a post showing her and Cyrus on vacation, "she doesn't even follow you back girl… she used u."
Another wrote, "I knew it wasn't gonna last. Hope you find someone else."
Yet another added, "bruh she played u."
We're not sure if Carter will ever delete the photos she has of Cyrus on her Instagram. Hopefully, she's finding a way to move on the same way Cyrus moved on with Simpson.
Check out Showbiz Cheat Sheet on Facebook!