Kanye West Always Manages to Get People Around Him to Do This 1 Thing
Love him or hate him, you'd be hard-pressed to find someone who has never heard of Kanye West. The 42-year-old has sold millions of albums, has a billion-dollar shoe line, and is married to one of the most famous women in the world.
But it's not his music that keeps him in the news. It's not his shoes. And it's not the fact that he is married to a Kardashian. It's what he says that constantly has people talking.
From his political views, to his religious beliefs, West always has something to say. And because of that, there's always one thing that he is able to get people around him to do. 
It all began with a love for music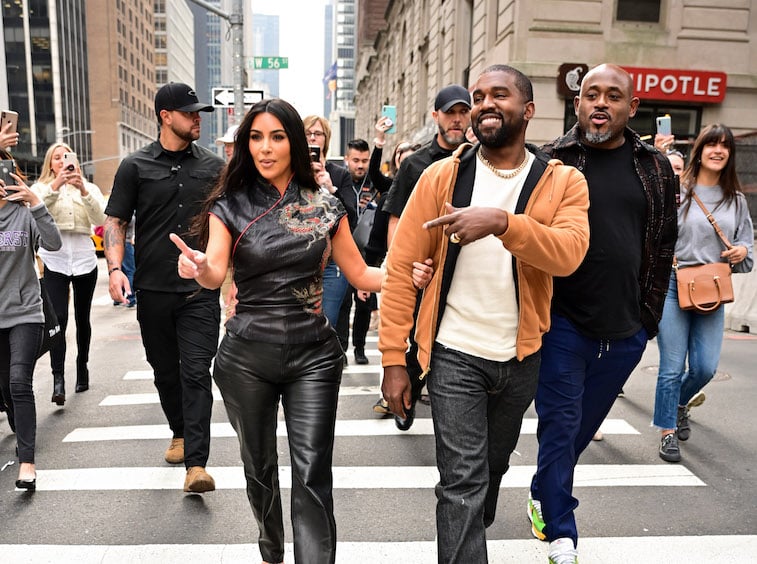 Kanye West first broke onto the scene as a music producer. In the early 2000s, he produced songs for some of music's biggest names. As time went on, West began to make a name for himself.
He released his first album, College Dropout, in 2004. From there, he went on to release several more albums. In all, West has won 21 Grammy awards and has been named as one of the most influential people in the world. 
West has had numerous hits since he began his career. He first gained attention with "Through the Wire" in 2003. Then it was "Jesus Walks." After that, hits like "Gold Digger," "Stronger," and "Heartless" ruled the airwaves.
By 2010, Kanye West was one of the most powerful men in hip-hop. 
Soon it became the world according to West
West gained massive success with his music career, but it was the choices that he made later in his life that solidified him as one of the most talked-about celebrities. In 2009, the rapper launched his own shoe line, partnering up with Nike to create Yeezy.
In 2014, West married reality TV star Kim Kardashian. 
After marrying Kardashian, West's star only became bigger (and more talked about). The rapper has continued to release music and has gained attention for his Sunday Service, a mix of a concert and a church service. Sunday Service moves from place to place and has attracted several celebrities.
In his personal life, in addition to being a rapper and a reality star, he is also a father. Kim and Kanye share four kids together, Saint West, Psalm West, North West, and Chicago West.
The rapper says that having kids has changed him, both as a person, and as a rapper, sharing, "Having a family period has made me completely rethink the way I rap. I just love my family."
The one thing he never fails to do
If you haven't noticed, Kanye West has no problem getting people to talk about him. In fact, he has built a career on it.
From the time he stole the mic from Taylor Swift at the VMA awards to his comments about Donald Trump, Kanye West is always stealing the show. He always manages to get people around him to take an interest in him.
West recently did an interview with Zane Lowe of Apple Music's Beats 1, and once again, he had people talking. During the interview, West made some pretty outrageous comments. At one point during the interview, West referred to himself as, "undoubtedly the greatest human artist of all time." But there's more, he also said, "similar to Tesla, I'm about lighting the world up."
Naturally, people were buzzing after the interview. One Twitter user wasn't amused and wasn't afraid to share her view, writing, "One day, folks will recognize this Church of Kanye cult for what it is. Until then, y'all can keep calling dude a genius and buying them ugly shoes, I guess."
It doesn't matter whether you love him or hate him – you're still talking about him.