Will Kanye West Make a Guest Appearance on 'Real Housewives of Potomac' Season 5?
After divorcing in 2009, Gizelle Bryant decided to give her ex-husband, megachurch pastor Jamal Harrison Bryant, another chance and work on their relationship.
They recently opened a restaurant alongside their three daughters and seem to be doing well. The ladies of Real Housewives of Potomac begun filming for Season 5 a few weeks ago, and at the end of September, Kanye West held his Sunday Service at Bryant's church in Atlanta.
Because Gizelle is seeing her husband again, it's very possible that she attended the service, with the RHOP cameras, and some of it will air on Season 5. If there's no footage, it's almost a certainty Gizelle will talk about it.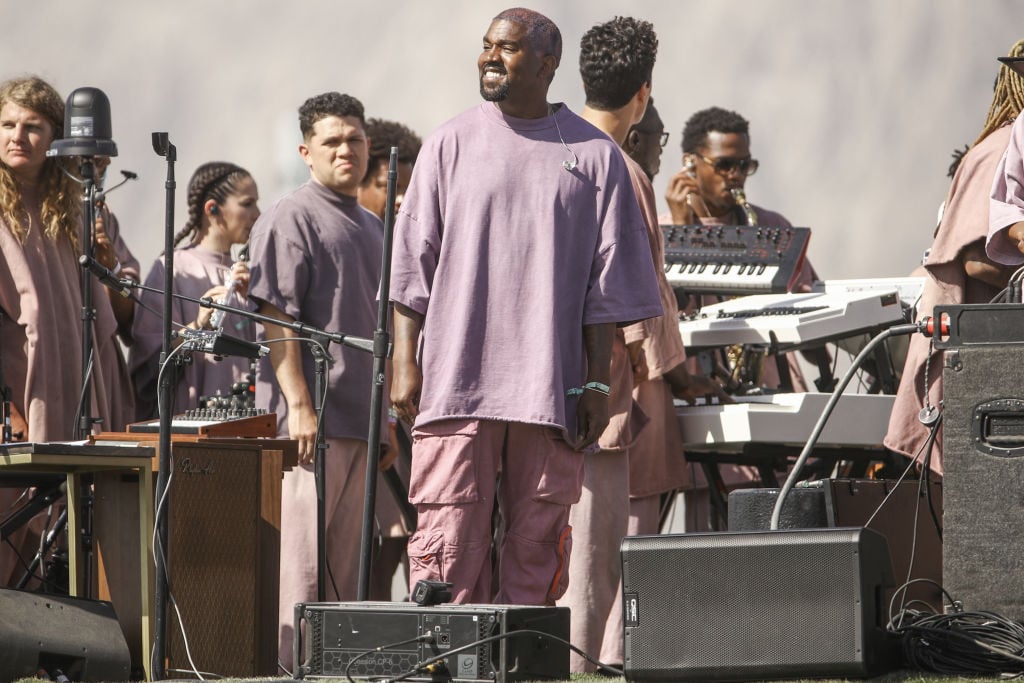 'RHOP' star Gizelle Bryant and Jamal Bryant are dating again
After Gizelle graduated from Hampton University, she settled down in Baltimore, where she eventually married megachurch pastor Jamal Bryant in 2002.
Together, they welcomed three children into the world; Grace and twins Adore and Angel. Due to infidelity, their marriage only lasted until 2009 when Gizelle filed for divorce.
The RHOP star wrote a fictional book based loosely on her life as a first lady which recently won the African American Literary Award for Best Fiction. Even though she's dated a few men here and there after her divorce, Gizelle never remarried and raised her three children as a single mother.
However, during Part 1 of the Real Housewives of Potomac Season 4 Reunion, she revealed she had forgiven her ex-husband, and they are seeing each other again.
Kanye West had a 'Sunday Service' at Jamal Bryant's church
Originally from Boston, Jamal Bryant founded Baltimore's Empowerment Church two years before he met Gizelle. In December 2018, he decided to move to Atlanta to pastor New Birth Missionary Baptist Church after growing Empowerment from 47 members to over 10,000.
The 47-year-old has explained his decision to leave before, stating that God prompted him to leave because he began to have a "sense of ownership" over the church.
On September 25, Kanye West held his renowned Sunday Service at New Birth Missionary with rapper T.I. his wife, Tiny, 2 Chainz, and Killer Mike in attendance.
After a picture of the rapper at the service making a "stank face" went viral, T.I. explained himself, saying he thought it was suspicious that he and Tiny were seated in the front row, and Bryant took another offering while calling out specific people to donate $1,000.
The rapper also said he felt like there was an "agenda" and that he was being "exploited." In a lengthy Instagram post, Bryant responded, promising there was "no money grab intention," and invited them back.
Jamal Bryant to redirect Kanye West's donation over Trump support
West donated an undisclosed amount to Bryant's church, and the pastor said he would redirect the funds to Morris Brown College after the rapper publicly endorsed Donald Trump at a different Sunday Service.
Bryant responded to West's belief and said Trump has not given "a dime" to the HBCU's as he promised. Therefore, he will donate the money to Morris Brown, an HBCU, so he will not "be guilty of double speech."
According to a spokesperson from New Birth, the donation will be divided into two scholarships: one that honors West's late mother, Donda, and the other Vanessa Long, the wife of New Birth's former pastor, Bishop Eddie Long.
The donation will also possibly help Morris Brown College stay open as they lost their accreditation in 2002.