Kanye West, Travis Barker and Other Celebrities Pay Tribute to XXXTentacion Following His Death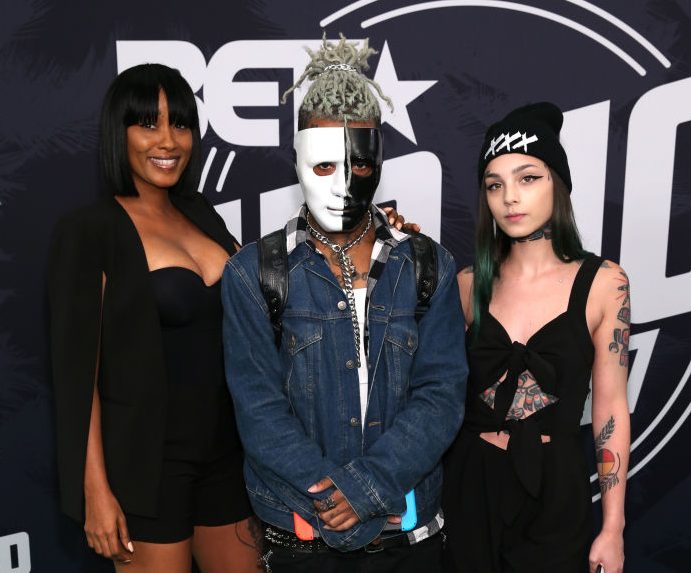 Sad news shook up the music world on Monday, June 18, when it was announced that rapper XXXTentacion was shot and killed in South Florida during what authorities believed to be an attempted robbery.
TMZ reported that the 20-year-old rising hip-hop star, whose real name is Jahseh Dwayne Onfroy, was shopping at a motorcycle dealership and was approached by two armed suspects as he was preparing to leave. The Broward County sheriff department said that at least one of the suspects fired shots and struck XXXTentacion before fleeing the scene in a black SUV. He was rushed to a nearby hospital and later pronounced dead.
Police called it a possible robbery after witnesses claimed that a Louis Vuitton bag was taken from rapper's vehicle. The gunmen are described as two black males both wearing hoodies. One of the suspects was seen wearing a red mask. Some of XXXTentacion's fans began to speculate if Soldier Kidd and Soldier Jojo could have been involved. They have each since taken to Instagram and insisted they had nothing to do with the shooting.
"I've been seeing a lot of comments, I've been seeing a lot of things going on social media saying that I had something to do with XXXtentacion's passing," Soldier Kidd said before denying any involvement. "My condolences go to the man's family and whatnot."
Soldier Jojo also posted a video claiming the same and adding, "We respect everybody, straight up … I respect that man for who he is, and RIP to that man." XXXTentacion was no stranger to controversy and had plenty of legal woes. According to court documents, at the time of his death he was awaiting trial for a domestic violence incident against his pregnant girlfriend.
He also took part in feuds with his peers and in 2017, was attacked by several men but decided not to increase his security detail after the incident. Despite his troubles, XXXTentacion was recently named one of the best up-and-coming artists and his last album debuted a No. 1.
Following the news of his death, several celebrities including Kanye West, Travis Barker, and J Cole paid tribute to the late rapper via social media. "Rest in peace," Kanye West tweeted. "I never told you how much you inspired me when you were here thank you for existing."
"I'm at a loss for words… speechless #RIPXXXTentacion," Blink 182 drummer Travis Barker wrote. "Loved collaborating with you. You were a true artist, one of the most f**king talented of our time."
J Cole also expressed his grief writing, "This got me f**ked up. RIP X. Enormous talent and limitless potential and a strong desire to be a better person. God bless his family, friends and fans."
"Prayers up for @xxxtentacion," Juicy J tweeted.
"My heart dropped when I heard about @xxxtentacion," Big Sean wrote. "I feel like we only got to see a glimpse of his artistry. I didn't know him personally but I respect how passionate he was about his music and message. Nobody deserves this kind of ending. gone too soon, damn! RIP."
Aaron Carter reacted to the news as well, tweeting, "Rip @xxxtentacion this is absolute devastation so much talent I'm shook."
Pusha T had this to say, "Music as a whole was feeling really good until yesterday … we gotta do better as a people. We should be able to be young and enjoy our success without fearing death at the hands of our peers or hometown neighborhoods."
And Big Boy tweeted a video message XXXTentacion originally posted in which the young star talked about dying and his hope after he's gone.
Follow The Cheat Sheet on Facebook!