The Surprising Way The Kardashians Describe Kylie Jenner
We don't know about you, but Kylie Jenner is absolutely feeling 22. To celebrate her special day, the billionaire rented out a private yacht for her closest friends and some of her Kardashian family members. The price tag on the luxury yacht is a casual $1 million a week. The makeup mogul also took a page out of Selena Gomez's book and is celebrating abroad in Italy. She seems to be truly enjoying her time overseas and soaking up her many birthday wishes. Most specifically, the 22-year-old is loving the sweet messages from her family, having reposted a couple of them on her Instagram story.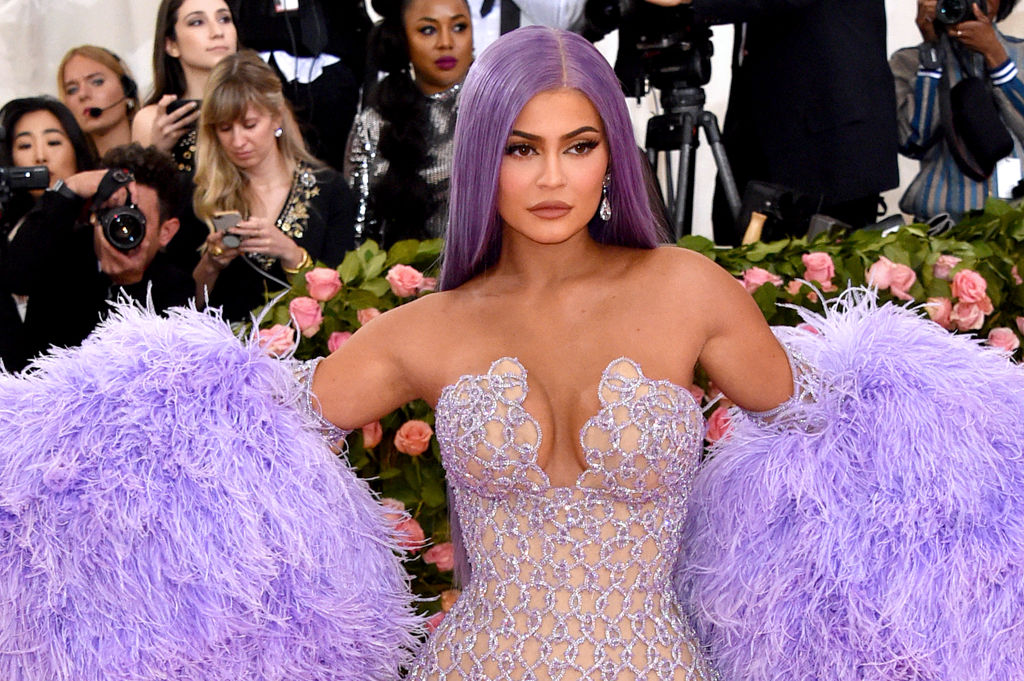 Birthday wishes
Though the KarJenner clan is all about social media, so far the only person who posted a birthday message about the youngest Jenner to their feed was Kim Kardashian. The KKW Beauty owner posted an adorable message about the 22-year-old, speaking to her character and fun-loving personality. She then went into full-blown sister mode and confessed that she almost posted an embarrassing video of the pair of them, but managed to control herself.
Kim Kardashian's sweet message
"Happy Birthday, @kyliejenner When I think about you I think of a wise old soul who makes amazing decisions that are always true to what you really believe. You have always been so strong and confident in doing what is in your heart and I admire and respect that. You live life like it's your last day and it's so much fun to see you live such a full life and being such a kind person while doing it all. I wanted to post an unseen "music video" you, Kendall and I did back in the day but didn't want to embarrass you too much lol. I love you," the Keeping Up With The Kardashians star wrote.
Kendall Jenner & Kourtney Kardashian
Of course, Kardashian wasn't the only KarJenner to wish her baby sister a happy birthday. On her Instagram story, Kendall Jenner also posted a series of pictures of her and Kylie Jenner throughout the years. Meanwhile, Kourtney Kardashian, the eldest KarJenner, posted a video of Kylie Jenner giving her a piggyback ride with the caption "Happy birthday my angel baby."
Daughter (Stormi) & Mom (Kris Jenner)
But the sisters weren't the only ones who delivered sweet birthday messages. Who could miss the adorable video Jenner posted of her one-year-old daughter, Stormi, singing her happy birthday? And, of course, Jenner's mom (Kris Jenner) was sure to share a heartfelt message about her youngest child on her Instagram story.
"Happy birthday to my baby!!! Kylie Jenner, I can't believe you are 22…It is the greatest joy and blessing to be your mommy and watch you grow into such a beautiful woman inside and out. You are the most amazing daughter, sister, friend, and mommy. Watching you with Stormi has been such a wonderful blessing. I am so proud of you! You are truly an old soul and such an inspiration to everyone…your creativity, generosity and huge heart is truly remarkable! You are such an angel girl and I love you more than you will ever know. Love mommy," the famous momager wrote about her rumored favorite child.
An "old soul" & an "angel"
It surprising (and telling) that Kris Jenner and Kim Kardashian both referred to the 22-year-old as an "old soul." As Jenner is the baby of the KarJenner clan, one wouldn't necessarily expect that term used to describe her. Furthermore, both Kris Jenner and Kourtney Kardashian refer to Jenner as an angel, which is practically the highest praise possible. Say what you will about the KarJenner clan (and we certainly do) one cannot deny the love that they have for one another. And, at the end of the day, that's what it's all about.