Kate Chastain 'Below Deck' Shares What It Was Like to 'Squash That Beef' With Teddi Mellencamp From 'RHOBH'
Kate Chastain from Below Deck had to know she was going to come face to face with Teddi Mellencamp from The Real Housewives of Beverly Hills when the two attended BravoCon.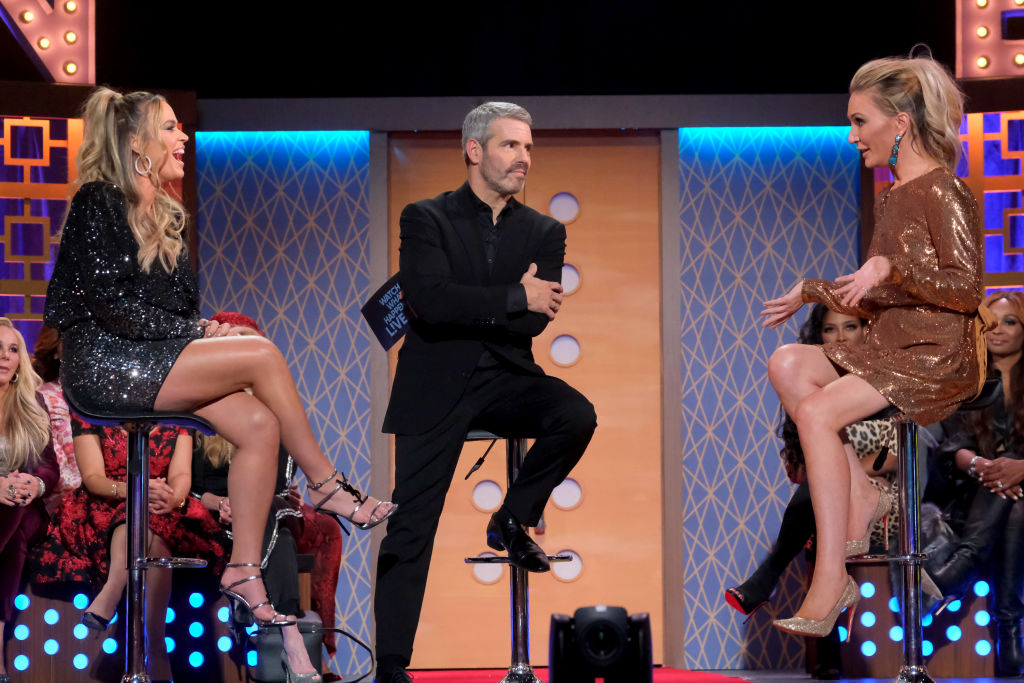 Bravo also knew the women would be under the same roof after they had a war of words during the RHOBH season. Chastain shaded Mellencamp during a scene where Mellencamp worries about balancing motherhood with her career. Chastain thought Mellencamp was being perhaps a little overly dramatic.
So when Chastain and Mellencamp were both at BravoCon, they were able to "Squash that Beef" during the largest-ever show of Watch What Happens Live with Andy Cohen. Chastain recently appeared on the Watch What Crappens live podcast in New York City and dished about what it was like.
But first, a little shade
When Chastain made her entrance she couldn't help but throw a little shade in chief stew Hannah Ferrier's way. Hosts Ben Mandelker and Ronnie Karam were hosting a "Crappensgiving" and invited Chastain and Hannah Berner from Summer House.
Karam and Mandelker couldn't help but wonder who could help them with their table settings as Chastain walks on stage. The crowd goes wild.
Chastain says, "So happy to be here. Not my best tablescape, I'm feeling very Hannah tonight." Chastain previously shared that she and Ferrier from Below Deck Mediterranean are no longer friends. The friendship fizzled after Chastain said Ferrier was talking about her behind her back. During the Below Deck Med season, Chastain also posted a shady tweet about her love of tablescapes, which is a struggle for Ferrier.
But what about her 'beef' with Mellencamp?
Karam and Mandelker had to know what exactly happened when Cohen brought Chastain and Mellencamp on stage to "squash that beef." Chastain shared she didn't want to be part of the entire thing because there was so much fighting. "But then they are like, 'Up next Kate and Teddi!"
"And then she's was like five months pregnant," Chastain recalled. "And you can't argue with a pregnant woman. So then I announced that I was pregnant. Which is like, maybe? I've been dating a lot."
"So I was like, 'Congratulations and I'll be held accountable for all my tweets," she continued. "And I don't need an accountability coach because I'm pretty fit." Chastain adds the reason she shaded the Real Housewife was because Mellencamp was crying in a jacuzzi with her husband. Chastain thinks perhaps Mellencamp was just doing it for more camera time.
"She was so stressed out because she didn't want to take time away from her children," she says. "I just tweeted her, but I didn't tag her or at her." But she added her tweet basically stated that being an accountability coach probably allows for plenty of time with the kids. "I was being supportive!" Chastain insists.
Chastain's original tweet, "Im still not really sure what exactly an 'accountability coach' does, but I'm pretty certain it doesn't require more time away one's children than any other job the millions of working mothers have."