Kate Chastain From 'Below Deck' Doesn't Think Ashton Pienaar Had to Cancel the Beach Picnic
During the latest Below Deck redemption charter, guests Albert and Torrie Jasuwan returned with only a few simple requests. One of those requests was a beach picnic, which was canceled due to rough weather.
Bosun Ashton Pienaar is filmed taking a few guests to a secluded beach for a picnic. But upon approach, Pienaar thinks the wind and rocks made it too dangerous to dock the boat on the beach and turns around. The family is clearly disappointed as he returns to Valor.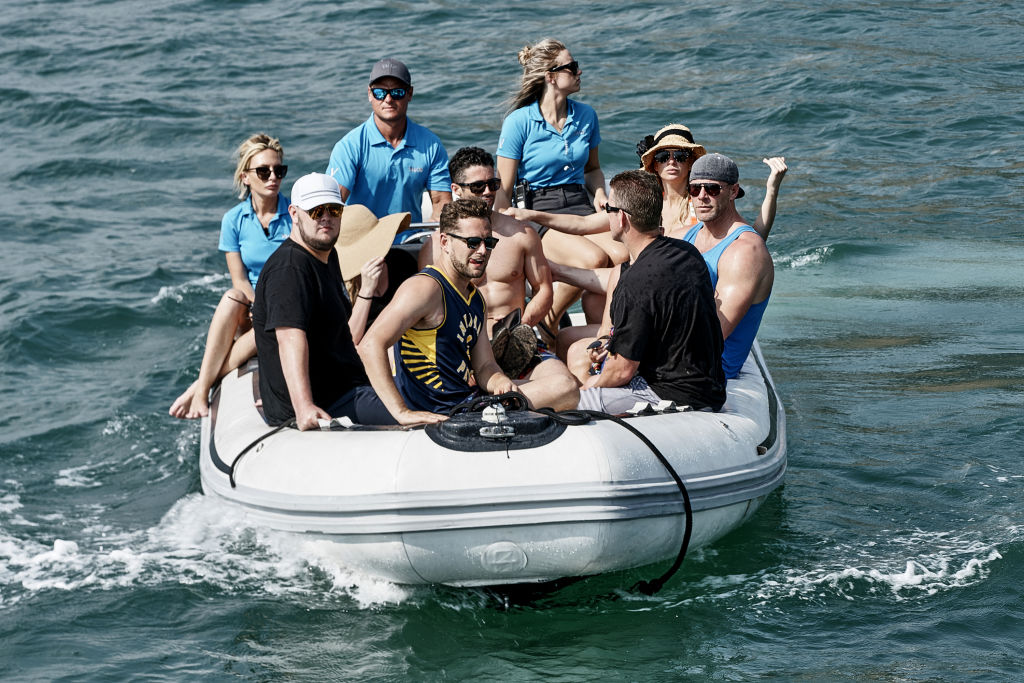 This family appeared on the show during season 6. Their charter was filled with mishaps and some pretty nasty injuries. Bosun Chandler Brooks placed a guest on a slippery rock. She fell hard and even showed the crew her scars when she returned for season 7. During the same charter, one of the guest's children stepped on broken glass on the yacht. So the crew was on high alert to make it up to the family this time, but chief stew Kate Chastain thinks they fell short. She also doesn't think the beach picnic should have been canceled and had a pretty good point.
How did they film the beach picnic approach?
Pienaar approaches shore for the beach picnic but is filmed turning around. During the episode, Chastain made a pretty valid point on Twitter. "Btw ever wonder how that footage of the beach was filmed? Because the film crew had no problem getting all of their very delicate and expensive gear onto that beach."
One Twitter follower tweeted about the missed beach experience. "My husband was yelling at the tv that he could've gotten y'all on that beach," the Twitter user wrote. Torrie Jasuwan replied, "Right?!?"
But Pienaar shared that if he got the approach wrong, the boat could flip onto the rocks. "Guests would get injured again," he remarked in the Below Deck After Show. "And this would not be a little slip and a fall and a cut on the knee."
Captain Lee says safety first
When Pienaar radioed to Captain Lee Rosbach that the approach was too dangerous, Rosbach told him to return if he didn't think he could safely dock the tender. Rosbach reiterated his thoughts about safety during the After Show, but Chastain smirked. She wondered if it really was too dangerous.
"From what I could see, yeah," he responded. "Because the graduation of the slope is very steep." She agrees with him about the slope. "Thailand's tides are crazy," she says. Rosbach adds that tide conditions can change within hours, which could be problematic too.
Although Rosbach says he made the right call, Chastain challenges him. "People have told me it wasn't," she replied. "I'm so confused." But Rosbach says, "Well, they're not captains."
There were other issues too
When the guests initially arrived on the boat, they were served a fresh tomato and mozzarella salad. Chef Kevin Dobson put considerable care into creating the salad only to learn it was served with a hair in one of the dishes. He shared in the After Show it was, indeed his hair too. "It was mine, it was about this long," he describes. "It was black, curly." Pienaar sits next to Dobson and jokes about how he doesn't have much hair to lose.
Unfortunately, the crew was left with a pretty small tip. "Sometimes people come onto a boat with an amount in mind that they are gonna spend and they come with that money, I don't know," Pienaar replied to a question about why the tip was so small.
Pienaar adds that he would have rather had a small tip than risk having one of the guests injured. "I'll take that one to the chin, I'll take full responsibility," he added.