Kate Chastain from 'Below Deck' Reveals She Made $19,000 In Tips In One Month
Below Deck crew members have shared that they make bank while on charter.
Bosun João Franco from Below Deck Mediterranean told Showbiz Cheat Sheet he's heard of crew members making nearly $45,000 in tip money alone. "On charter boats, tips can be as much as €4,000 per person, per week and in some cases even more," he said. "We've heard of crew members that rack up €40,000 in a summer season each, just on tips!"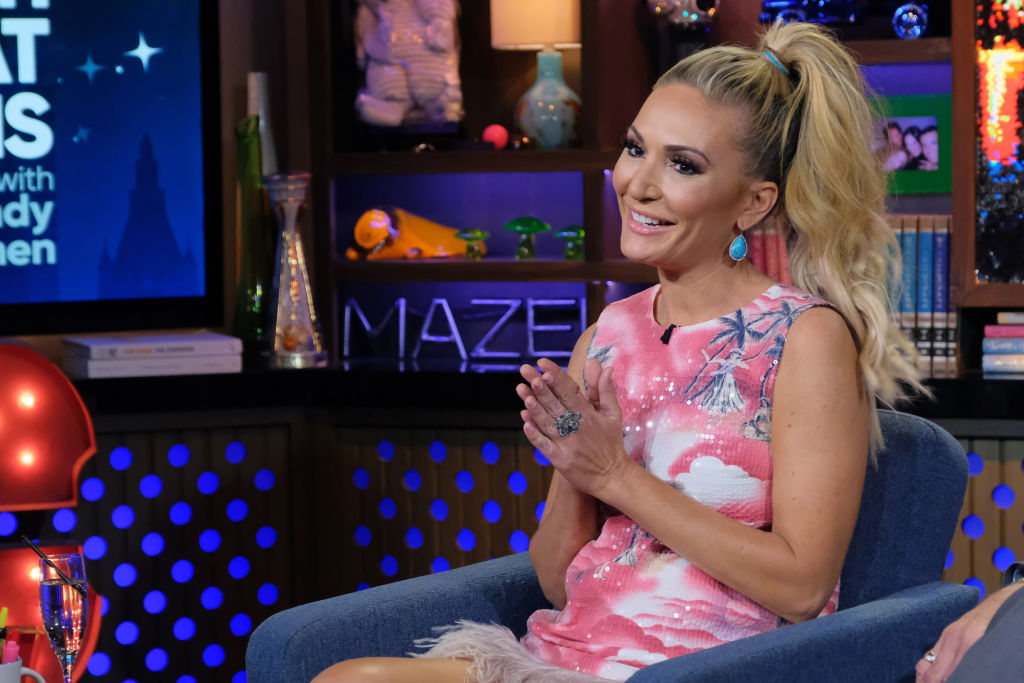 Plus, Decider broke down total tips, revealing that the crew during Below Deck season five made the most in total tip money. Led by Captain Lee Rosbach, the crew made a total of $168,000. Chief stew Kate Chastain, who has longevity in the industry recently shared that she made $19,000 alone in tip money.
She earned this tip over three charters
During her appearance on the Elvis Duran and the Morning Show, Chastain dished about all things Below Deck. The crew wondered about tip money and asked what was her biggest tip. "I really don't keep track because I'm so busy," Chastain admits. "I'm like, 'That sounds good, let's keep going!' But, in December of 2013, I made $19,000." She explains the total tip money came via three different charters.
Chastain shared with ET what is considered to be a good tip. "On a yacht of that size, [a good tip] would be $5,000 a person, for seven days of work," she said. "Five grand a crew member, usually. Our charters are a little bit shorter, just so we can make the show, [but] everything else is exactly the same. So, it's prorated. We usually get around $2,500, $2,000."
What would be a pretty depressing tip? "Anything less than $1,000 would be depressing, which sounds crazy, doesn't it?" But remember, "We're working not just eight-hour shifts, it's like, we're working pretty much around the clock."
Wealthy guests enhance your taste for the finer things in life
She revealed that working for the top 1% can be life-changing. "When you are dealing with the top 1% on the planet, they don't think the rules apply to them," Chastain shared. "And it's really fascinating to see the way they live." Chastain adds, "It also elevated my own tastes so those charter tips that I get, I tend to spend."
Duran pivots the conversation to the guests themselves. He wonders why guests would want to shell out serious cash and then be on a show where the crew talks smack about them. "Not all of them," Chastain remarks. "I cannot justify some of the behavior that you've seen on the show from some of our guests. Although I will take a little bit of the responsibility because I serve them a lot of drinks. And a drunk guest eventually turns into a sleeping guest."
Chastain points out that the lovely guests typically don't get the same snarky confessional commentary from the crew, but they also don't get as much screen time as the wilder guests. "There was a group of charter guests from Melbourne Beach, Florida, my hometown and it was season three," Chastain recounts.
"When their episode was airing they rented out this movie theater, she had a big party," she continues. "And she had captain's hats and lifesaver themed cookies and the whole sha-bang. And her episode aired on the big screen. She didn't make one second of screentime. Because she was lovely and normal." She adds the show has normal and lovely guests but the show "focuses on the crazy crew."