Kate Chastain from 'Below Deck' Reveals What Is Considered to Be a 'Depressing' Tip
'Below Deck' crew members generally receive about $2,500 in tip money each charter. Kate Chastain shares what would be a great tip and also what would be a depressing tip.
When it comes to yachting, it's all about the Benjamins. A number of Below Deck and Below Deck Mediterranean crew members have candidly shared that the main reason they stay in yachting is for the money.
Bosun João Franco from Below Deck Med told Showbiz Cheat Sheet crew members can make as much as €4,000 per person, per week. "And in some cases even more," he added. Kate Chastain from Below Deck recently told ET a really good tip would be about $5,000 per person.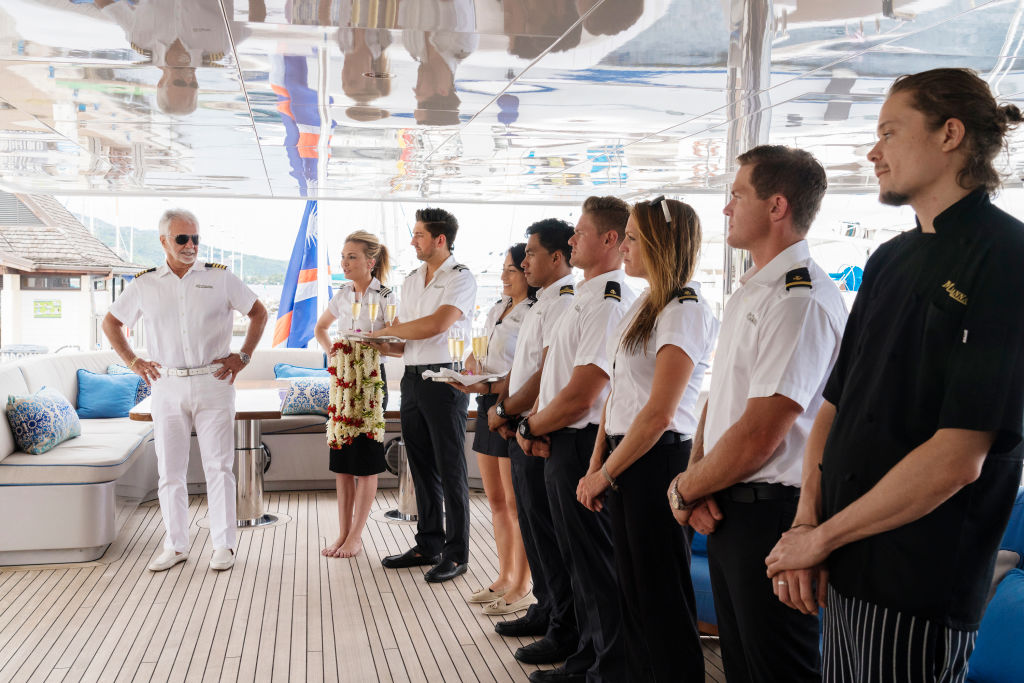 But generally, viewers see crew members on Below Deck earning about $2,000 or $2,5000. "On a yacht of that size, [a good tip] would be $5,000 a person, for seven days of work," Chastain shared. "Five grand a crew member, usually. Our charters are a little bit shorter, just so we can make the show, [but] everything else is exactly the same. So, it's prorated. We usually get around $2,500, $2,000."
What tip amount would be pretty upsetting?
Chastain shared, "Anything less than $1,000 would be depressing, which sounds crazy, doesn't it?" However, yacht work isn't a typical eight hour day. "We're working not just eight-hour shifts, it's like, we're working pretty much around the clock," she continues.
"All the days start to blur together," Chastain adds. "And during the tip meeting, Captain Lee [Rosbach], will say what we got and I'm always like, 'Is that good? I don't know anymore… $3,000, are we happy with this?'"
Third stew Anastasia Surmava shared with Out in the Wild podcast working an 18 hour day is par for the course. Toward the end of the season, she said everyone is pretty spent. "You can see if on our faces as well," she says. "We're exhausted. We work 15, 16, 17, 18 hours a day." 
Tip money is in addition to salary
Chief stew Hannah Ferrier from Below Deck Med was pretty blunt when she said she stays in yachting because of the cash.  "I am passionate about traveling and earning money," she says. Captain Sandy Yawn added, "All of our stuff is paid for. We get 28 days of paid vacation. That's an automatic when you step on a boat."
Ferrier chimed in "Food, rent, bills, electricity." Plus, "You pay for nothing and you're making all this cash. It's real people," Yawn said.
In addition to tip money, crew members make a pretty fat salary too. According to ET: "A chief stew, reportedly, earns between $62,000 and $75,000 per charter season on a Below Deck-sized yacht (most of the vessels on the show are in the 150-foot range). Second and third stews would make about $50,000 a season, a chef between $70,000 and $95,000, while a captain would earn $120,000 or more, a bosun about $52,000 and deckhands between $40,000 to $52,000."
Tip money isn't always delivered in the lineup
Chastain says the lineup at the end of the charter is something that happens off the show too. "There's always a lineup, just 'cause it's polite," she says. "Like, even in Downton Abbey, they all line up. So, I think it's a tradition that's been around for hundreds of years, but sometimes, I think, instead of traveling with so much cash, they wire the money."
The big envelope hand-off is done for a nice dramatic touch. Viewers can see a fat or a "not so fat" envelope. In one instance, a guest was about to hand Captain Lee Rosbach a wad of cash but then yanked out a few hundreds because he wasn't digging the food. That probably wasn't a fun moment for the crew but made for memorable television.