Kate Chastain's Hilarious Tweets Prove She's Just as Funny As She Is Intense
Kate Chastain is Below Deck's chief stew, and she definitely has a reputation for not taking any attitude from anyone. Despite being tough on the employees, Chastain has somehow resonated well with fans and become a favorite on the show. It could be due to her dry sense of humor, which is often seen on Below Deck. And one look at her tweets shows she's just as hilarious as she is intense.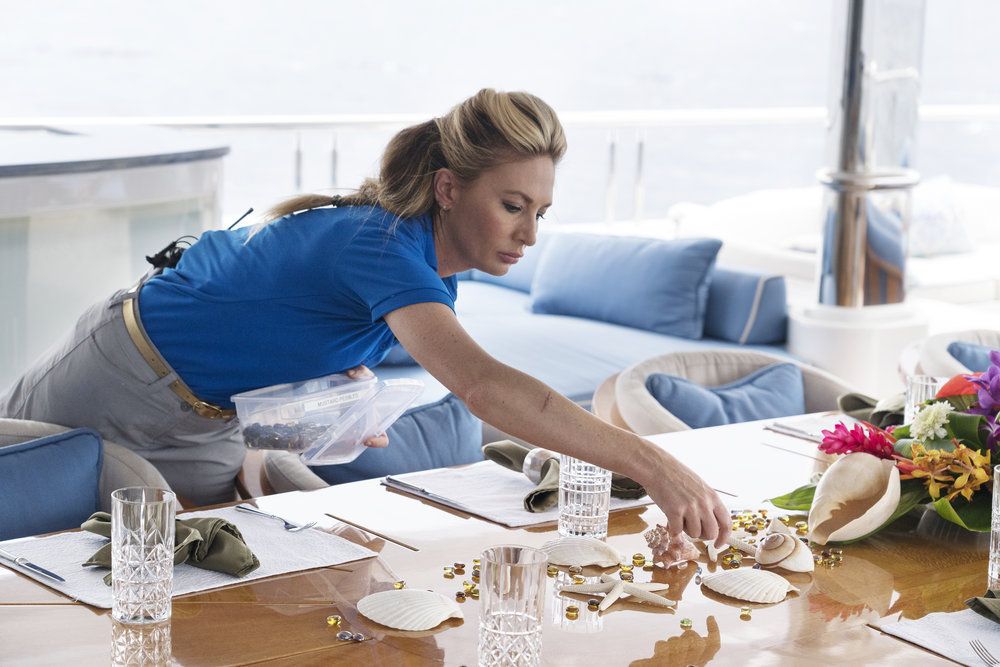 Chastain often criticizes her employees
While we wouldn't necessarily say Chastain doesn't play well with others, she definitely doesn't have time for anyone's drama or problems. If someone on the ship doesn't work to the best of their ability (or doesn't have any ability), Chastain won't be shy about singling them out and letting them know. Although she's tough as nails, she does have good relationships with most of the people on deck. Captain Lee Rosbach has a lot of respect for her, and she adores Josiah and Adrian on the most recent season of the show. She seems to like Ross and Ashton, but definitely doesn't have a soft spot for Caroline, Rhylee, or Lauren.
She's hashed things out with several employees over the past couple of seasons
Chastain is not afraid to speak her mind to the other employees on the ship. In season 5, she had a bad relationship with Jennifer, which seemed to only get worse as time went on. The two often said rude remarks to one another, and Chastain once made a disrespectful comment about Jennifer having a daughter and being unmarried. In the most recent season, Chastain and Lauren, the newest member of the ship's crew, have been at odds. Lauren recently talked back to Chastain and told her to get her life together and relax — for obvious reasons, Chastain did not take it well.
She often makes funny comments during her commentary on the show
Despite Chastain being a bit rough around the edges, she still manages to make hilarious comments about her coworkers when she's one-on-one with the camera. While some of her commentary is a bit distasteful toward the employees, other remarks are downright funny, and we can't help but laugh at her dry sense of humor. But her comedy goes beyond the show; Chastain often replies to former employees on Twitter, and her remarks are just as funny as they are on the show.
We can't get enough of Chastain's tweets
During the January 8 episode of Below Deck, Chastain took to Twitter to tweet along with the show. And some of the things she said were could make anyone laugh out loud. When Rhylee and Captain Lee exchanged words on Twitter about Chastain's attitude, Chastain jumped in and responded to Rhylee's comment by saying autocorrect must have changed "boss b-tch" to "b-tchy" in a tweet Rhylee wrote about Chastain.
Rhylee I think your phone must have autocorrected when you typed "boss bitch" . I hate it when that happens too #BelowDeck https://t.co/KPKvydhZG8

— Kate Chastain (@Kate_Chastain) January 9, 2019
Chastain also noted that Rhylee and Lauren discussing how to talk to superiors was equivalent to the blind leading the blind.
oh shit. rhylee is now giving laura advice on how to speak to work superiors. It's the blind leading the blind. #belowdeck

— Kate Chastain (@Kate_Chastain) January 9, 2019
And just before the January 8 episode aired, Chastain posted a photo of the Golden Globe "Fiji girls" holding Core, the popular drink on Below Deck, and wrote "If #BelowDeck had been nominated for a #GoldenGlobe …"
if #BelowDeck had been nominated for a #GoldenGlobe…… New episode tomorrow at 9:00 p.m on @bravotv pic.twitter.com/MBqqxg8YA2

— Kate Chastain (@Kate_Chastain) January 7, 2019
Needless to say, she keeps everyone entertained.
Check out The Cheat Sheet on Facebook!