Kate Middleton and Meghan Markle: The Real Reason People Should Stop Comparing the Two
Kate Middleton and Meghan Markle are two of the most famous women in the entire world. The Duchess of Cambridge and the Duchess of Sussex were lucky enough to marry into the royal family, and they handle their royal duties with elegance and grace.
Each one has her own unique style and personality, not to mention individual backgrounds and beliefs. They even come from different countries! Kate and Meghan are each distinctive in their own way, however, the media seems intent on comparing them!
Why are they doing this, and what is the reason that people should stop making comparisons between the two duchesses?
Kate is the wife of a future king
As the wife of a future king, Kate may be under slightly more pressure to abide by the royal rules at all times. This can be difficult on her at times, however, she is always so poised that most people never know!
Kate must be perfectly dressed whenever she makes an appearance, and she must be careful not to stray from royal protocol, at the risk of being scrutinized by the media. We are sure that it comes as a great relief when she is finally home at the end of a long day, and she can let loose and unwind a little!
Meghan can bend the rules a little
Meghan Markle is the wife of Prince Harry, who is currently sixth in line to the British throne. He does not fall within the direct line of succession, making it highly unlikely that he will ever be king. Even more so, if Kate and William have more children, he will be pushed back even further. This is just one of the reasons why Meghan can get away with bending the rules just a little, and she certainly does!
While she is careful not to go too far with the rule-bending, Meghan has been known to attend a royal event without pantyhose, wear skirts that are well above the knee, and wear dresses that put her shoulders on full display.
Why do people compare Meghan and Kate?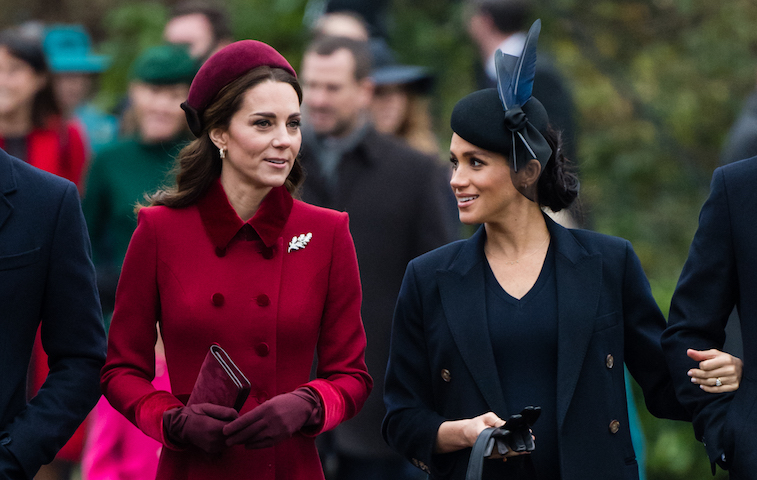 While this can be a somewhat difficult question to answer, we have to say that people compare Meghan and Kate simply because they can!
While the two women have very different roles within the royal family, many fans may mistakenly feel that their lives are similar simply because they married princes and brothers. This is definitely not the case, and we need to keep in mind that Kate and Meghan are both unique in their own right, having a different approach to royal life as well is life in general, and should not be compared to each other.
Queen Elizabeth loves them both
Shortly after her wedding to Prince Harry, Meghan embarked on her first solo engagement with the queen, something that even after seven years of marriage, Kate Middleton had not yet done.
Naturally, this caused fans as well as news media to speculate that Meghan was more liked by the queen as was being given special treatment. Fortunately, this could not be farther from the truth! Queen Elizabeth adores Kate, and she made a point of proving this by making an appearance with her in recent weeks.
The queen certainly does not want anyone to think that she prefers one granddaughter-in-law over the other. For this reason, people should definitely stop comparing the Duchess of Cambridge and the Duchess of Sussex! We need to remember that each duchess is an individual, and in no way does the royal family make any claims that their lives are similar! It is actually because of their individuality that we love Kate and Meghan as much as we do!