Kate Middleton Makes it Clear That She's a Bigger Fashion Icon Than Meghan Markle
Kate Middleton and Meghan Markle are two of the most important women in the world. And every move they make — including everything they wear — is constantly discussed in the media. Both Meghan and Kate have recently taken extremely important royal trips, which has given them a chance to express their fashion day after day. And Kate has seemingly proven that her fashion sense is hard to match.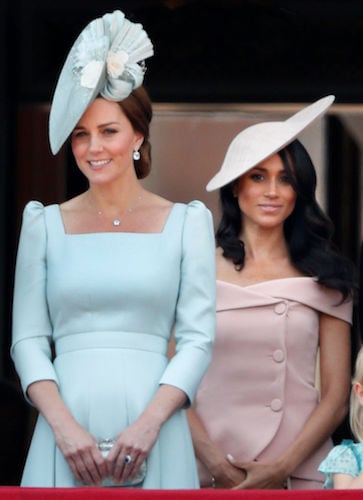 Meghan and Kate are always making statements with their outfits
No matter where Meghan and Kate go or what they do, people always notice the women's outfits. And ever since Meghan joined the royal family, people have been comparing the two women's styles. Their styles are quite different, with Meghan often taking on a more casual look while Kate often looks more sophisticated. Both women are always dressed to look polished and classy, but they definitely have two different ways of expressing themselves. And on their recent royal trips, it's been made clear that Kate's style turns heads in a way that Meghan's doesn't.
Meghan recently took a trip to Afghanistan — her outfits were simply yet classy
Meghan and Prince Harry, her husband, recently took a major royal tour of Southern Africa. Each day, the couple worked with different charities and organizations to promote causes near and dear to them. They centered their trip around women's rights and HIV/AIDS research, among other topics. And each day, Meghan wore a tasteful outfit that later appeared in the couple's Instagram photos. All of Meghan's outfits were well put together and fitting for the royal tour, from the patterned sundress she wore one day to the more casual tank top and jeans she wore another. While jeans might seem too casual, Meghan dressed them up with a pretty top and seemed to humanize herself a bit more by wearing them.
Kate is currently touring Pakistan — and her outfits have blown everyone away
Kate and Meghan dress differently. While they both dress well, Kate is arguably more known for her fashion sense. That could be, in part, because she has been a member of the royal family for much longer than Meghan, but anyone who has compared the duchess' outfits can see that Kate has a taste that is much more elegant than Meghan's, though that goes with no disrespect to Meghan's outfit choices.
On Kate's first couple days in Pakistan, she stunned from the moment she stepped off the plane in a blue gown. She then wore a shalwar kameez on the couple's first full day, which is a traditional garment of Pakistan. It was royal blue and designed by a local designer. She also turned heads in a long, green gown that glistened with every paparazzi camera flash. It's obvious that Kate puts immense effort into her outfits, and for that, she will always be seen as a more prominent fashion figure than Meghan.
The two women have different styles, but Kate still remains the bigger fashion icon
It's clear that Meghan and Kate have taken different routes in fashion. Though Meghan's style is nothing to scoff at (her outfits are always appropriate and often luxurious), Kate definitely has the more memorable style that resonates among a wider group of people. Meghan's outfits are classy, but they are more casual and therefore more forgetful. Kate always stuns in whatever she wears, and her outfit choices have become a major part of her reputation. She continues to create "the Kate effect," which is a result of similar styles flying off the shelves once she wears them.